Elegant documentary which helps access the legendary director's film-making processes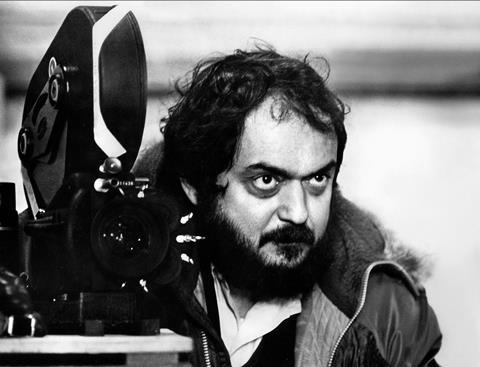 Dir: Gregory Monro. France/Poland. 2020. 73mins
Stanley Kubrick's abiding reputation is that of a reclusive eccentric and merciless control freak. The selling point of Kubrick By Kubrick is a rare opportunity to hear him speak at length about his work. Backed by a wealth of archive interviews and a judicious use of clips, Gregory Monro's elegant documentary should prove irresistible to those familiar with Kubrick's films and keen to deepen their understanding of his process and filmmaking philosophy.
There is a sharp lesson here in what can be achieved from the use of archive material
Kubrick By Kubrick should also benefit from the seemingly insatiable appetite for insight into Kubrick that has given us Stanley Kubrick's Boxes (2008), Room 237 (2012), S Is For Stanley (2015) and Filmworker (2017) among others. That's not to mention the wildly successful exibition at London's Design Museum last year, set to tour when venues re-open.
Monro begins with Kubrick's death in 1999 and a succession of British television news reports perpetrating the image of a reclusive maverick and "mad" genius. There is one throwaway comment from Kubrick's widow Christiane that none of the things said about him bear any resemblance to the man she knew.
Kubrick famously kept his distance from the media; reluctant to explain his films, he rarely granted interviews. He did establish a lasting relationship with French critic Michel Ciment who interviewed him several times over a 30-year period. Ciment is credited as artistic advisor on Kubrick By Kubrick and it is the audio recordings of their encounters that provide much of the soundtrack to Monro's film.
In his own words, Kubrick comes across as thoughtful, unpretentious and eternally fascinated by the process and craft of filmmaking. He seems to love the painstaking research, the possibilities in technological advances and the constant search for harmony between image and content. He is horrifed by the notion of creating a piece of mindless entertainment.
The conversations with Ciment also tease out the recurring themes of Kubrick's work from the futility of war to his desire to delve beneath the veneer of orderly civilisations in search of the animal instincts that lurk below.
No fresh interviews have been conducted for the film but Monro and his team have done an excellent job of raidings the archives to find revealing comments from Sterling Hayden, Peter Sellers, Tom Cruise, Jack Nicholson and Malcolm McDowell among others. There is a sharp lesson here in what can be achieved from the use of archive material. Inevitably, there are stories of Kubrick's perfectionist nature; the 100 takes and more required to record a music score, the use of candlelight for the dark period glow of Barry Lyndon and the endless takes suffered by Shelley Duvall on The Shining.
The film shows us that there was method in this madness and that everything served Kubrick's quest for authenticity. He was someone who controlled every aspect of a film but also welcomed collaboration. McDowell recalls moments in A Clockwork Orange that were ad-libbed and Kubrick himself quotes James Joyce's assertion that errors are the portals to discovery.
Monro adds to the look of the film by showcasing props from Kubrick's films (The Shining typewriter, the Lolita sunglasses) and featuring a recreation of the white room from the climax of 2001: A Space Odyssey. The inclusion of Kubrick's black-and-white home movie footage adds an engaging human touch.
Production Companies: Temps Noir, Arte France, Telemark
International sales: Mediawan Rights ventes@mediawan.com
Producers: Martin Laurent, Jeremy Zelnik
Editing: Philippe Baillon
Cinematography: Radoslaw Ladczuk
Prod design: Natalia Melak
Music: Vincent Theard
Featuring: Stanley Kubrick, Michel Ciment, Malcolm McDowell.