Lorenzo Vigas sets his quietly powerful drama in Mexico's northern state of Chihuahua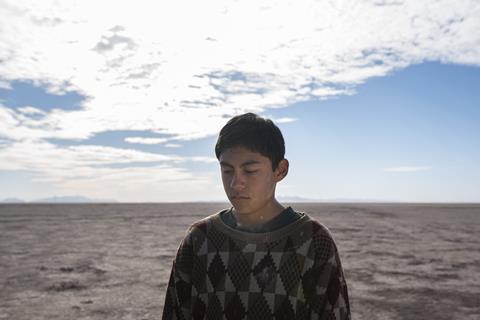 Dir. Lorenzo Vigas. Mexico/US. 2021. 92 mins.
The contents of the titular box of La Caja are made clear at the start. But exactly what's inside the narrative container of Lorenzo Vigas's Mexican drama, and how all its pieces fit together – that's not as easily fathomed. Not a jigsaw puzzle in the tricksy sense, simply a very subtle matter of keeping us involved and guessing, this is the second fiction feature from Venezuelan writer-director Vigas, following his 2015 Venice Golden Lion winner From Afar. La Caja is a canny blend of detective story, political drama and rites of passage vignette, and is the sort of film that comes across as so simple and direct that it's easy to miss how meticulously conceived and constructed it is. Highlighting an arresting lead from young first-timer Hatzín Navarrete, this Venice Competition title outdoes Afar in its quietly compelling power, and should also outdo it as an international contender for niche appreciation.
The moral ambivalence of a character we totally empathise with makes for a quietly unnerving baseline throughout.
Shifting his operations from Chile to Mexico, Vigas sets this film in the northern state of Chihuahua. It begins with an indigenous teenage boy, Hatzín (Navarrete) arriving from Mexico City - where he lives with his grandmother - at the site of a mass grave, as authorities hand people back the exhumed remains of their 'disappeared' loved ones. This is seemingly such a routine business – apparently the result of narcos activity, although we learn there's more involved – that the small metal coffins are handed over with bureaucratic matter-of-factness. But along with his father's remains, Hatzín is also given an ID card found on the body, that of one Esteban Leyva. By chance, he spots a burly middle-aged man he recognises as Leyva, but who insists that his name is Mario (Hernán Mendoza).
Hatzín latches onto him, and won't be shaken off. Eventually Mario takes him under his wing and gives him a job. The boy becomes one of Mario's assistants in recruiting cheap labour to work in a vast sweatshop of a clothes factory, which clearly exploits its workers. When one young woman tries to speak out, she's identified as a troublemaker, with dramatic results for her, and for Hatzín – who by now has been initiated into the criminal practices of Mario, who's trying to build his own workshop empire.
What's extraordinary about the film is how simply it places its narrative cards on the table, and yet, through slight ellipses, tantalisingly obscures certain causes and connections. We're never entirely sure what Hatzín has in mind in attaching himself so firmly to Mario, although once they have formed an impromptu father-son bond, evidence emerges of a connection that goes back well before their initial meeting. We also don't quite know what to make of the boy's motives as he finds himself embarking on a career of sometimes shocking criminality – but the moral ambivalence of a character we totally empathise with makes for a quietly unnerving baseline throughout.
The theme of a criminal education, and of the growing closeness between the boy and his gruff mentor are reminiscent of the Dardenne brothers' La Promesse. Vigas's visual and narrative style is rather more elaborate than that of the Belgians, however, with resonances and hints adroitly seeded and threaded throughout the film – for example, in the ominous early image of a wagonload of dismantled shop dummies, echoing the human body parts seen later in a TV report. Sound is used brilliantly too, from the opening sequence in which Hatzín is kicking a door that comes across as a dramatic drum prelude, prefiguring the soul-crushing hammer beat of the factory. And regular Pablo Larraín cinematographer Sergio Armstrong makes imposing use of the stark rocky expanses of the Chihuahua region - later snowbound in a memorably intense sequence - and of the mundane, soulless environs of the factory, with its shanty settlements, diners and filling stations.
La Caja registers on multiple levels as a very personal apprenticeship story (Vigas considers it as the third part of a trilogy on fathers and sons, after Afar and his 2003 short Elephants Never Forget), and as a political exposé of Latin American conditions in which ruthless labour practices (with Mario too identified as a victim of this chain of exploitation) make life very cheap. Despite multiple characters, the film essentially boils down to a two-hander between Hatzín and the affable, blustering but menacing Mario, played by Hernán Mendoza, whose previous work includes films by Michel Franco (Franco is a producer here, just as Vigas was on the latter's April's Daughter and New Order).
But the film's absolute trump card is Navarrete, one of those striking non-professional newcomers who not only fit a film to a tee but determine its entire tone. He may have a brilliant future ahead, or may just be perfect in this one drama: either way, he's both affecting and perplexing in this role, his cool, alert stare never giving too much away and rarely shifting from that one consistent expression (barring one moment of laughter, and one of absolute horror as he faces the abyss). The intensity of his presence, matched with the quiet reticence of his voice, make for something mesmerising that keeps us hooked right till the film's final, powerfully resonant close-up.
Production companies: Teorema, SK Global Entertainment, Labodigital
International sales: The Match Factory, info@matchfactory.de
Producers: Lorenzo Vigas, Michel Franco, Jorge Hernández Aldana
Screenplay: Lorenzo Vigas, Paula Markovitch
Editors: Isabela Monteiro de Castro, Pablo Barbieri
Production design: Daniela Schneider
Main cast: Hernán Mendoza, Hatzín Navarrete, Elián González, Cristina Zulueta