A nervy, feverish follow-up to 'La Soledad' from Venezuela's promising young director Jorge Thielen Armand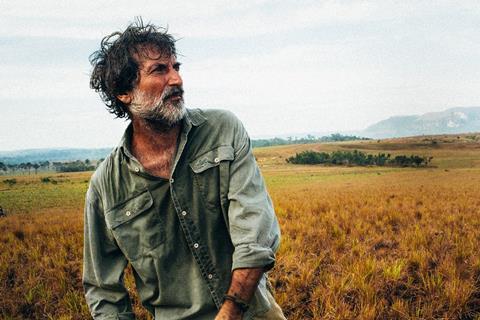 Dir. Jorge Thielen Armand. Venezuela/France/The Netherlands/Colombia. 2020. 108mins
Well into middle-age, but still grasping at the reckless pleasures of his youth, Roque is locked in a pattern of self-destruction. His parents cast him out from their home in Caracas and Roque returns to the Amazon and the derelict tourist lodge he built and ran in a previous life. His aim is to rebuild both the lodge and himself, quitting alcohol for good in the process. But temptations are strong in the jungle. A feverish voyage of discovery through the hinterland between madness and salvation, La Fortaleza is a superb second feature from Venezuelan director Jorge Thielen Armand. What makes it all the more fascinating is the fact that Roque is played by Armand's own father, Jorge Roque Thielen, and that the screenplay is inspired by his stories of building the lodge and battling alcoholism against a tinderbox backdrop of sparking violence and unrest.
The film is an almost Herzogian endurance test for the lead actor, the director's father
Like Armand's debut feature, La Soledad, La Fortaleza takes the director's family history and relationship with ruined spaces once inhabited as a jumping-off point to explore a country which has changed beyond recognition in the space of a generation. And like La Soledad, which premiered at the 73rd Venice International Film Festival and enjoyed an extensive multi-award-winning festival run, La Fortaleza should prove to be attractive to programmers who will be initially drawn by scarcity of other Venezuelan cinema, but will likely be impressed by the bold and distinctive directorial vision and heady waking nightmare atmosphere. Specialist arthouse distribution is also a possibility.
From the opening sequence, Thielen and co-writer and cinematographer Rodrigo Michelangeli make an emphatic statement about the film's broken central character. The camera pans along a rippling water surface to reveal an upturned car in the river and a bloodied figure struggling to free himself. Roque stumbles away, a tiny figure in a field of grass, until he reaches the streets of Caracas. Perhaps in disgust at himself, perhaps because he just needs to feel something, he grinds a lit cigarette butt into his own shoulder. But any assumption that he has hit rock bottom is quickly dispelled when, shortly after arriving back in the Amazon and reconnecting with a buddy from his wild years, Roque crashes into a binge and wakes, covered in filth and wearing just his pants. And it gets worse.
It's striking how game is Thielen senior in exploring the basest, most degrading aspects of an addiction that he himself suffered – the film is an almost Herzogian endurance test – and also just how excellent he is in the central role. His only other acting experience is in a small supporting role in his son's debut film, but Jorge Roque Thielen is an instinctively physical and fearless performer who brings authenticity to this clammily intimate character study. Tapping into Roque's lurching cycles of chaos is a nervy, unpredictable, deconstructed score by Leila Bordreuil.
Roque is drawn back into the thrall of Yoni (Yoni Naranjo), a slightly malevolent figure who acts as the physical manifestation of the temptation that tugs at Roque and constantly threatens to tip him off the wagon. Yoni runs an illegal gold mine and, with his lodge in a worse state than he anticipated, Roque takes work there to fund the renovations.
The film is steeped in symbolism which alludes to the current political situation in Venezuela, but particularly potent is the poisoned water – mercury from the mine has tainted it – which affects the poorest and youngest disproportionately. And although the lines between fantasy and actuality are blurred, the looming threat of violence, both within Roque and in the lawless jungle around him, is ever-present and all too real.
Production company: La Faena Films
International Sales: Reel Suspects info@reelsuspects.com
Producers: Rodrigo Michelangeli, Manon Ardisson, Rodolfo Cova, Zach LeBeau, Kim Jackson
Screenplay: Jorge Thielen Armand, Rodrigo Michelangeli
Editing: Felipe Guerrero
Cinematography: Rodrigo Michelangeli
Music: Leila Bordreuil
Main cast: Jorge Roque Thielen, Carlos "Fagua" Medina, Yoni Naranjo, Leudys Naranjo