A young Syrian refugee connects with Rumi's 800-year-old poetry in this lyrical animation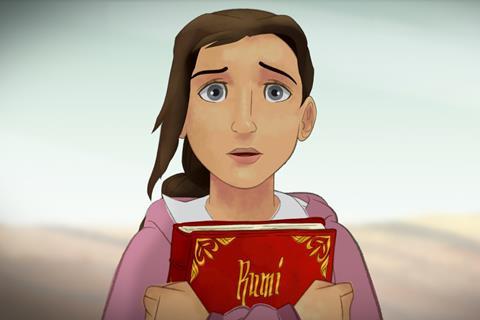 Dir/scr: Alexander Kronemer. USA, Canada. 2021. 89mins
Twelve-year-old Syrian girl Lamya (voiced by Millie Davis), uprooted from her home in Aleppo, finds solace in the words of the poet Rumi written some 800 years before. But the connection between Lamya and Rumi runs deeper, a meeting of souls on a plane which is neither her world, nor his, but which inspires him to create the work which will assuage the suffering of generations of displaced people in the centuries to come. An elegant and lyrical response to the Syrian crisis and the plight of refugees, Lamya's Poem is earnest and at times a little overwrought, but there's a real heart to its storytelling and its exploration of the timeless power of words.
The poetic soul of the film is evident in its profligate use of symbolism
The idea for Lamya's Poem grew out of the research for Alexander Kronemer's directorial debut, a mid-length live action documentary titled The Sultan and The Saint which told the story of a meeting between Francis of Assisi and the Sultan of Egypt. While it lacks the distinctive visual style of the similarly-themed The Breadwinner, Lamya's Poem shares with that film a spirited female child protagonist and an issue-led lyricism which might recommend it to a similar audience. Further festival screenings, particularly in events focused on human rights and animation showcases, are likely.
Lamya's dream world is a fantastical place, full of pirouetting fireflies and shadowy red-eyed monsters looming from the shadows. But her own life, at the start of the film at least, is just like that of any other kid in Syria in 2016, before the country was torn apart by conflict. She's glued to her phone, texting her friends when she should be concentrating on the teacher who travels door to door, lending books to students now that the schools have temporarily closed. But her life has already been touched by tragedy. Her father, it turns out, was killed in what should have been a peaceful protest; her mother wears her wedding ring on a chain around her neck and weeps when she thinks that nobody is watching.
But it's thanks to the teacher, who lends his favoured students prized books from his own collection, that Lamya discovers the writing of Rumi (Mena Massoud), who is introduced as a character in a parallel timeline. Both Lamya and Rumi find themselves refugees – Lamya flees the conflict which destroys Aleppo; Rumi's homeland is invaded by Mongol warriors. But in the shared fantasy space that connects Lamya and Rumi, there's a mythical city which is closer to something from a Studio Ghibli creation rather than to Aleppo or to Rumi's hometown of Balkh.
The poetic soul of the film is evident in its profligate use of symbolism in the fantasy section: a flute, planted in the earth, takes root and sprouts leaves which in turn become pages of writing; snakes and black coiling tendrils engulf and destroy the fragile peace of the city. But the film's most powerful and profound moments are in Lamya's world. A storm tears the daughter from her mother during a precarious sea passage on an overcrowded inflatable boat; later, in a grey and unwelcoming corner of Europe, in a makeshift refugee settlement, Lamya reconnects with the light that was missing from her life when another Syrian child shows her the fireflies which weave over a semi-derelict playground.
Production company: Unity Productions Foundation, Pip Animation Studios
International sales: WestEnd Films info@westendfilms.com
Producers: Sam Kadi, Glenn James Brown, Alex Kronemer
Director of Animation: Brandon Lloyd
Music: Christopher Willis
Cast: Mena Massoud, Millie Davis, Faran Tahir, Nissae Isen, Aya Bryn Zakarya, Raoul Bhaneja