Matt Dillon, Isabella Rossellini and Sheila Vand star in Shirin Neshat's English-language debut, co-directed with Shoja Azari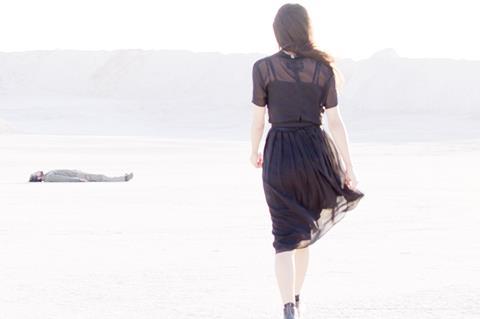 Dirs. Shirin Neshat, Shoja Azari. Germany/US, 2021. 113 mins
A drift around some striking imagery and increasingly blunt, repetitive concepts, Shirin Nesrat's English-language debut — co-directed by fellow Iranian Shoja Azari - stems from a script by the late Jean-Claude Carriere, and, like Neshat's Venice Silver Lion-winning Women Without Men, comes as part of a multi-disciplinary project, some of which was shown early this year in gallery format. Influenced by the works of David Lynch and in particular Wim Wenders' Paris Texas, it attempts to marry almost static tableux with the hot-button topic of immigration - and, yes, the Dreamers — in America today. Despite the easy familiarity of Matt Dillon and, recalling Lynch's oeuvre, Isabella Rossellini, alongside Sheila Vand (The Girl Walks Alone At Night), Land Of Dreams is a testingly stilted affair, though, not helped by an excessive running time for what is at heart a thinly dramatised series of arresting visual statements.
Neshat and co-director Azari, who also co-wrote, never shy away from an art-money shot.
Festivals may well come calling after its bow at Venice in the specialised and competitive Horizons Extra section, but Land Of Dreams seems well suited to gallery and high-art distribution. Smart use of stills imagery in any campaign will make it an easily tempting prospect for the upper end of the market.
In as much as there is a story here, it takes place in a vague near-future where, in the bleached light of New Mexico, Simin (Vand) works for the US census bureau as a fact-checker and 'dream catcher'. After opening shots in which she is drawn to the prone body of her late Marxist father in her own sleep, the perennial outsider Simin - born in Iran but raised in Cincinnati - records the dreams of the larger-than-life characters in the homes she visits.
Separately, she goes home, dresses herself up as the caricatures she has just interviewed, and translates their dream testimony into Farsi, delivering a performance which she then sends online to her "many" followers. This, strikingly, can involve blonde wigs and leopardskin, neon pink fun furs and over-daubed lipsticks. Neshat and co-director Azari, who also co-wrote, never shy away from a seductive shot.
The authors never seriously attempt to place this element of the film - that the Government is trying to control the unconscious thoughts and dreams of its citizens - into a serious dramatic throughline, being satisfied with repeating it in varied, vivid scenarios. Matt Dillon plays a character called Alan Villin, sent by the Bureau as a laconic bodyguard for Simin as she visits a secret 'Iranian Colony' , which has housed immigrants and their hopes and dreams and memories for three decades. She then moves back to visiting homes, where Rossellini literally dials in her performance on video to a dinner table, presumably a Covid-19 coping mechanism.
The points become increasingly repetitive. A Mexican maid has stopped dreaming since she arrived in the US; a line about a homeless nightingale flying in the dark is reiterated; some of the lead cast take dual roles. Simin meets a wandering poet (William Moseley) who falls immediately in love with her.
If the fundamental themes are admittedly over-emphasised, the visuals - and a score by Michael Brook - increase exponentially in ambition and scope. The blonde singer Rebecca Comerford delivering original songs (including the title track) in front of a red velvet curtain with emerald carpet at the rear end of a dingy bar doesn't feel particularly fresh, but it certainly is seductive. Each new iteration of the thematic bass line is accompanied by another tableau, culminating in a giant Fibonacci spiral of photographs on a salt-wash plain.
The stiff formality of the transition from static art to the flow of cinema isn't helped by muted performances, in particular from Vand. An extravagant sequence in a revivalist church doesn't quite bear up to the length of time it is allotted, but mostly, requires a speech from her previously reticent character which is, like much of the film's dialogue, thickly written and hard to deliver. It may well have flowed better in the original tongues - or dreams - of the film's creators, whether that be Farsi or Carriere's French.
Production companies: Bon Voyage Films, Palodeon Pictures, Land of Dreams LLC
International sales: Beta, beta@betacinema.com
Producers: Amir Hamz, Sol Tryon, Christian Springer
Screenplay: Jean-Claude Carriere, Shoja Azari
Cinematography: Ghasem Ebrahimian
Production design: Rick Gilbert
Editing: Mike Selemon
Music: Michael Brook
Main cast: Sheila Vand, Matt Dillon, Isabella Rossellini, William Moseley