Richard Linklater follows up 1973's 'The Last Detail' with Steve Carell, Bryan Cranston and Laurence Fishburne playing the now-retired Vietnam veterans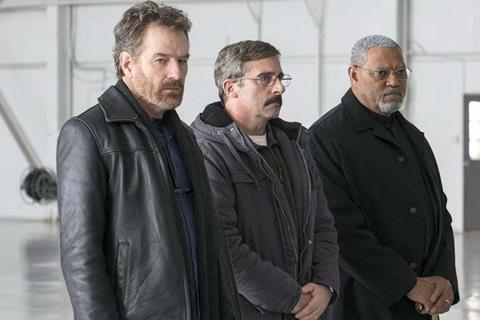 Dir: Richard Linklater. US. 2017. 124 mins
What military service represents can have radically different meanings for veterans, contemporary combatants, their family members, and politicians. Richard Linklater's resonant Last Flag Flying, which is having its world premiere in the opening night slot at the New York Film Festival, takes a dim view of the US government's attempt to propagandise a 21 year-old Iraqi War soldier's unheroic death through a funeral with full military honors. On behalf of the dead man and the three Vietnam vets transporting him to his final resting place, however, Linklater validates the patriotic sacrifice—even if he doesn't adopt a dulce et decorum position.
Last Flag Flying is a film that revels in its ambiguities, which extend to its genre-hopping
Faithfully adapted by Linklater and Darryl Ponicsan from the latter's 2005 sequel to his 1970 underground classic The Last Detail, which spawned the 1973 Jack Nicholson movie, Last Flag Flying is set in December 2003; it coincides with Saddam Hussein's capture in a "spider hole" near Tikrit.
The story reunites three comrades-in-arms who have been estranged for thirty years: the widowed grieving father Larry "Doc" Shepherd (Steve Carell), onetime authority-flouting Marine sergeant and current bar-owner Sal Nealon (Bryan Cranston), and the holier-than-thou Reverend Richard Mueller (Laurence Fishburne).
Having endured two years in a naval prison for a crime all three committed back in 'Nam — they'd recreationally used their unit's morphine supply before it could be administered to a dying comrade — Larry is heading to Larry Jr.'s burial in Arlington Cemetery in Washington, D.C. For moral support, he picks up Sal (who, like William Bendix's World War II vet in The Blue Dahlia, has a metal plate in his head) at his scruffy bar in Norfolk, Virginia. En route to the capital, they collect Richard, who has to be persuaded by his wife (Deanna Reed-Foster) to go along with his old cronies because he now disapproves of Sal's hellraising tendencies.
The trio eventually locates Larry Jr.'s Stars-and-Stripes-draped coffin among several others at the Dover Air Force Base in Delaware. Having learned that Larry Jr. wasn't killed in a firefight, but shot in the back of the head in a Bagdhad store, truth-stickler Sal forces the unwelcome facts on Larry, who subsequently defies the wishes of an officious colonel (Yul Vazquez), who had intended to bury the boy with exploitable fanfare.
A crucial moment comes when, prompted by Sal, Larry decides to have the coffin opened so that he can see how his son died. He isn't, therefore, spared the sight of Larry's obliterated face. Linklater flinches from showing it to the audience, but less tact might have made the film's anti-war message more powerful.
Larry determines to take his son's body home to Portsmouth, New Hampshire. The lance corporal (J. Quinton Johnson) who spilled the beans to Sal is detailed as the military escort and as the colonel's watchdog, but he becomes a useful ally to the vets.
Last Flag Flying is a film that revels in its ambiguities, which extend to its genre-hopping: it's at once a war movie set on the home front, a road movie, and a comedy-drama. Shane F. Kelly's low-lit cinematography, the drab Pittsburgh and Pennsylvanian locations, downpours, leaden skies, and night sequences instil a downbeat tone offset by a larger-than-life turn by Cranston.
The film's second act meanders, though dabs of laugh-out-loud humour intermittently leaven the mournfulness. There's plenty of sentiment, too, via a cameo from 92-year-old Cicely Tyson and the vets' growing conviction that, though Larry Jr. died ignominiously, his was a noble death because he had been proud to serve his country. For these reasons, Last Flag Flying may find some support in the American heartland, but its commercial prospects are limited by the talkiness and sombreness.
Inevitably, Sal and Richard heal their rift. Linklater's emphasis is on comradeship and brotherhood — not the esprit de corps imposed by the military brass — and also redemption for past mistakes. When Sal tells Richard that he loves him, the moment conjures Staff Sergeant David Dime embarrassedly telling the boys of Bravo Squad that he loves them in Ang Lee's analogous (and criminally underrated) Billy Lynn's Long Halftime Walk, which premiered at last year's NYFF.
Sal's invitation to Larry to move to Norfolk to become his partner in the bar, even to move in with him for a spell, is especially touching because it reveals that bon viveur and ladykiller Sal is lonely, himself a lost soul. Cranston's star turn will earn him comparisons with Nicholson, though he's closer in looks to Robert Ryan. The performance may hook Cranston some awards attention, too.
Production companies: Amazon Studios, Big Indie Pictures, Cinetic Media, Detour FilmproductionProducers: Ginger Sledge, John Sloss
International sales: FilmNation.com, www.filmnation.com/
Executive producer: Thomas Lee Wright
Screenplay: Richard Linklater, Darryl Ponicsan, based on the novel by Ponicsan
Cinematography: Shane F. Kelly
Production design: Bruce Curtis
Editor: Sandra Adair
Music: Graham Reynolds
Costume design: Kari Perkins
Main cast: Steve Carell, Bryan Cranston, Laurence Fishburne, Yul Vazquez, J. Quinton Johnson, Deanna Reed-Foster, Cicely Tyson