A group of elegant Porteños gathers every week to read aloud from Proust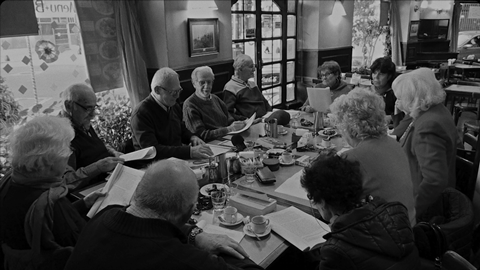 Dir/scr: María Álvarez. Argentina 2020. 102 minutes
Echoes of eternity elegantly pervade Le Temps Perdu, Maria Álvarez's fly-on-the wall study of a Buenos Aires book-group whose ageing members have pored over Marcel Proust's 'In Search of Lost Time' since 2001. Alvarez' follow-up to her similarly gerontocentric Las Cinéphilas (2017) bowed in the main competition at IDFA last November, then was named best feature-length work in the domestic competition at Mar del Plata before screening in Doclisboa. Festivals and channels can always find room for charming documentaries about engaging folk in the twilight of their lives, and Le Temps Perdu is a solid example of this audience-friendly trend. Shot hand-held in black-and-white, the picture effectively brings the viewer into the circle of participants — a dozen or so each time — meeting regularly at the Cafe Tribunales to analyse the text, chapter by chapter, via large-font A4 printouts.
"Reading is a creative act… each reading is different from the one before."
This bohemian but cosy spot — in the theatre district of "the Paris of South" — is a nice backdrop for the study and celebration of Proust and his work. The famously hermit-like author died aged 51 in 1922, and the upcoming centenary of his demise will doubtless extend the exposure of Álvarez's film in festivals and elsewhere.
Proust expired with his magnum opus — the 3,000-page, seven-volume behemoth 'In Search Of Lost Time' (also known as 'Remembrance of Things Past') — in rough-diamond state; its publication stretched between 1913 and 1927. Itself minutely concerned with issues of temporality, memory and human perception, the book is routinely ranked among the greatest achievements of world literature. Even if Proust oscillates in and out of fashion, 'In Search of Lost Time' has never been out of print, translated into 40 languages. The nameless Tribunales group uses the Spanish version, which perhaps explains why their commentary deals more with Proust's plot, characters and themes than the intricacies of his prose.
Working as her own editor, Álvarez shifts between passages being read aloud, analysis of the work, punctuating chatter (in which the personalities of the 28 "protagonists" most vividly emerge) and brief glimpses of the world beyond. If there are occasional longueurs and repetitions over the course of the picture's 102 minutes, that's not inappropriate given how the film (and the book) are so attuned to the passage of time: at one early juncture Oscar Grela's sound-design cleverly turns the simple ticking of a clock into a poundingly ominous rhythm.
One of the more scholarly readers remarks that when Proust died, a lifespan of 51 years was the attainment of an "old man" and that his elaborate musings on mortality and ageing must be put in this context. (Among Proust's approximate Parisian contemporaries, however, it's worth noting that André Gide reached 83, Claude Monet 86 and Gustave Eiffel a towering 91.) The book-club's participants are similarly seasoned: all are at least in their seventies, with several in their eighties: this gives their readings, their ruminations and reflections additional, poignant layers of experience — romantic and otherwise.
In the second decade of the 21st century, they read words written more than 100 years before, which themselves are concerned with evocations of a man's childhood and youth dating back to the late 19th century. They and we thus become, in Kurt Vonnegut's phrase, "unglued in time", liberated by literature from quotidian concerns — which nonetheless regularly attempt to intrude via physical and even mental infirmities suffered by the convivial readers.
In a straightforward editing structure which gives every sign of flowing chronologically, Álvarez — currently at work on the third part of her loosely-connected trilogy about lively seniors — deliberately gives little indication of months and years actually passing. End titles specify that filming spanned 2015 to 2019, the period it took for the group to complete a single reading of the entire novel. Her first sequence begins with Proust's famous opening lines about going to bed early, the last includes his less-celebrated finale — and then the whole procedure begins again. The same, but not quite the same: as one of the participants notes, "reading is a creative act… each reading is different from the one before."
A pleasant and sometimes stimulating viewing experience, Le Temps Perdu itself is however unlikely to lodge itself very deeply in most viewers' memories. And in terms of repaying multiple rewatches, Dora Garcia's brilliant and hilarious 53-minute The Joycean Society (2013) — about a Zurich-based group of readers/students obsessed with James Joyce's Finnegans Wake — comfortably retains this particular nano-genre's "Nobel" status.
Production company: Alvarez & Diaz
International sales: Maria Álvarez, Buenos Aires (alvarez.amaria@gmail.com)
Producers/Cinematography: Tirso Diaz-Jares Rueda, María Álvarez
Editing: María Álvarez