A group of refugees form a cautious friendship in this wry, Beckettian comedy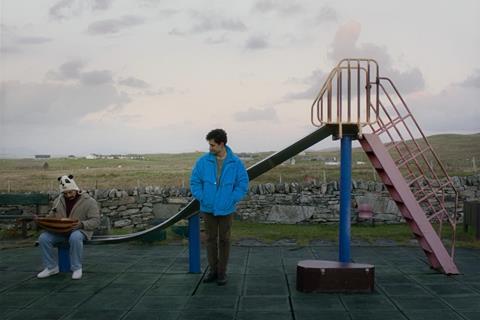 Dir/scr Ben Sharrock. UK. 2020. 103 mins
In this wry, Beckettian comedy from Ben Sharrock, a group of refugees are forced together by circumstances to form cautious friendships while temporarily stranded on a bleak Scottish island as they wait for rulings on asylum requests. A promising musician who has fled the conflict in Syria, Omar (Amir El-Masry, terrific) is losing his grasp on his own identity. A broken hand means that he can no longer play the oud (he hauls it around, in its coffin-shaped case, wherever he goes). The non-existent mobile phone coverage ("there was a better signal in the middle of the Mediteranean," says one man) means that the threads that bind him to his family are starting to fray. But the poignancy and low-key desperation of the situation in which the men find themselves is balanced by the film's warmth and gentle humour. In a market crowded with migrant stories, this is something special.
Sharrock has a keen eye for Kaurismaki-infused downbeat absurdity.
The sophomore feature from Sharrock, Limbo follows his debut Pikadero and shares with that film a keen sense both of location and of the texture of the community within, but it's a step up in terms of ambition, scope and budget. Its Cannes 2020 label might help propel the film on its journey, but its main asset is likely to be the positive word of mouth which should start to build once the film belatedly commences its festival career. The combination of timely subject matter and bittersweet humour should prove to be attractive to arthouse distributors.
Sharing a rudimentary home with Omar are three other men: Farhad (Vikash Bhai), a fan of Freddie Mercury and of chickens, who fled Afghanistan; Nigerian Wasef (Ola Orebiyi) dreams of footballing glory; and seventeen-year-old Abedi (Kwabena Ansah) is the realist. The choice of single men, the most demonised of all migrant groups, brings a stinging clarity to the refugee experience. Painfully awkward 'cultural awareness' classes are intended to help the men fit in. But the glares from the locals suggest that it will take more than a familiarity with dance floor protocol to win them over.
Location choices are bleakly evocative. The film is predominantly shot on North and South Uist in the Outer Hebrides and makes striking use of the wind-scalded landscape and vast expanses of sky. The island's phone box, a lifeline for the migrant community, is located at the kind of crossroads where you might expect someone to go if they needed to sell their soul to the devil. The house which Omar shares with three others squats in a tiny settlement that boasts a single lamp post, a bus shelter and views to the edge of despair and beyond.
Sharrock has a keen eye for Kaurismaki-infused downbeat absurdity. Scenes play out in purgatorial playgrounds, empty of children and joy. Outside of a squat community pub, the kind of hunkered-down windowless block that looks like it houses battery-farmed chickens, is a single apologetic picnic table, placed at the centre of a large puddle. He adroitly handles a running joke – the eclectic haul of discarded detritus that Farhad brings home from the 'donation centre' – without ever labouring the gag. His ability to deftly balance comedy with pathos, and to imbue even minor characters with texture and depth, marks Sharrock out as a noteworthy talent.
Production company: Caravan Pictures
International sales: Protagonist Pictures, info@protagonistpictures.com
Producers: Irune Gurtubai, Angus Lamont
Editing: Karel Dolak, Lucia Zucchetti
Cinematography: Nick Cooke
Production design: Andy Drummond
Music: Hutch Demouilpied
Main cast: Amir El-Masry, Vikash Bhai, Ola Orebiyi, Kwabena Ansah, Sidse Babett Knudsen, Kenneth Collard