Javier Bardem and Penelope Cruz reunite for Spain's Fernando Leon de Aranoa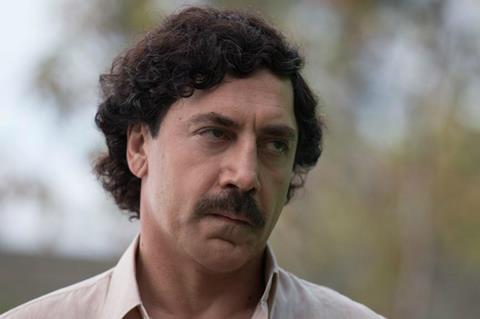 Dir: Fernando Leon de Aranoa. Spain/Bulgaria. 2017. 123 mins
Colombian cocaine lord Pablo Escobar has achieved an Al Capone level as far as media notoriety and screen representations are involved: he's been the driving figure in two TV series, Narcos, and the locally-made Pablo Escobar: El Patrón del Mal, as well as turning up as a character in Johnny Depp drug saga Blow. Javier Bardem takes on the role in Loving Pablo, which purports to show Escobar from the point of view of the Woman Who Knew Him Best (or arguably Second Best, next to his wife), TV journalist and anchorwoman Virginia Vallejo, who was his mistress and who wrote the memoir Loving Pablo, Hating Escobar in 2007. She's played by Penelope Cruz, and the starry combination of her and off-screen husband Bardem should give moderate commercial traction to a largely undistinguished film.
Cruz isn't able to give the character much light and shade, especially when she tips over into screechy hyper-ventilation
The awkwardly executed English-language Loving Pablo is a brash but ultimately anonymous, sub-Scorsesean number from Spain's Fernando Leon de Aranoa, who has shown more distinctive form in Mondays in the Sun and internationally cast war story A Perfect Day. The decision to tell this Latin American story in English with a Spanish-speaking cast – often with heavy accents – won't help connect with Anglophone audiences because both Cruz and Bardem, given to sotto Brando-esque mumbling, are not always easy to understand (by all accounts, though, Bardem's Colombian accent is spot on).
The decision to have Cruz narrate the film in voice-over, giving Vallejo's often breathlessly clunky account of proceedings ("Things were about to change forever – in Colombia, and in my life") makes for a tabloidy feel from the start.
The film begins in 1993 with Vallejo escaping Colombia to make contact with American DEA agent Shepherd (Peter Sarsgaard): subsequent events show that for years she's been playing a somewhat flirty cat-and-mouse game with Shepherd, who's been wanting her to spill the beans on Escobar.
The narrative then skips back to Colombia in 1981, and Vallejo's attendance at a sumptuous party ("Anyone who is anyone is here") on the estate of Escobar, who is already fabulously wealthy, even owning his own elephants, and successfully promoting a reputation as a philanthropist. Already married to Victoria (solidly affecting Judith Restrepo), Escobar pursues Vallejo, who is impressed with his power and charisma, and becomes his pampered mistress. Escobar is busy at this point founding the Medellín cartel, which is making massive inroads into the US – a show-stopper sequence has his people cheekily using a US motorway as a landing strip for a cocaine drop, a briskly executed passage deflated by the by-rote ironic use of Dean Martin singing 'Let It Snow!'.
The film follows Escobar's attempt to sell himself as a legitimate politician, before his outlaw status becomes unquestionable. He takes refuge in the jungle – another highly orchestrated sequence sees him using pigeons to fend off a hostile helicopter – but later agree to be imprisoned, on his own terms, the jail being a luxury command post for his operation. As Vallejo faces increasing danger, and her career is ruined by her liaison, she wants out, only to find her lover isn't as tender as he was at first sight.
It's surprising how absent Vallejo is from much of the action – including events she didn't witness at first hand. She is presented as a confident and complicit glamour puss who's largely out of her depth in a dangerous world, but Cruz isn't able to give the character much light and shade, especially when she tips over into screechy hyper-ventilation. A massively bulked-up Bardem is much more compelling as Escobar, whom he portrays as essentially a canny, ruthless, not terribly charming thug. Communicating in a sullen basso mumble, he comes across convincingly as a man of absolute will – but not altogether a sociopath, given his tenderness towards his children. The film certainly doesn't try to whitewash Escobar, showing him not only as violent and largely charmless, but as an abuser of teenage girls.
Meanwhile Sarsgaard exercises his usual smooth restraint to give some subtle presence to his routine lawman role.
Directorially, Aranoa adopts a bustling, somewhat flashy approach in a familiar American mainstream mode – ultimately, perhaps, more David O. Russell than Scorsese – but those long-take sequences, notably the first-act party, don't have the pace and sleekness that the style demands. There's also the uncomfortable imbalance between the larkiness of the approach against the darkness of the material - notably when Escobar has a couple of his associates chainsawed to death, only for the scene to conclude with a flip one-liner.
Production companies: Escobar Films, & B2Y EOOD
International sales: Millennium Media, l: info@millennium-media.net.
Producers: Dean Nichols, Javier Bardem, Miguel Menendez de Zubillaga, Kalina Kottas
Executive producer: Andrew Calderon
Screenplay: Fernando Leon de Aranoa, based on the book Loving Pablo, Hating Escobar by Virginia Vallejo
Cinematography: Álex Catalán
Production designer: Alain Bainée
Editor: Nacho Ruiz Capillas
Music: Federico Jusid
Main cast: Javier Bardem, Penelope Cruz, Peter Sarsgaard, Julieth Restrepo