A compulsively watchable cultural document of a stroppy, scrappy misfit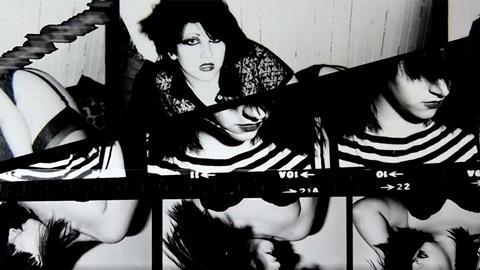 Dir/prod/ed/scr: Beth B. US. 2019. 78 mins
Described by one music critic as "the worst sounding thing I have ever heard", praised by an admirer as her own greatest work of art, Lydia Lunch, the apex predator of New York's abrasive No Wave movement, was a misfit even within the underground arts scene. This suitably stroppy, scrappy documentary is part portrait, part manifesto in which Lunch launches a broadside assault on, well, pretty much everyone. Lunch's punchy candour as an interviewee is at least as powerful as the music which made a virtue of its unlistenability and the spoken word poetry which carves the pain of her childhood into a weapon. It's uncomfortable stuff, certainly. But both as a portrait of an outsider artist and as an account of abuse survival, this film, by Lunch's No Wave contemporary Beth B, is a compulsively watchable cultural document.
It soon becomes evident that everything we see is a performance
An influential, sometimes controversial figure who has collaborated with an extensive list of post punk luminaries – Nick Cave, Thurston Moore, Kim Gordon, Einstürzende Neubauten, Marc Almond, to name just a few – Lydia Lunch is arguably overdue for a documentary profile. And this film successfully frames her forceful presence. While the audience for the film might extend beyond fans and aficionados of her particular brand of noise rock, it will likely be of niche appeal nonetheless. Kino Lorber is releasing the film in the US; elsewhere the picture could be of interest to specialist distributors or independent streaming platforms.
Lunch's collaborations with director Beth B date back to the late 1970s, when she appeared in two films by Beth B and her then husband Scott B. And the trust between the two is evident. Lunch is a combative presence who guards certain aspects of her private life, while spilling others with a disconcerting and unflinching honesty. But one suspects, after witnessing her terrorise her bandmates and toy with a male audience member like a cat which is about to disembowel a mouse, that few directors – and certainly no male director – would have been as suited to the job of capturing Lunch in all her feral glory.
Lunch has always been candid about her childhood abuse – details are seeded in her lyrics and in her profoundly uncomfortable poetry. But even so, her matter of fact descriptions of her father ("a petty criminal, insane") and his sexual predation on her from an early age are sickening and shocking – intentionally so. Eloquent, fiercely intelligent and infused with the kind of anger which would have destroyed her if she hadn't turned it onto other people, Lunch approaches the camera as a combination between an audience and a therapist. It's a hypnotic monologue, delivered in witchy, purring incantations. But within there are details of murderous fantasies, of an all two early understanding of the cruel inevitability of cycles of abuse. There are sexually aggressive diatribes directed at the actor Vincent D'Onofrio; unfiltered rage at both the Hollywood producers who wield their power and, it seems, the actresses who are the victims of them.
It soon becomes evident that everything we see is a performance and that Lydia Lunch never sheds the armour of her "black haired, traumatising baby-faced killer" persona. Having once been a victim, the last thing that Lunch intends to do is to show vulnerability. And who can blame her?
Production company: B Productions
International sales: Submarine Entertainment info@submarine.com
Producer: Beth B
Cinematography: Beth B, Peter Gordon
Editor: Beth B