Barbara Albert's exquisite period drama details the life of blind musician Maria Theresia von Paradis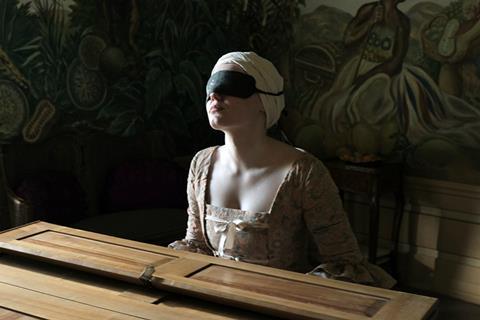 Dir: Barbara Albert. Germany-Austria. 2017. 97m.
Great talent demands great sacrifice in Mademoiselle Paradis (Licht), an exquisitely crafted period drama telling the true story of blind musician Maria Theresia von Paradis and pioneering physician Dr Franz Mesmer. The personal tale also reflects on the plight of women amidst the glaring inequalities of eighteenth century European high society.
A superb performance from Maria Dragus pulls Maria from the pages of history
Following its premiere in Toronto's Platform strand, it should readily attract arthouse audiences who have supported similar portraits of women who have suffered for their art, from Séraphine (2008) to Paula (2016).
Mademoiselle Paradis begins and ends with a lingering close-upon on star Maria Dragus as she plays the harpsichord. Effort, concentration and ecstasy dance across her expressive features as portrays the way in which Maria Theresia comes alive when she surrenders to the pure joy of music. Between those two scenes, Maria's life fluctuates between hope and despair.
Blind since the age of three, Maria is both admired and pitied by a society that swoons over the sublime sensitivity of her playing. Her parents regard her as a mixture of breadwinner and prize possession, but agree to her treatment at the hands of Mesmer (Devid Striesow).
Muscle exercises and Mesmer's more controversial methods of manipulating magnetic fields of energy achieve some success. As Maria starts to perceive light and experience colour, she is overwhelmed by the beauty and cruelty of the world around her. Director Barbara Albert allows us some sense of what she is feeling by using a light that seems too strong, showing a white that blinds and presenting the outlines of faces just starting to come into focus.
The question remains of how much genuine progress Maria has made, whether this is mind over matter and if Mesmer is merely a charlatan. What is without doubt is that Maria no longer plays with the skill and dexterity that once seemed innate. The promise of restored vision could mean the end of her career.
Across all of its elements, Mademoiselle Paradis illustrates a rich selection of themes from the class divide of the period to the treatment of the afflicted and the plight of Maria as a young woman given no say in her own future. Costume designer Veronika Albert deserves special mention for the fabrics and finery used to denote the way fashion was a measure of status in 18th century Vienna. Mesmer sports a natty purple ensemble festooned with roses, and Maria's most elaborate frock is like a miniature garden in bloom.
The vibrant wall coverings, furniture and elaborate state rooms similarly contribute to the sense of an age in which the rich thrived and the poor were expendable. Maria is a victim of those times, her own success as a composer having barely survived beneath the giant shadow of a contemporary and friend like Mozart.
A superb performance from Maria Dragus pulls Maria from the pages of history making her alive and emotional, vulnerable to every harsh word and casual insult. She creates a deeply sympathetic figure trapped between the conflicting demands of life and art.
Production companies: Looks Filmproduktionen, NGF
International sales: Films Distribution info@filmsdistribution. com
Producers: Michael Kitzberger, Wolfgang Widerhofer, Nikolaus Geyrhalter, Markus Glaser, Martina Haubrich, Gunnar Dedio
Screenplay: Katrin Resetarits based on the novel Mesmerized by Alissa Walser
Cinematography: Christine A. Maier
Editor: Niki Mossbock
Prod des: Katharina Woppermann
Main cast: Maria Dragus, Devid Striesow, Lukas Miro