Phuttiphong Aroonpheng's impressive debut explores the relationship between a Thai fisherman and a refugee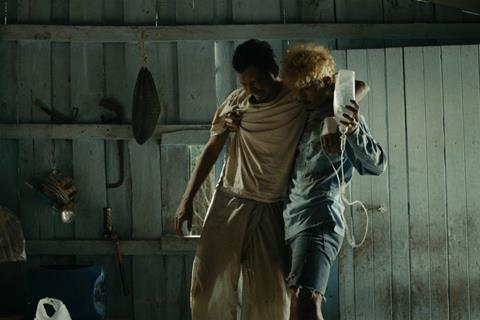 Dir/scr. Phuttiphong Aroonpheng. Thai-Fr-Chi. 2018. 105mins
Real-life nightmare takes on an eerie dimension of dream in Manta Ray, a stylistically alluring parable from Thai cinematographer turned writer-director Phuttiphong Aroonpheng. Manta Ray won Best Film in Venice's Orizzonti section before moving on to Toronto and San Sebastian, and its poetic originality and political urgency should ensure a strong year on the circuit, as well healthy fortunes in the niche art cinema sector.
Aroonpheng's great achievement is to convey a sense of humanist outrage while telling an involving story
Enigmatic and impressionistic in tone, the film is sparing with dialogue – indeed, one key character never says a word – but its meaning is strongly hinted at in the opening dedication to the Rohingya people of Myanmar, whose continuing persecution has constituted one of the great human rights scandals of our time. Set on a stretch of Thai coastline near the Myanmar border, the film follows the relationship between a young Thai fisherman and a silent man who, it's understood, is a Rohingya refugee who has reached safety by the skin of his teeth.
The film begins mysteriously as a rifle-carrying figure draped in multi-coloured lightbulbs stalks through a dark forest, where we then see a group of men burying a human body. Removing his mask on his way home, one of them turns out to be a young man with bleached blonde hair – a fisherman (Wanlop Rungkumjad), whose name we never learn, who lives in a crumbling shack and presumably earns extra income burying refugees who have perished in this treacherous terrain. This is a region where, as the director's notes point out, thousands of refugees have drowned, but where local hostility has seemingly been responsible for many more deaths.
Exploring a mangrove swamp, the fisherman finds a seriously wounded man (Aphisit Hama) and takes him for medical attention. He moves the man – a refugee who has apparently lost the power of speech – into his own home, nurses him back to health and forms a close bond with him, naming him Thongchai, after Thai pop singer 'Bird' Thongchai.
Visiting a funfair together, and dancing under glimmering disco lights at the shack, the pair seem to be not just friends but possibly on the verge of becoming lovers. But the fisherman, though reluctant to continue his sinister night work, goes off to one more job and doesn't return. Bereft, Thongchai soon acquires a new housemate – the fisherman's wife Saijai (Rasmee Wayrana, best known as a singer), who had absconded with another man but is now back, and pregnant.
She effectively seduces Thongchai in an extraordinary sequence in a forest hot spring, her singing voice soaring over the following sequence of images, taking the film further into a non-realist register. Indeed, the film takes on a decidedly uncanny tone at this point, as Saijai bleaches Thongchai's hair so that he becomes the doppelgänger of her vanished husband.
Aroonpheng's great achievement is to convey a sense of humanist outrage while telling an involving, sometimes headily perplexing story in a magical realist register. This rich feature threads together a set of diverse but poetically 'rhyming' images – the multi-coloured lights seen throughout, a set of similarly glowing gems that emerge from the forest floor, and a horrific image of other human treasures hidden in the earth.
With a rich sound design, and a haunting score by French keyboard-based duo Snowdrops, Aroonpheng and DoP Nawarophaat Rungphiboonsophit create an impressionistic atmosphere that plays on contrasts of thick darkness and artificial, vibrant colour, and weave suggestive correspondences between land and sea, the forest floor scanned by a floating camera as if it were a deep sea bed. The editing – sometimes weaving in brief, seemingly unmotivated sequences like a visit to an abandoned warship – creates an unsettling fragmentation that thickens the existential mystery
The film sustains a tone of tender, low-key sensuousness that's all the more affecting because we know that there's a constant threat of brutality. The acting is low-key but haunting, with non-professional Hama making an affecting impression and established actor Rungkumjad cutting an ambivalent and somewhat glamorous figure, at once tender and potentially menacing.
Aroonpheng, it should be noted, is an admirer of compatriot Apitchatpong Weerasethakul, but claims he's more influenced by David Lynch; enthralled viewers will certainly pick up intriguing undertones of both.
Production companies: Diversion, Les Films de l'Etranger, Youku Pictures, Purin Pictures
International sales: Jour 2 Fête sales@jour2fete.com
Producers: Mai Meksawan, Philippe Avril, Jakrawal Nilthamrong, Chatchai Chaiyon
Cinematography: Nawarophaat Rungphiboonsophit
Editor: Lee Chatametikool, Harin Paesongthai
Production design: Sarawut Karwnamyen
Music: Christine Ott, Mathieu Gabry (Snowdrops)
Main cast: Wanlop Rungkumjad, Aphisit Hama, Rasmee Wayrana