Dir: Valerie Donzelli. Fr. 2015. 108mins.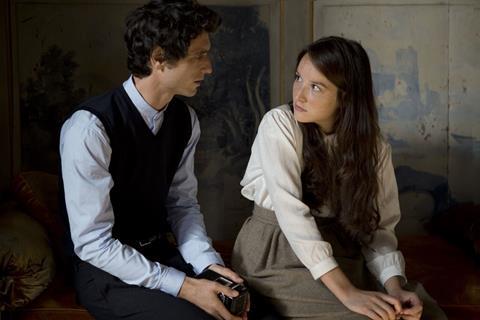 A film about unconditional love that is rather too much in love with itself, Declaration of War director Valerie Donzelli's fourth feature reworks a script abandoned by Francois Truffaut, based on the incestuous love affair between an aristocratic brother and sister in rural France at the dawn of the seventeenth century.
In surrendering so completely to the couple's own fiery passions, Donzelli neglects little details like character development
With more ideas than it can digest – including an obtrusive series of anachronistic modern inserts, from helicopters to transistor radios – this period-set tale of a tragic amour fou sometimes lives up to its own immense self-belief, partly thanks to a committed, smouldering performance by Anais Demoustier as a young girl swept away by an all-consuming passion. But in the end the way the director drives with her foot slammed down on the star-crossed romance pedal, pausing only to grab sustenance from a cinematic sweetshop of techniques and references, becomes more than a little wearing. That said, this is a clever-cute package that may well appeal to cine-literate audiences looking for an artsy take on the bodice-ripper.
It's not immediately clear that the film is based on a true story; an opening caption tells us merely that Marguerite and Julien de Ravalet lived "a long, long time ago". We first meet the siblings as young kids in the rambling parental estate of Tourlaville in Normandy. They spend all their time in each other's company: noticing this, their disapproving abbot uncle (Sami Frey) persuades his brother, Jean de Ravalet (Frederic Pierrot) to send Julien away to college and then for a series of self-improvement trips around Europe.
On his return, however, it's obvious that Marguerite (now a young girl, played by Demoustier) has lost none of her single-minded devotion for her favourite brother (now played by Jeremie Elkaim), and after some hesitation on his part an erotic spark is ignited between them.
Donzelli rarely plays her stories straight, no chaser, and Marguerite & Julien is no exception. The story is partly told after lights out by older girls in what seems to be an orphanage, with voice-over giving way to in-scene dialogue. There would be some mileage in this once-upon-a-time framing device if Donzelli didn't drop it around the halfway point. The same goes for the fast-forward anachronisms that are hidden here and there like Easter eggs: though costumes and interiors are mostly in the 17th to 19th century range, and horses are the main form of transport, glimpses of gramophones, electric lights, police uniforms and cars mess up the time code, as do the passages from books that Marguerite reads out loud in a couple of scenes, which include Flaubert and Walt Whitman.
The period mash-up extends to a soundtrack that mixes classical pieces and indie rock ballads. If this trickery never quite derails the story, that's partly because it's supplied in small doses and partly because a strong cast and mostly solid script hold our attention as Marguerite is married off to a rich tax collector (Fernandez) with a mother (Geraldine Chaplin) who's a real piece of work, and then rescued by Julien prior to the couple's final desperate attempt to flee to England. A creditable attempt is made to try to understand the effect of brother-sister incest on a normal, loving family, but it's the passion itself that dominates the show. There's nothing prurient about the physical love between the two siblings, which is depicted with some tenderness except in one brief forest-fornication scene.
But in surrendering so completely to the couple's own fiery passions, Donzelli neglects little details like character development. Flashy techniques like crime-scene photos, scenes starting with characters frozen in suspended animation, and a Malick-like montage of abstract natural imagery near the end, try to distract us from these shortcomings, but in the end, only the truly smitten will be fooled.
Production companies: Rectangle Productions
International sales: Wild Bunch, sales@wildbunch.eu
Producers: Edouard Weil, Alice Girard
Screenplay: Jeremie Elkaim, Valerie Donzelli, from an idea and original script by Jean Gruault
Cinematography: Celine Bozon
Editor: Pauline Gaillard
Production designer: Manu de Chauvigny
Music: Pierre-Alexandre 'Yuksek' Busson
Main cast: Anais Demoustier, Jeremie Elkaim, Frederic Pierrot, Aurelia Petit, Raoul Fernandez, Catherine Mouchet, Bastien Bouillon, Sami Frey, Geraldine Chaplin