Brett Morgen takes a sensory voyage through David Bowie's estate in this dizzying doc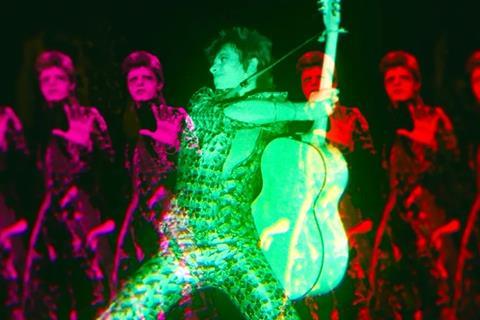 Dir/scr. Brett Morgen. US. 2022. 122 mins.
Brett Morgen brings the gift of sound and vision to Moonage Daydream, an electric audiovisual tour around the restless mind of renaissance man David Bowie, as cracked open by unfettered access to the late artist's estate. It quickly becomes clear that one film won't be enough to capture this chameleon, so Morgen instead opts for a dazzling multi-media experience, loosely threaded with disembodied narrative as provided by conversations with Bowie during his lifetime. It's a pristine sensory voyage, with astonishing sound — in particular remastered Bowie concert audio - which calls for big-screen, event treatment for fans and converts-to-be. (Neon distributes in the US, with HBO on for streaming and Universal taking worldwide on a work which is IMAX-tailored.)
This is a skilled and satisfyingly unconventional presentation
Initially, Morgen (Cobain: Montage Of Heck) takes Bowie more seriously than the artist seems to have regarded himself, opening the film with philosophical musings from the Brixton-born 'alien rock God'. Bowie himself seems to have been caught constantly in the urge to create in whatever medium was available, a true auto-didact, a creative-polymath. He's a quick-witted, contemplative, hyper-perceptive presence throughout, even in old, old footage such as the Alan Yentob 'Cracked Actor' documentary from 1975 where he uses his personas as a shield, and not in a happy way. It's a film he almost certainly would have liked, infused with his spirit but coming no closer to packaging the space oddity for comfortable categorisation. That's a good thing, and Moonage Daydream should look forward to a similar reception as last year's rock-doc which premiered in the exact same Cannes slot, Todd Haynes' The Velvet Underground.
Morgen draws on constant, seemingly innumerable, film clips along with archival news and concert footage as well as personal recordings and documents. Much of this film has never been seen before, and it is a true treasure trove. It feels, like Bowie's career, though, incomplete, and certainly the period between his later-in-life marriage to Iman and death after the final, unsettling Blackstar recordings is vague and reliant on what the director/producer/editor calls 'musical mash-ups' which he designed and edited to have a trancey, hypnotic effect. Although ultimately Bowie stopped talking about his work, Morgen stresses the artist's satisfaction and pleasure in life, depicting him as a genial shapeshifter who cheerfully says things like, 'I'm pretty keen on everything,' - in its own simple way a good description of his career - and 'I've had an incredible life — I'd love to do it again."
And in the way that Moonage Daydream is infused with his presence, Bowie almost does.
Although Morgen's film initially looks as if it has no narrative trajectory, it ultimately follows a through-line, which is inevitably visually weighted prior to the 1983 Serious Moonlight tour. (And it is odd to watch a film that focuses so heavily on Bowie's bombastic skills as a performer without noting how that side of his career eventually came to an end, through both injury and illness.) This is a skilled and satisfyingly unconventional presentation, however, with the audio and filmic references adding to the shapeshifting miasma of Bowie's career. This is particularly illustrated by footage of Bowie with Brian Eno in Berlin for the 'Low' trilogy leading to what one expects will be a rendition of 'Heroes' under the Wall. Morgen moves to Brixton, however, for a previously unseen concert and utterly rousing performance of the Bowie classic (audiences will be well advised to prioritise sound when booking).
For such a dizzying film which took five years (like the song) for Morgen to complete, there's no surprise to see an army of sound technicians and archival researchers in the credits. (Film clips run from Triumph of the Will to Ivan the Terrible and beyond, art works include Bacon and Basquiat, photographs from Terry O'Neill, Bruce Weber and Mick Rock, and there is a lot of Phillip Glass, as might be expected). After concert footage ranging from the Spiders (1972) and Diamond Dogs (1974) tours, and more, an un-named critic notes that the worldwide smash that was 'Let's Dance' was the first time Bowie made a giant hit for the present, rather than giving the audience the future in his work.
That is what is most missed about Bowie, and what Morgen pinpoints so precisely in all the Starman razzle-dazzle.
Production companies: BMG, Live Nation, Public Road Productions
International sales: Submarine/WME
Producers: Debra Eisenstadt, Bill Gerber, Brett Morgen
Music producer: Tony Visconti
Archive producer: Jessica Berman Bogdan
Screenplay: Brett Morgen
Editing: Brett Morgen