Darren Aronofsky delivers an expressionistic ode to the times we live in.
Dir. Darren Aronofsky. US. 2017. 120 mins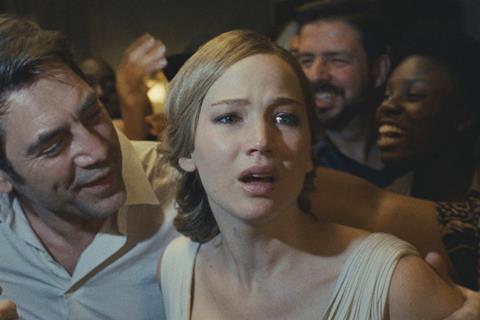 Darren Aronofsky's churning fever dream mother! is a devouring and restless experience: a creative surge that's like the lancing of a boil, releasing a torrent of despair and disgust for the greedy chaos of society today as well as a self-loathing portrait of the artist as an emotional succubus. Part-couched as a horror but also a wicked allegory, this is as formally provocative as it is thematically insistent, draped in horror tropes and religious overtones.
Aronofsky equates society's use of women as a leech-like sucking similar to its abuse of the planet with an endless need for more-more-more
mother! is a personal, end-of-days statement which expresses the angst of these times as well as a deep-seated and bloody hatred for them. It's an unusual studio picture from Paramount: like much the rest of Aronofsky's work it will divide and stimulate audiences and critics, but should still be hailed as an original, strikingly unconventional piece on its US commercial release September 15 (shortly after its Venice and Toronto premieres). Awards play seems likely, particularly for Aronofsky's muse Jennifer Lawrence, embodying and responding to all his considerable neuroses, fears and desires, as an artist, a lover, and a citizen of the planet.
A seemingly free-flowing gush, entirely couched in long, swinging, hand-held single shots in one location, mother! is shot almost entirely from the character 'mother's (Lawrence) POV or on her face. (According to production notes, 66 minutes of the film's two-hour running time is a shot of Lawrence.)
Dispensing with conventions, Aronofsky completely eschews music until the final credits, and mother! has – at least initially – a stripped-down, bare-bones feel, a dogme Dogville in which an octagonal house is the rooted-centre and within that, Lawrence's un-named 'mother' its source. Her partner, Javier Bardem's 'him', is a slippery, elusive poet, while a malevolent Fellini comes to mind with the introduction of a louche band of characters led by Michelle Pfeiffer as 'woman' and Ed Harris as 'man', trailing with him memories of Cronenberg's Naked Lunch.
Baby-faced 'mother' and the much older poet 'him' are living in domestic bliss in a house she has brought back to life by hand from a previous fire. An opening sequence tracks back from a burned-out room, and 'mother' wakes up alone, looking for her 'baby;. As Aronofsky and his DP Matthew Libatique introduce us to the house, it is from her perspective: in fact, the camera feels as if it's swinging like a lightbulb, distractedly prowling the rooms and corridors with her.
Soon, 'man' (Harris) appears at the doorway: he's an orthopaedic surgeon, and he strikes up an easy bonhomie with 'him', who invites his grubby guest to stay, much to pristine mother's dismay. The mysterious him has a creative block, and he's clearly looking to play around with his guest. Aronofsky flirts with horror here: the smoking, coughing Ed Harris has a flesh wound and regurgitates something sinister down the toilet. Soon he's joined by his gargoyle-ish, snippy wife Pfeiffer (fantastic), who spells out the sexual tension between 'him' and mother, even as she encroaches into their perfect world.
Brian Gleeson and Domhnall Gleeson show up as their feuding, aggressively demanding sons, and mother's carefully calibrated existence begins to shred. Aronofsky equates society's use of women as a leech-like sucking similar to its abuse of the planet with an endless need for more-more-more, yet this is also an allegory, with Lawrence as the nurturing mother Earth. He also has plenty to say about the empty obsession of celebrity. In fact, it's hard to categorise mother!. Its style is a perfect meld with its narrative ambitions and they run in harmony with the current, chaotic times we live in. It unsurprisingly has difficulty in sustaining this world over the long haul, but the very end does eventually justify the means.
As the eight sides of mother!'s structure simultaneously cave in and explode, Kristen Wiig makes an appearance as the 'herald', whipping up the room. Patti Smith sings about the end of the world. Him writes, and it's a masterpiece. 'They love it!' he declares as the crowds surge. 'It affects everyone in a different way!' Certainly, post Venice and pre-awards, they'll be talking about mother! wherever it plays, and it seems destined for the same reception.
Production company: Protozoa
Worldwide distribution: Paramount
Producers: Scott Franklin, Ari Handel
Executive producers: Jeff Waxman, Josh Stern and Mark Heyman
Screenplay: Darren Aronofsky
Cinematography: Matthew Libatique
Production design: Philip Messina
Editor: Andrew Weisblum
Main cast: Jennifer Lawrence, Javier Bardem, Ed Harris, Michelle Pfeiffer, Brian Gleeson, Domhnall Gleeson, Kristen Wiig