Dir. Ana Katz. Argentina/Uruguay, 2015. 85 mins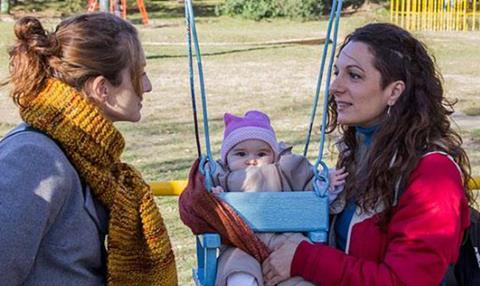 An unexpected friendship is the catalyst to explore class conflict, female solidarity and the responsibilities of single motherhood in Ana Katz's engaging My Friend In The Park (Mi Amiga Del Parque). Katz serves as director, co-star, co-producer and co-writer of the film but it is the screenplay in collaboration with Inés Bortagaray that impresses the most.
My Friend In The Park is a competently crafted, unassuming production that puts its faith in the quality of the screenplay and the conviction of the performances
The duo manages to pack a lot of material into a compact running time, giving audiences plenty to chew over. Their intentions are achieved with a light touch that renders everything accessible and is likely to strike an emotional chord. The film opened in Argentina in September, but a Sundance showcase should help to gain it much wider attention, potentially attracting elements of the international audience which embraced Anna Muylaert's The Second Mother.
Odd couple friendships are a tried and tested genre, usually in a tearjerking, building bridges manner but My Friend In The Park is less sentimental and more complex than say My Afternoons With Marguerite (2010) or Las Analfabetas (2013). Here, we spend a good deal of time wondering if this friendship is even a good thing.
Liz (Julieta Zylberberg) could certainly use a friend. Her mother died during the early stages of her pregnancy and her filmmaker husband is away working, leaving her with the sole responsibility of raising their baby son Nicanor. There is no support network to help her negotiate the feelings of guilt and inadequacy that arise in her attempts to be a "good" mother. A chance meeting with Rosa (Anna Katz) and her little baby seems like the beginning of a beautiful friendship.
Broad brushstrokes in manner and wardrobe are used to underline the fact that Rosa is from a different class. When they go to a restaurant, Rosa orders beer. When Rosa visits Liz's flat she is offered a selection of flavoured teas. The cigarette in her mouth, the tightness of her skirt, and her disregard for the law are all designed to play to the viewer's prejudices.
Liz is naive enough and needy enough to let the friendship with Rosa grow despite warnings from other middle-class mothers in the park that Rosa and her sister Renata (Maricel Alvarez) are "not like us". The audience is encouraged to become complicit in their rush to judge as we know that the manipulative, untrustworthy Rosa has lied to Liz. And yet, are we merely sharing their smug assumptions?
The film is clever enough to keep you questioning what really matters in this relationship. Rosa borrows a coat that is never returned, takes money that is never repaid and yet it may just boil down to very different definitions of friendship. What Rosa claims as acts of friendship others might consider theft. Is Liz more admirable than the other parents in the park because she is willing to extend Rosa the benefit of the doubt?
The Girl In The Park is a competently crafted, unassuming production that puts its faith in the quality of the screenplay and the conviction of the performances. Julieta Zylberberg is especially noteworthy as a woman under immense pressure, who seems constantly on the verge of a nervous breakdown as she tries to juggle the demands of motherhood, career, loneliness and the rash judgements of other people. She makes the vulnerable Liz a sympathetic and very human figure.
Production Company/international Sales: El Campo Cine, nico@elcampocine.com.ar
Producers: Nicolás Avruj, Diego Lerman, Ana Katz, Agustina Chiarino, Fernando Epstein Ignacio Rey, Gastón Rothschild
Screenwriter: Ana Katz, Inés Bortagaray
Cinematography: Bill Nieto
Editor: Andrés Tambornino
Production designer: Eugenia Sueiro
Music: Maximiliano Silveira
Cast: Julieta Zylberberg, Ana Katz, Maricel Alvarez, Mirelal Pascual