Małgorzata Szumowska and Michał Englert present a surreal story of a healer from Chernobyl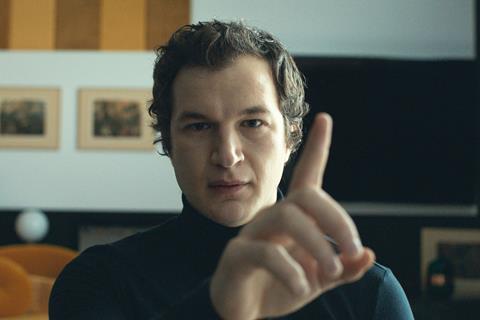 Dir. Małgorzata Szumowska, Michał Englert. Poland/Germany. 2020. 113mins.
Desire and delirium in Eastern Europe, with an undertow of eco-anxiety, make for a bizarre hybrid, somewhere between Twin Peaks and Pasolini's Theorem, in Never Gonna Snow Again. Long-standing and highly productive collaborators Małgorzata Szumowska and cinematographer Michał Englert (Body, Mug and last year's English-language The Other Lamb) take joint directing credits on a venture which heads all the way into the territory of surreal satire to eerie and intriguing effect. Even though the outré characterisation and elaborate visual execution ultimately make it feel that the film is trying just a touch too hard to freak the viewer out, its imagistic flamboyance, coupled with a quietly charismatic lead from Ukrainean actor Alec Utgoff, mean the film stands every chance of being the duo's most visible venture yet.
A world trembling on the border between the real and low-level nightmare.
Things begin in altogether Gothic mode, as a silhouette emerges from a twilight-steeped forest, walks through a railway station – lights flickering ominously as he strides along a walkway – and into an administrative building where he passes through a waiting crowd and into the office of a careworn, seemingly ancient functionary. The young man, named Zhenya (Utgoff), comes from Pripyat in Ukraine – "Chernobyl?" the functionary instantly twigs – and wants a permit to come to this country (never named, but we assume Poland) to work as a masseur. As he practices his skill on the official, we suspect that Zhenya may be a sort of travelling angel of death – or just someone supernaturally able to bring peace to those who need it.
Carrying his folding table under his arm, Zhenya goes house to house visiting his clients in a luxurious but utterly soulless gated community of identical mini-mansions. There, the people who come to depend on his calming hands include bored, bibulous Maria (Maja Ostaszewksa), mother of a hilariously brattish daughter; a man with cancer whose young wife Wika (Weronika Rosati), can't stop shooting Zhenya come-on glances; a neurotic lover of bulldogs (Katarzyna Figura); and Eva, a world-weary, eco-conscious widow who has buried her husband under a conifer (she's played by the film's most widely known actor, Agata Kulesza, from Ida, Cold War and Anne Fontaine's The Innocents, barely recognisable under heavy glasses and a punkish shock of white hair).
Much of the film proceeds as a series of vignettes, introducing us to a striking set of very different decors (designer Jagna Janicka cleverly ringing changes on a basic template interior) and odd supporting characters (including two teenage chemists cooking up pharmaceuticals). Everyone wants something from Zhenya, often sexual, although - despite his muscularity and faint resemblance to Patrick Swayze - he seems almost sexless himself. But maybe what he can offer these people is of an unearthly nature, given the glimpses of his background; he was a child when Chernobyl exploded, the disaster apparently leaving him with strange telekinetic powers.
Intermittently, the film flickers into stylised flashbacks and tableau-like dream sequences, while the more elaborate eruptions of visual strangeness include a Halloween parade, and the pièce de resistance, executed with knowing flashiness, a conjuring turn in which Zhenya plays assistant to one of his customers. The nuclear theme is underpinned by a recurrent image of falling flakes, also referring to the warning that climate change will soon put an end to snow in Europe. The film-makers artfully thread other leitmotifs throughout: dogs, faces reflected in windows, lights flickering on and off (yes, that old horror film staple, also it's used with deliberate consistency here). And Englert certainly earns his co-directing credit with cinematography that is intensely atmospheric, deeply crafted and absolutely suggestive of a world trembling on the border between the real and low-level nightmare.
There's a sly irony to the depiction of a country that was once part of the Communist East and is now desperate to distance itself from its past, but has embraced a different kind of conformity based on consumerism and a neurotic ideal of security. In that context, Zhenya appears as a historical return of the Repressed, but also as a kind of holy innocent, able to satisfy his customers' bodies and souls, while haunted by his own desperate loss. That's one interpretation, at least, and Alec Utgoff's gentle, enigmatic but oddly reassuring screen presence allows the possibilities to resonate teasingly. But while the film is sometimes alluringly oblique, other aspects seem altogether familiar; the depiction of a luxury community that's more like a prison isn't, for all its Eastern chill, that different from the kind of satire of American suburbia presented years ago by Edward Scissorhands. And it certainly can't be said that the film-makers proceed with a light touch: every shot is richly crafted, many lit for maximum atmospherics. Ultimately the film simply lays it on a bit too thick, not quite leaving the viewers room to wonder, to imagine, to dream, for ourselves.
Production companies: Lava Films, Match Factory Productions
Sales: The Match Factory, info@matchfactory.de
Producers: Agnieszka Wasiak, Mariusz Włodarski, Małgorzata Szumowska, Michał Englert, Viola Fügen, Michael Weber
Screenplay: Michał Englert, Małgorzata Szumowska
Cinematography: Michał Englert
Editors: Jaroslaw Kaminski, Agata Cierniak
Production design: Jagna Janicka
Main cast: Alec Utgoff, Maja Ostaszewska, Agata Kulesza, Weronika Rosati, Katarzyna Figura