A woman with Parkinson's Disease struggles to help her son in the isolation of British Columbia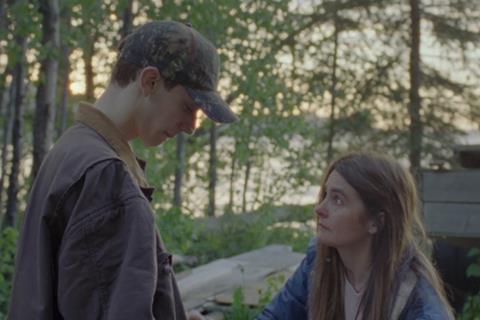 Dir/scr: Kathleen Hepburn. Canada. 2017. 110mins.
The sweeping vistas of British Columbia, Canada, provide a stunning, juxtapositional backdrop for this intimate study of lives narrowed by circumstance. First time feature filmmaker Kathleen Hepburn expands her award-winning short, which mined her own experiences of a mother with Parkinson's Disease, into a poetic study of familial relationships straining and strengthening under the pressure of serious illness.
At the centre of the film is Henderson's performance.
Following its Toronto premiere and Busan berth, festival play seems assured for this striking character study. Thunderbird will release theatrically in Canada, where it could resonate with a home crowd — particularly given Hepburn's success as a short filmmaker — and the UK, where it might connect with an audience appreciative of such accomplished drama, despite the subject matter.
Henderson is Judy, a woman in her 50s who has suffered from Parkinson's for 19 of her 23 years of marriage to Ed (Nicholas Campbell). The couple live on the very edge of the expansive Stuart Lake, where Ed helps Judy button her jeans and take her pills. Theirs is a relationship of mutual care, affection and easy humour; "If you'd just stop your jiggling for a second," Ed jokes when he's trying to cut her wedding ring off her bent finger. And Judy remains fiercely independent despite her advanced illness, visiting a group support session each week to help manage her condition.
The couple's 18-year-old son Jamie (Theodore Pellerin) is, however, drifting through life, spending most of his time with best friend Danny (Jonathan Whitesell). When his parents insist that he goes off to work in the snowy oil fields of Alberta, Jamie is thrust into a cacophonous, testosterone-fuelled world that forces him to quiet down and toughen up. When catastrophe strikes at home, Jamie must finally learn to step up to his responsibilities.
At the centre of the film is Henderson's performance. Not only does she convincingly embody the relentless motion of Judith's disease, but also encapsulates the dignified resignation of a life lived with the affliction. It's a modest tour de force which is, at times, devastating to watch.
While the title of the film is a reference to Parkinson's itself, it also nods to Jamie's ongoing search for his place in the world. He is both drawn to and repelled by his mother's disease; as a child he believed he could 'turn it off', as holding her hand would stop her shakes, but now struggles with the enormity of it. And he's also dealing with his own issues, not least his sexuality; he briefly fantasizes about kissing Danny, and engages in a couple of short-lived fumbles with a bored prostitute and sweet, heavily pregnant local girl Kaly (Mary Galloway).
Shooting on 35mm, Norm Li's expressive cinematography underscores the emotional tumult playing out in this peaceful locale. Long held wide shots take in the still isolation of the landscape, and some are painterly in their composition — a vase reflects the clouds, a boat rests on the shore. Similarly, the evocative score by Ben Fox has an aural duality, layering soft, reverberating chords over more frantic, pulsing strings.
It's to Hepburn's credit that Never Steady, Never Still avoids any of the histrionics or melodrama often associated with such stories. Instead, she offers keen-eyed, compassionate observation of the impact of illness that, while not shying away from its emotional toll, celebrates the strength and sanctuary a family can provide.
Production companies: Experimental Forest Films, Christie Street Creative
International sales: Level K www.levelk.dk
Producers: Tyler Hagan, James Brown
Executive producers: Carol Whiteman, Kathleen Hepburn, Lori Lozinski
Cinematography: Norm Li
Editor: Simone Smith
Production design: Elizabeth Cairns, Sophie Jarvis
Music: Ben Fox
Main cast: Shirley Henderson, Theodore Pellerin, Nicholas Campbell, Mary Galloway, Lorne Cardinal, Jonathan Whitesell