The stories of three women intersect in a Mixtec community in rural Mexico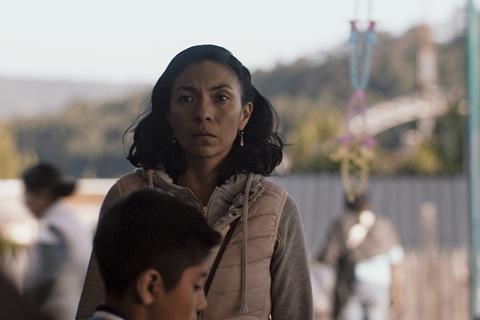 Dir: Angeles Cruz. Mexico. 2021. 91mins
With her first feature film, Mexican actress turned writer/director Angeles Cruz has fashioned a quietly powerful triptych of stories that speak about the plight of indigenous women in her country, combating the triple whammy of poverty, intolerance and toxic masculinity. While the subject's a heavy one, Cruz's compassionate and skillful storytelling, assisted by strong performances, results in a lighter, engaging alternative to the often hardcore Mexican approach to drama. And given the current openness to women's stories, this deserves to find an audience beyond Latin territories.
Cruz's women have suffered, but they're self-reliant and proud
Cruz employs a framing device that links her three narratives in place and time: namely San Mateo, a Mixtec village in the southern state of Oaxaca, during its celebration of its patron saint. Each involves an economic migrant returning to the village for different personal reasons, each visit involving a great deal of tension.
Maria (Sonia Couoh) is one of many indigenous women in Latin countries working as a maid in the cities. When she hears that her mother has died she immediately goes home, only to be rejected from the wake by her father, who angrily suggests that, "it was your bullshit that killed your mother." Maria's crime in his eyes is to be a lesbian. While her farewell to her mother is miserable, she uses her visit to reunite with her old lover, Piedad (Eileen Yanez), who now has a baby; as for all the children onscreen, the father is absent.
Next comes Esteban (Noe Hernandez), a musician and alpha male who returns home with his shiny new clarinet and a broad grin, anticipating an enthusiastic welcome from his wife Chabela (Aida Lopez) and their two children. But the kids don't know him and Chabela, having not heard a word from the man in three years, has found herself a new partner. For a man who believes that "instruments are like women – they can only be played by their owner," this is too much to bear. Esteban demands 'justice' from the village council, which also acts as a tribunal that settles any dispute, even on such personal matters such as this.
The final story is the most heart-wrenching. Tona (Myriam Bravo) sells handbags in a city market, sending money home to her mother and young daughter. A phone call makes her fear that the girl is being sexually abused by the same relative who abused Tona herself as a child. She goes back to save her.
Cruz's women have suffered, but they're self-reliant and proud. Chabela positively bristles with indignation and resolve, winning the village voters over with her assertion that "my body had its own needs". Tona, whose love life is almost certainly impacted by her childhood abuse, is determined to finally see the perpetrator pay. Maria's struggle is one she isn't going to win, not here, yet she still teaches her father a thing or do about maturity and forgiveness.
In keeping with Cruz's low-key but effective style, the stories connect without fuss or fanfare: two people stepping off the same bus, the funeral procession making its way past the public tribunal. Carlos Correa's handheld camera gets up close and personal with the heated emotion, occasionally losing the characters amid the expanse of the Oaxacan highlands. The two rituals and the music that accompanies them – funeral procession (mournful strings) and religious festival (boisterous horns) – play a large part in evoking the life and timbre of the village.
Nudo in English is 'knot', leaving the title open to interpretation: life for everyone in the poverty-stricken village is certainly 'knotty', as is the decision to stay or go; at the same time it could be reflecting on the bitter reality of so many family ties.
Production company: Madrecine
International Sales: FiGa. www.figafilms.com
Producers: Lola Ovando, Lucia Carreras
Screenplay: Angeles Cruz
Production design: Basia Pineda
Editing: Miguel Salgado
Cinematography: Carlos Correa
Music: Ruben Luengas
Cast: Sonia Couoh, Noe Hernandez, Myriam Bravo, Eileen Yanez, Aida Lopez, Jorge Doal