Venice sidebar opens with compelling drama based on a real-life death in custody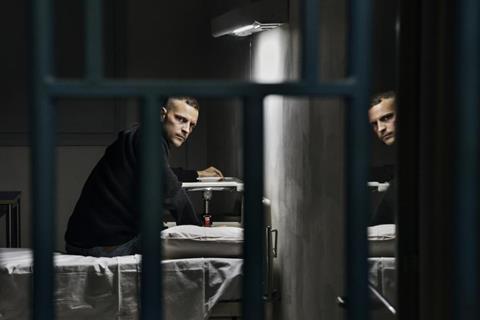 Dir: Alessio Cremonini. Italy. 2018. 100mins.
Based on a death-in-custody case that is still making waves in Italy almost nine years on, On My Skin is a relentless 'j'accuse' drama anchored by a fine central performance by Alessandro Borghi, capitalising on his attention-grabbing turn in both the movie and TV versions of Roman underworld drama Suburra.
A tough, dour but compelling drama
Like that TV series, On My Skin will be distributed worldwide by Netflix, where it is due to debut on 12 September, a couple of weeks after its premiere as the opening film of the Venice festival's Horizons section. Local exhibitors have protested about Lucky Red's decision to release the film day and date in selected Italian theatres, but there's no faulting the streaming giant's instinct in picking up the tough, dour but compelling drama.
Small-time drug dealer Stefano Cucchi died in a Rome prison hospital on 22 October 2009. An end title informs us that he was one of 176 detainees to die that year – but unlike the vast majority, Cucchi's case became a national scandal thanks to his family's fight for justice and the strong suspicion that police brutality on the night of his detention may have played a role in his demise (a trial involving five Rome Carabinieri is still grinding through the Italian court system).
The key intuition of second-time director Cremonini and co-scriptwriter Lisa Nur Sultan is not to focus on the beating, which happens (or maybe doesn't) behind a closed door that we never enter, but its aftermath. Whatever went on, whoever is to blame, a detainee who is barely able to walk, with bruises all over his face, is blithely sent through the judicial system, where he becomes a victim of procedure, of a system in which nobody is prepared to expose themselves by taking responsibility.
On My Skin thus turns into a peculiarly Italian variation on Kafka's systemic nightmare (though the way judicial protocol fosters indifference is arguably a global phenomenon). The setting is real and raw: the outskirts of Rome, where 'respectable' lower-middle class families like those of Cucchi's surveyor father (a rare dramatic role for Italian comedian Max Tortora) and housewife mother (Milvia Marigliano) co-exist with urban decay and crime, their chintzy interior a refuge from the graffiti-strewn streets. Their daughter Ilaria (Jasmine Trinca) is the stable sibling, with a job, husband and kid; it's Borghi's drawling young punk Stefano who is the fly in their ointment. A worrisome wayward son, he is supposedly clean after rehab, but alternates days in his dad's office with evenings dealing on the streets – where he's picked up one night by a Carabinieri patrol.
What follows is a long drawn-out ordeal of cells, offices, courtrooms, corridors and hospital spaces, their claustrophobic airlessness effectively rendered by Matteo Cocco's widescreen photography and a clever use of locations (the courtroom where Cucchi is sentenced, with its cheap panelled ceiling and ridiculous stained glass frieze, is particularly devastating). An increasingly fragile Cucchi, whose kidneys soon begin to shut down, does what's is in his macho Roman culture – he stays quiet about his beating, alternating between cries for help and sullen refusals of treatment.
Everyone else, from prison guards to medical staff, acts within their culture too – doctors order x-rays, a seemingly sympathetic prison guard asks Cucchi if he really fell down the stairs while clearly not wanting to know the answer, a nurse makes note of the patient's refusal of a fluid drip. And somehow, a young man is allowed to die under the eyes and in the care of dozens of people who are simply following protocol.
Borghi embodies, literally, Cucchi's transformation in the course of a film that spans just seven days from a fit, wiry ragazzo to a broken shell of a man. A soundtrack by Mokadelic, the group that provided the music for the TV Gomorrah, underlines the drama with long-held piano chords and electronic buzzsaw whines. It's understated – just like the film's few, subtle hints that Cucchi is undergoing a modern-day Calvary, a suggestion at its strongest when we see him tilted upwards on an x-ray machine, strapped to a technological cross that brings absolutely no relief or redemption.
Production companies: Lucky Red, Cinemaundici
International sales: True Colours, catia@truecolours.it
Producers: Luigi Musini, Olivia Musini, Andrea Occhipinti
Screenplay: Alessio Cremonini, Lisa Nur Sultan
Production design: Roberto De Angelis
Editing: Chiara Vullo
Cinematography: Matteo Cocco
Music: Mokadelic
Main cast: Alessandro Borghi, Jasmine Trinca, Max Tortora, Milvia Marigliano