Three friends find their bond under pressure when one of them falls in love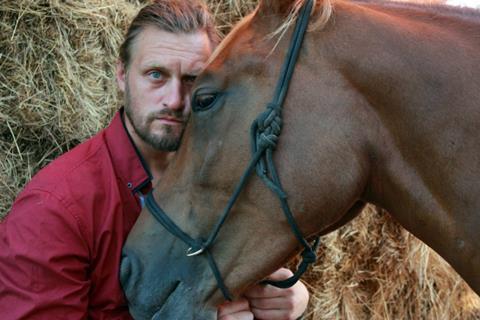 Dir: Ana Lungu. Romania. 2018. 105mins
There's a uninhibited, casual intimacy to this portrait of a trio of friends. Iris (Iris Spiridon), Marius (Marius Manole) and István (István Téglás) live together as a defacto family unit in an apartment in Bucharest. But their close inter-dependence is threatened when Iris develops a crush on Laci (László Mátray), a physically imposing poet who lives in rural Transylvania, where he gallops around on horses like some kind of modern-day fairytale prince. The romance of the idea of him is clearly a big part of the appeal for highly-strung and impulsive Iris. But for all the luxuriantly wordy single shot takes, the tensions between Iris and her friends don't quite take root.
Meandering riffs are saved from toppling into indulgence by the vibrant naturalism of the performances
This distinctive third feature from Ana Lungu is certainly entertaining; there is a gratifyingly voyeuristic quality, as if we have been granted temporary entrance into a closed circle of friendship, with in-jokes and comic shorthand in place of normal conversation. But, like all in-crowds, the film holds us at arm's length at the same time as beckoning us forward, and this which might prove to be a marketing challenge in territories outside of its immediate region. Festival interest seems likely, however.
The film opens with a discussion between Iris and an ordained minister about the differences between spiritual and physical love. It has to be said that the man of God is not quite as priestly as he might be – had he not taken his vows, he explains, he would probably have prioritised beauty over intelligence. Lungu allows the film scene to meander before it finally gets to the point; the discussion of Iris's grief over the death of a past boyfriend, and her inability to move on.
This leisurely approach is evident throughout, and leads to scenes which rather run out of steam. The screenplay, which was co-written by Lungu and star Spiridon, is full of meandering riffs which are saved from toppling into indulgence by the vibrant naturalism of the performances. It steers admirably clear of exposition. Plenty is said about everything else, from literature to death to prefered dish from the takeaway, but there is no explanation of how the trio met and how they came to refer to 'the three of us' as an entity, in the same way that other people regard coupledom.
Scenes frequently play out in single takes, with little or no camera movement – nothing, in fact, which draws the attention away from the actors. This faith in performance chimes with the characters themselves; Iris and her gay best friend István are both actors who frequently work together, both in theatre and in independent film. Sweet-natured Marius is arguably the odd one out of the three. A divorced father, he is preoccupied with issues of access to his child. Even so, he instinctively slips into a nurturing role which frequently entails picking up the tab for the other two. And when the fractures caused by Iris's infatuation start to show, it is Marius who cracks first.
Production company: Mandragora
Contact: anitzalungu@yahoo.com, robert@mandragora.ro
Producers: Anca Puiu, Raluca Paduraru
Screenplay: Ana Lungu, Iris Spiridon
Editing: Dana Bunescu
Cinematography: Luchian Ciobanu
Main cast: Iris Spiridon, Marius Manole, István Téglás, László Mátray, Dantes Bobăianu, Emilian Oprea, Răzvan Krem Alexe