Carlos Reygadas writes, directs and co-stars with his wife in this unflinchingly honest film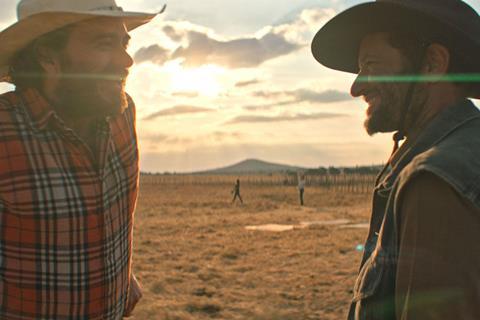 Dir. Carlos Reygadas. Mexico/France/Germany/Denmark/Sweden. 2018. 173 mins.
Mexican director Carlos Reygadas has always excelled in discomforting audiences, even since 2002 debut feature Japón, but Our Time (Nuestro Tiempo), his first feature in five years, is uncomfortable viewing for another reason: it's the account of a sexually tormented marital relationship, and it stars the director and his wife, with their own children in supporting roles. A film of considerable visual poetry and, at times, grandeur, Our Time is unmistakably the work of the ambitious, visionary director behind Battle In Heaven and Stellet Licht, but as a Bergmanesque drama of emotional anguish, the solemn, militantly downbeat Our Time often makes oppressive viewing and at times struggles to justify its nearly three-hour length.
In some ways, this is Reygadas's most conventionally realistic work
With occasional excursions to Mexico City, the film is largely set on a ranch in the Mexican state of Tlaxcala, where Juan (Reygadas), also an internationally acclaimed poet, and his wife Ester (Natalia López) raise fighting bulls. After a lengthy opening sequence in which a lively gaggle of children and adolescents enjoy outdoor leisure time on the estate, Juan and Ester are seen enjoying the company of Phil (Phil Burgers, best known for Netflix comedy series The Characters), an American horse breaker working on the ranch.
Shortly after, Ester heads on a trip to Mexico City where she and Phil have some administrative work to take care of – some of it, to Juan's suspicion, taking place late at night. It soon becomes apparent that Ester is having an affair with Phil, sparking Juan's obsessive jealousy. But despite the initial discord this causes between the spouses, the relationship goes on, with the approval of Juan, who enters into a soul-baring correspondence with his rival. In fact, Ester has had other extra-marital lovers, and an uncomfortable scene shows her reunited with one – again with the approval of her husband, who's hovering in the background as voyeur and quasi-director, setting the scene for their tryst.
Other directors and their partners have played the lead in stories of marital tension – both notably Nuri Bilge Ceylan's Climates and Atom Egoyan's Calendar – but Our Time comes across as one of the most emotionally unvarnished examples of its kind. Much of the film comprises brittle exchanges of fire between the two spouses, in scenes that test to the limits the capacity of both debut actors – Lopez hitherto being known as an editor, working on Reygadas's films as well as with Amat Escalante and Lisandro Alonso. Sometimes the scenes convince, but the excessive emotional tenor can hit awkward notes – notably in a scene that involves furniture flying and a brutal physical tussle, before Phil bathetically comments on what a great couple they are.
The triangular relationship plays out in voice-overs from the three lovers, as well as an email communication written across the cinema screen. Adding to the complexity of the textual construction is occasional omniscient voice-off narration from a young girl – presumably the couple's daughter.
Meanwhile, life on the ranch locates the emotional drama in an everyday context that's also extremely elemental, rooted in the brutality of nature. There are magnificent scenes of the cattle at large on the estate, and the sound of animal life, notably the bellowing of bulls - is a constant background presence. There are also moments of startling violence – most memorable being a nightmarish, and disturbingly realistic-looking scene in which a horse is gored by a bull. There's also a locked-horn struggle between two males that's perhaps just too pointed a metaphor for the film's human rivalry, in a concluding, mist-bound sequence that could almost be a privileged glimpse of prehistoric life.
In some ways, this is Reygadas's most conventionally realistic work – a far cry from the enigmatic fragmentation of his last film, the experimental, hallucinatory Post Tenebras Lux – but there are stylistic digressions that enhance its dream quality. One is a strange, obliquely eroticised sequence set to Genesis, as the camera strays into the innards of Ester's car; another an out-of-the-blue concert sequence at which percussionist Gabriela Ortiz performs a tympany concerto; and, strangest of all, the sudden appearance of a grotesque heavy metal singer at the couple's home, resembling a fifth member of Kiss, and echoing the glowing red devil of Post Tenebras Lux.
Another deeply imposing moment is a long aerial shot from a plane as it slowly comes down in Mexico City – one of many virtuoso moments by DoP Diego García, who previously shot Apitchatpong Weerasethakul's Cemetery of Splendor and Gabriel Mascaro's Neon Bull.
Most of the film, however, takes place in a realistic environment on the ranch and in the couple's home, with García's 'Scope at once emphasising the expanse of nature and the deeply claustrophobic space of the home – especially as the lighting grows ever more sombre. With intermittent nudity from Lopez and painfully soul-baring performances– but, notably, a frustrating lack of focus when it comes to Phil, who remains a nebulous background figure – Our Time comes across as exposing in a way that often makes the viewer squirm, and admire Reygadas's and López's candid audacity, but that doesn't entirely illuminate.
Production companies: NoDream, Mantarraya, The Match Factory, Snowglobe, Mer film, Eficine, Foprocine, ZDT/Arte, Luxbox, Detalle Films, Film i Väst, Bord Cadre Films
International sales: The Match Factory, info@matchfactory.de
Producers: Jaime Romandía, Carlos Reygadas
Screenplay: Carlos Reygadas
Cinematography: Diego García
Editor: Carlos Reygadas
Production design: Emmanuel Picault
Main cast: Carlos Reygadas, Natalia López, Phil Burgers, Eleazar Reygadas, Rut Reygadas