Zombies have destroyed the entire Korean peninsula in Yeon Sang-ho's follow-up to 'Train To Busan'.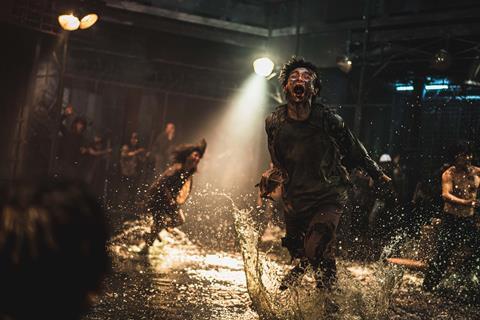 Dir/scr: Yeon Sang-ho. South Korea. 2020. 115mins
Yeon Sang-ho ups the ante and moves the action forward from 2016's Train To Busan to a post-apocalyptic and quarantined Korean peninsula which has been ravaged by the zombie outbreak. Riveting from start to finish, this enthralling feature could be the one to reanimate markets in Asia.
An immensely thrilling film
Selected for Cannes 2020 and opening on July 15 in South Korea, Peninsula is well-positioned to attract strong numbers despite the ongoing Covid-19 pandemic, though reaching Train To Busan's tally of 11.5m admissions ($77.4m) might be a stretch in the current climate. Cinemas there say they can keep mass cinemagoers safe and the case numbers are relatively low, meaning the Korean film industry seems better placed to mount a recovery over the summer than many other countries (something that was llustrated by the successful release of zombie thriller #Alive at the end of June).
While Western markets seem to be relying on Christopher Nolan's Tenet to restart business, in parts of Asia Peninsula is better positioned to move markets. Also released in Hong Kong (where it part-filmed), Singapore and Taiwan on July 15, and in Malaysia on July 16, it will be looking to build on the success of Train To Busan in those territories. The North America release is still scheduled for August 7 through Well Go USA.
Now well established in Yeon's Train To Busan and his prior animation Seoul Station, the zombie outbreak has engulfed the nation in Peninsula. Jung-seok (Kang Dong-won), a soldier, flees the country with his family on a ship. He and his brother-in-law Cheol-min (Kim Do-yoon) make it to Hong Kong, but his sister and nephew succumb to the virus on the vessel.
After four years in Hong Kong, he returns to the peninsula – which is now essentially under quarantine – with Cheol-min and a small crew to locate an abandoned truck with bags full of cash and bring it back to Hong Kong. Travelling by boat, they land in Incheon and then head to Seoul to complete their mission. They are ambushed in the capital by a group of militia known as Unit 631 headed by Sergeant Hwang (Kim Min-jae) and Captain Seo (Koo Kyo-hwan) who take Cheol-min, but Jung-seok is able to escape with the help of two girls in a car. He then meets their mother Min-jung (Lee Jung-hyun) and they work together to try and retrieve the money, find Cheol-min, and get off the peninsula.
Ultimately, much like Train To Busan, Yeon's plot is deliberately straightforward, allowing viewers to focus on the jaw-dropping set-pieces that propel it. These include an extraordinary car chase as Yeon goes full throttle on the Seoul roads in a way that's reminiscent of sequences from Mad Max: Fury Road. What works particularly well in some of the film's more ambitious visuals is not just the cinematography but the work done in post-production, which reflect Yeon's skills not just as a filmmaker but also an animator. Instead of striving for realism, Peninsula's night-time aesthetic is grittier than Train To Busan and more like his acclaimed animations The King Of Pigs, The Fake and Seoul Station. Also worthy of mention is Mowg's (Burning) expansive score, Lee Mok-won's alluring production design and the expert editing by Oscar-nominated Yang Jin-mo (Parasite).
Gang Dong-won (1987: When The Day Comes) brings his understated persona to the central lead character, but this is essentially an ensemble cast. All players are excellent and smartly chosen. Lee Jung-hyun (The Battleship Island) continues to impress as the mother of the two young girls (Lee Re, Lee Ye-won) who give the narrative much-needed lighter and humorous moments in the ways they invent to distract the zombies. Kim Min-jae (Veteran) is brutally authentic as one of the film's central antagonists, and Koo Kyo-hwan (Jane) gives a layered and mesmerising performance as Captain Seo. If there is one complaint here, the always reliable Kwon Hae-hyo (The Day After) is left to the fringes somewhat, but that doesn't take away from what is an immensely thrilling feature.
Production Company: REDPETER FILMS
International Sales: Contents Panda, sales@its-new.co.kr
Producers: Kim Woo-taek, Lee Dong-ha, Kim Yeon-ho
Screenplay: Yeon Sang-ho, Ryu Yong-jae
Cinematography: Lee Hyung-deok
Production Design: Lee Mok-won
Music: Mowg
Editing: Yang Jin-mo
Main Cast: Gang Dong-won, Lee Jung-hyun, Kwon Hae-hyo, Kim Min-jae, Koo Kyo-hwan, Kim Do-yoon, Lee Re, Lee Ye-won