Celine Sciamma explores fragile mother-daughter bonds in this delicate feature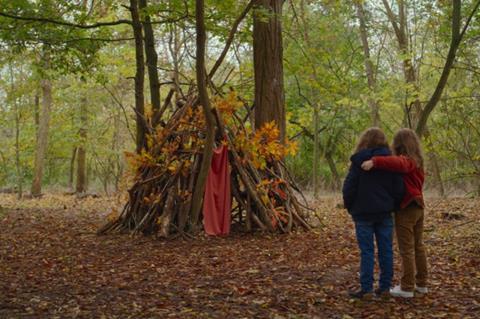 Dir-scr. Céline Sciamma. France. 2021. 72 mins
With her latest film – her second to screen in Berlin – Céline Sciamma revisits a theme which has preoccupied much of her work – moments of childhood transition. But while, like Water Lilies, Tomboy and her screenplay for My Life As A Courgette, Petite Maman is told through the eyes of its child protagonist, there is a minor key harmonic to the storytelling – the tacit presence of an adult perspective acknowledging the intensely felt distance which can arise in the relationship between a daughter and her mother. There's a fairytale quality to this story of a little girl who, following the death of her grandmother, meets another girl in the woods. Like its dappled forested backdrop, the film is a thing of pensive beauty rather than volatile drama.
A timeless, suspended moment of connection between the two lives
This subtlety of approach could see Petite Maman struggle to match the arthouse commercial heft of Portrait Of A Lady On Fire or Girlhood, pandemic notwithstanding. But its gentle appeal and teasing sense of mystery should chime with audiences for whom Sciamma's name is a key selling point, both in further festival berths and within a theatrical release
Nelly (Joséphine Sanz), a self-possessed eight-year-old, solemnly bids goodbye to the care home residents in the rooms adjacent to that of her late grandmother. But, she explains to her mother Marion (Nina Meurisse), she mourns the fact that she didn't get to say a proper goodbye to her grandmother "because I didn't know it was the last." Marion, meanwhile, is struggling with her own grief. There's a bond between mother and daughter, but also a disconnect. Right now, it's the child who is doing most of the nurturing. She feeds her mother snacks as she drives, encourages her to talk about the past, about her nighttime fears and the den that she built in the woods which rolled out from the doorstep of her Ile-de-France childhood home.
Nelly, her mother and her amiable but unfocussed father (Stéphane Varupenne) are staying at the house for the final time, packing away the remnants of her grandmother's life into boxes and bin bags. It's too much for her mother, who heads back to the family home, leaving Nelly and her dad to finish up.
Then one morning, Nelly meets a girl her age in the woods. Marion (Gabrielle Sanz) looks just like her, but there's a spark between them which runs deeper than their uncanny physical similarities. They play in the same way, in the same spaces. They could almost be the same person.
Claire Mathon's lithe cinematography evokes a timeless, suspended moment of connection between the two lives, linked a leaf-fringed path through the woods. With the score kept to a minimum, the film's atmosphere of quiet enchantment is created through soundscapes and through the design of the spaces that the two girls inhabit, a couple of colour palette shades apart (Marion's world is bathed in pinks, Nelly's is cooler, more subdued).
It's an approach that asks a lot of the two young actors, twin sisters in real life. But Sciamma has always had a gift for coaxing moments of magic from child performers, and here it is put to effective use. A pancake-making sequence is a giddy delight, but it's in the calmer moments that Sciamma mines the film's emotional depths.
Production Company: Lilies Films
International Sales: mk2 Films intlsales@mk2.com
Producer: Bénédicte Couvreur
Editing: Julien Lacheray
Cinematography: Claire Mathon
Production Design: Lionel Brison
Music: Jean-Baptiste de Laubier
Main cast: Joséphine Sanz, Gabrielle Sanz, Nina Meurisse, Stéphane Varupenne, Margot Abascal