A historical essay about the picture palaces of Kleber Mendonca Filho's hometown of Recife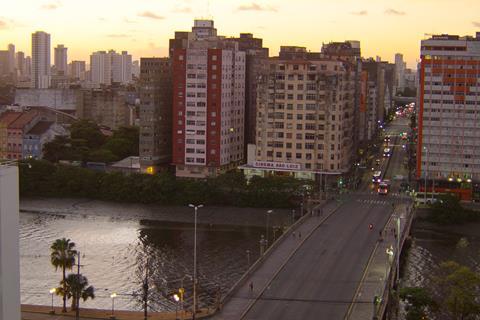 Dir/scr: Kleber Mendonca Filho. Brazil. 2023. 93 mins
"Once I took a picture of a ghost," Brazilian director Kleber Mendonca Filho tells us near the beginning of this meandering diary-style documentary, which is accompanied by his own languid narrative voice. That spirit photo – truly startling, if it's genuine – becomes the leitmotif of this essay on the cinemagoing culture of the director's hometown, Recife, and a heartfelt love letter to filmmaking and film watching the world over.
At times becomes a little too much of a ramble, especially in its over-long central section about lost Recife cinemas.
Pictures of Ghosts is, in many ways, a companion piece to the two films that first brought Mendonca Filho global arthouse recognition: Neighbouring Sounds (2012) and Aquarius (2016). Both were fictions that focused on the urban transformation of Recife, where the director grew up and where his first short films were shot. While it's fascinating to see Mendonca Filho exploring some of the same ground in this personal filmic journey, which mixes in archive footage and photos with extracts from his own filmography, Pictures of Ghosts sometimes becomes a little too much of a ramble, especially in its over-long central section about lost Recife cinemas.
Guaranteed further festival play after its Cannes debut, the documentary may also tempt a few historic cinemas that have been brought back to life and have a strong community fanbase – just like the Sao Luiz in Recife, a grand old 1950s picturehouse that was restored by the local government in 2010 and is the one exception to what is otherwise a movie palace ghost tale.
Each of the film's three parts deal with the way in which film culture can permeate a building, a street, a neighbourhood, and what traces are left when it disappears or moves elsewhere. In part one, 'The Setubal Apartment', Mendonca Filho returns to the family flat he lived in from the age of ten, set just back from the beach in a relatively well-off suburb of Recife. Up to and including Aquarius, the apartment featured in all of the director's films.
Deploying clips from his early shorts (at least one of which was a home-movie, genre piece with kitchen-cupboard special effects), he weaves in stories of his historian mother, the barking dog next door (the bassline of Neighbouring Sounds), refurbs and gradual gentrification. It's a fascinating glimpse into the creative processes obsessions of a filmmaker who sees the past as a layer-cake of present moments.
The film's second and third parts, 'The Cinemas of Downtown Recife' and 'Churches and Holy Ghosts' are really two sides of the same discourse about the spectres left behind by closed or repurposed movie theatres where so many visions were absorbed by so many spectators over so many years. The first does what it says on the box, the latter is a brief and not overly illuminating reflection on the number of Recife cinemas that have become evangelical churches – often with little or no conversion.
We see an interview Mendonca Filho recorded in the 1990s with the projectionist of one of his go-to picture houses, we are shown what remains of a cinema that was converted into a shopping mall that grew within its walls like an alien life form but was itself abandoned, and we hear about how one of the city's cinemas was briefly taken over by the Nazis to show UFA-produced propaganda reels. Though there are longueurs, it's still a pleasure to take a stroll with one of Brazil's most eclectic cineastes through the celluloid city that made him.
Production companies: CinemaScopio, Vitrine Filmes
International sales: Urban Sales, frederic@urbangroup.biz

Producer: Emilie Lesclaux
Editing: Matheus Farias
Cinematography: Pedro Sotero