A tense stand-off in a Warsaw TV studio heralds a new milennium in Jakub Piatek's debut feature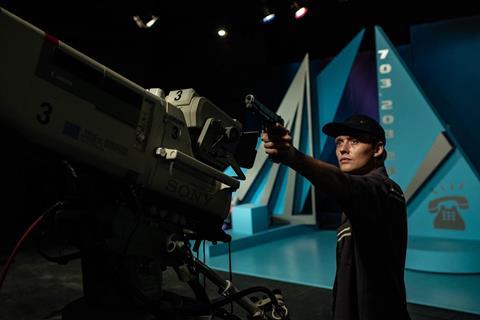 Dir: Jakub Piatek. Poland. 2021. 93mins
On the cusp of the new millennium, an armed protestor disrupts a Polish television broadcast in the hopes of sharing an important message with his country. It's never made explicitly clear just he wants to say — although clues are scattered throughout — but that does nothing to dilute Jakub Piatek's involving feature debut. Indeed, the wilful ambiguity of motive only intensifies this claustrophobic drama.
A well-crafted and fast-paced thriller, with a sensitive central performance from Corpus Christi's Bartosz Bielenia
Premiering at this year's online Sundance Film Festival, Prime Time arrives in the World Cinema Dramatic competition with an impressive pedigree. The screenplay, co-written by Piatek and Lukasz Czapski, was inspired by real-life incidences of young men storming television stations in Poland and elsewhere and was developed at Torino Film Lab and New Horizons Studio+ in 2019. The project also won the Screen International Best Pitch award at last year's Polish Film Days. The result is a well-crafted and fast-paced thriller, with a sensitive central performance from Corpus Christi's Bartosz Bielenia which should help bring it to the attention of further festivals and international audiences.
The film is set during the evening of December 31, 1999 — a carefully-chosen backdrop of both potential carnage, in the form of Y2K bug fears, and celebration. Both of these can be seen in the archive footage which plays on the monitors of the TV station where famous presenter Mira Kyle (Magdalena Poplawska) is broadcasting to the nation. She is interrupted Sebastian (Bielenia), brandishing a gun and demanding to speak to the viewers. When the network cuts the live feed he takes the terrified Mira and a security guard (Andrzej Klak) hostage, insisting he won't let them go until he has been heard.
Shot under Covid-19 protocols during the summer of 2020, Piatek and cinematographer Michal Luka make the most of the enclosed location and intimate cast. The hand-held camerawork is kinetic and jittery, keeping pace with Sebastian as he prowls the studio and snapping from close-ups of his anguished face to Mira's increasing panic and the flurry of activity in the control room.
This certainly isn't the slick operation of the similarly-themed Money Monster, in which George Clooney's smooth TV presenter faces a gun-toting protester — and all the better for it. This is raw, sweaty, seat-of-the-pants stuff, in which the stakes get ever higher with every decision Sebastian is forced to make. And in a time before social media, where public television was central to life in Poland (and was, essentially, a mouthpiece for the rightwing government), those stakes are stratospheric from the outset.
It's clear, however, that Sebastian is never in control of this situation. The fantasy of televised revolt and rebellion that carried him into the studio quickly dissipates in the face of the cold realities he faces once there. The network cuts him off and the police, who are quick on the scene, seem determined to bait and disrespect him. Negotiations go nowhere. Only an earnest rookie named Lena (Monika Frajczyk) seems to have any desire to connect with Sebastian, but she is frequently bulldozed by older male colleagues. Similarly, calm and quick-thinking producer Laura (Małgorzata Hajewska-Krzysztofik) finds her attempts to manage and defuse the situation thwarted by the armed men clamouring around her.
The bullish masculinity of the authorities offers one of several clues to Sebastian's motives; others include a furtive, emotional call to an unidentified man and a conversation with his disbelieving father, whose attempts to talk Sebastian down consists of him ridiculing his son's childhood speech impediment and railing against his "life choices". Sebastian faces oppression and judgement from both home and state and, as layers of his character are revealed, it seems clear that Poland's woeful record in suppressing LGBTQ+ communities is a driving force behind the film. Yet nothing is ever explicit or explained, with Piatek deliberately encouraging his viewers to find their own meaning in Sebastian's desperate plight.
Production companies: Watchout Studio, Polish Film Institute, TVN, Krakow Festival Office
International sales: IKH Pictures Promotion office@ikh.com.pl
Producer: Jakub Razowski
Screenplay: Jakub Piatek and Lukasz Czapski
Cinematography: Michal Luka
Production design: Katarzyna Jedrzejczyk
Editing: Ula Klimek-Piatek and Jaroslaw Kaminski
Music: Teoniki Rozynek
Main cast: Bartosz Bielenia, Magdalena Poplawska, Andrzej Klak, Małgorzata Hajewska-Krzysztofik, Dobromir Dymecki, Monika Frajczyk