Carlos Vermut returns after his award-winning 'Magical Girl' with this stylishly-mounted drama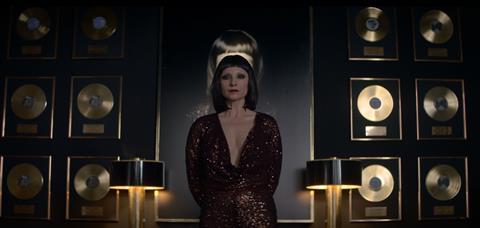 Dir/scr. Carlos Vermut. Spain/France. 2018. 124 mins.
It's quite the season for Lady Gaga pop-alikes in the cinema, what with Natalie Portman's troubled diva in the Vox Lux and now Najwa Nimri, eerie and unearthly in Spanish feature Quién Te Cantará – while, of course, the real thing has been playing it altogether un-gaga in A Star Is Born. Quién Te Cantará is more a case of A Star Is Torn – ripped in two, in fact, in a female-focused role-swap/döppelganger melodrama from writer-director Carlos Vermut. His second feature Magical Girl won San Sebastián's Golden Shell for Best Film and Silver Shell for Best Director in 2014, and he returns to the festival with this stylishly mounted follow-up.
A claustrophobic affair embellished with occasional dream-like touches, this is essentially an all-female three-hander
The film's prime assets are terrific performances from leads Nimri and Eva Llorach, and this, together with the director's reputation and a cluster of domestic pop references, should bolster appeal to mature audiences in Spain. The title, which translates as 'Who Will Sing To You?', comes from a song by long-running Spanish group Mocedades, and other music included will hit a familiar note with domestic crowds – as will Nimri's role, since the actress is also a singer in her own right. Elsewhere, however, Quién Te Cantará may not translate so easily to audiences without a prior investment, who may not be predisposed to swallow its glossy lugubriousness.
Nimri – best known to non-Spanish audiences for work with Julio Medem, as well as a role in Ken Loach's Route Irish – plays pop singer Lila Cassen, a Björkishly enigmatic pop star huge in the 90s, and instantly recognisable for her blank mask-like face under a Cleopatra bob. Seen at the start of the film collapsed on a beach near her home in Rota, Andalucia, she wakes up in an expensive private hospital, attended by her devoted manager Blanca (Carme Elias); it quickly emerges that Lila has totally lost her memory. Back at her luxuriously austere seaside home, Lila is informed by Blanca that she hasn't sung for ten years, not since her mother's death. Now her funds are running out, and Lila's last hope of earning some revenue and sustaining a career is her imminent comeback tour – which now looks in jeopardy, since she's forgotten her own songs, and how to perform them.
Fortunately, Rota has its own Lila surrogate – the singer's avid fan and impersonator Violeta (Vermut regular Eva Llorach), bartender in a karaoke club where she also specialises in a spot-on Lila tribute act. Violeta is struggling for a living, and has a fraught relationship with her neurotic, selfish 23-year-old daughter Marta (Natalia de Molina). So when Blanca suggests that she coach Lila in how to be herself, under the seal of total secrecy, Violeta jumps at the chance. Once coaching starts, Violeta and Lila become close, with the mirror play between their identities is teased out dramatically and visually.
The premise carries definite echoes of Bergman's Persona, plus affinities with the elaborately improbable melodramas and mock-melodramas of Pedro Almodóvar (Llorach appeared in his Flower of My Secret), although Quién Te Cantará contains barely a jot of his humour. There's a certain dry wit involved, however, in Llorach's portrayal of the tough but vulnerable Violeta – especially in a scene where she fences verbally with a barroom admirer (Julián Villagran). But overall, the film is a moody, solemn affair, as befits Lila's spooky persona – and along with Laia Ateca's studiedly chic production design, the non-realist manipulation of an unusual dark palette is a keynote of Edu Grau's cinematography.
A claustrophobic affair embellished with occasional dream-like touches (like an image of Lila melting into a wall), this is essentially an all-female three-hander, a sort of veiled love triangle between Lila, Violeta and Blanca; implicitly the singer's devoted lover, the latter has stood by Lila for ten years without asking any questions. The abrasively petulant Marta also plays a key part, although a sequence focusing on her traumas feels like a stand-alone showcase for the energetic skills of Goya-winning actress Natalia de Molina, but doesn't quite click with the rest.
Nevertheless, this is very much a drama about mothers and daughters, as is made clear by Lila's eventual explanation of why she stopped singing - leading to an ending in which the film's symmetries become a little too neat and forced. Still, even if we're watching with a sceptically raised eyebrow by this point, there's plenty to enjoy: Nimri's tantalisingly eerie presence, which becomes a little more human as the film progresses; Llorach's spiky, tough performance; and an affecting Carme Elias, her Blanca solicitous, but with the faintest hint of Rebecca's Mrs Danvers.. Along with lush ballads, and the odd touch of sheened techno, Alberto Iglesias contributes one of his more unusual scores – including eerie choirs, flutes and tuned percussion, conveying a distinctly 60s flavour of European art-house modernism. Nimri has also written some of Lila's songs, as has another popular name, Eva Amara
Production companies: Apache Films, Aralan Films, Les Films du WorsO
International sales: Film Factory Entertainment, infi@filmfactory.es
Producer: Enrique López Lavigne
Screenplay: Carlos Vermut
Cinematography: Edu Grau
Editor: Marta Velasco
Production design: Laia Ateca
Music: Alberto Iglesias
Main cast: Najwa Nimri, Eva Llorach, Natalia de Molina, Carme Elias