Erik Matti's bloody horror anthology is hungry for laughs, with a side of social critique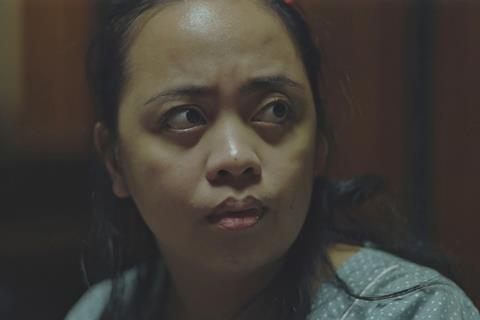 Dir: Erik Matti. The Philippines. 2021. 110 mins.
The way people treat others comes under the microscope in director Erik Matti and screenwriter Michiko Yamamoto's anthology film, Rabid. Four separate stories of ordinary folk living through the Covid-19 pandemic soon turn extraordinary as individual actions – motivated by greed, selfishness, indifference and desperation – turn into bloody, waking nightmares. Together, owing to the consistent aesthetic and tone crafted by Neil Derrick Bion's creepy mobile cinematography, Shiel Calde's bleak and desaturated production design and Mikey Amistoso's wry score, the four stories that make Rabid such an enjoyably consistent anthology use well-worn genre allegories to ironically disgusting and humorous effect.
Each story casts its characters in rabid or catatonic states but offers a fresh view on the tried and tested zombie subgenre.
Rabid is one of five films the duo, who are partners offscreen, have collaborated on together, and one of two completed in 2021, along with crime thriller On The Job: The Missing 8, the sequel to 2013's award-winning On The Job. An enjoyable and suitably gory indulgence, the film, which mimics the pacing and tone of 1980s horror anthology classics Creepshow and Tales From The Crypt will play well at genre festivals alongside finding its audience on Netflix.
The first story, 'Bad Luck Is A Bitch', sets the tone as an unsuspecting family takes in a homeless woman. A supernatural story about kawanggawa – loosely translated as unconditional acts of charity towards neighbours or those in need – this is also a not-so simplistic class critique. Primarily using high and low camera angles to denote status, Derrick Bion's lens first captures the bedraggled Lola (Jay Glorioso) from house mother Mayette's (Chesca Diaz) perspective: looking down. Lola has a sign hanging around her neck explaining she can't go home to the provinces because her son, who took care of her, has died from Covid-19. Mayette takes pity on her, but when their daughter Lizzie (Ameera Johara) finds Lola chanting naked in the living room at night, it becomes clear that the family is dealing with far more than socio-economic injustice. From here, Lola is framed from below, and the entire social critique is turned on its head. Brilliant sardonic editing from Mica Roca, who uses a throat cut as a narrative cut to grave digging, closes the first chapter as Matti means to go on, with wit rather than moralising .
The second story, 'Nothing Beats Meat' concerns a couple living in isolation in a cave-like bunker. Melvin (Vance Larena) cares for his wife Jane (Pam Gonzales), who is tied up in her wedding dress, growling for food. He syringes a vegetable only diet into her mouth as she hungers for meat and, in the quieter moments, he shows her projections of their infant daughter on the cave wall – a wry nod to Plato's allegory of the cave, suggesting once again that these fragments are not intended as accurate representations of the real world, but more playful meditations on the strangeness of human behaviour.
In 'Shit Happens', a health worker is thrust into a parallel dimension working her night shift when the job, which is thinly staffed, becomes all too much. It is the first time in all three stories thus far that the film's otherwise consistently desaturated and drained aesthetic changes, becoming bright and sunlit. Becky (Ayeesha Cervantes) who is overwhelmed and disgusted by the ageing, invalid patients on her round, faces endless vomit, blood and faeces.
Finally, 'Hm' focuses on a single mother trying to make ends meet after becoming retrenched in lockdown. Princess (Donna Cariaga) spends all of her available time on the internet trying to work out how to start up her own online cooking business. The problem is, she is a terrible cook. A 'secret ingredient' transforms her cooking, but it must be consumed in moderation – too much can lead to 'overdose'. Her neighbours and even her son become addicted to the stuff, wolfing it down like rabid animals. But when Princess tries to search again for the dangerous Russian ingredient, there are 'no results found'.
This story is marked by its use of reflection in depicting internet aesthetics; the pictures, videos, comments and pop-ups literally light up Princess's face from her laptop screen whilst also appearing all around her head in the frame. The effect is bombastic and communicates the all-consuming, addictive role of online success during lockdown.
Each story casts its characters in rabid or catatonic states but offers a fresh view on the tried and tested zombie subgenre. Gooey and gory, and enjoyable to the end, Rabid is hungry for a lighter take on stark social realities.
Production companies: Reality MM Studios, Regal Entertainment
Distribution: Netflix
Producers: Donald Monteverde, Roselle Monteverde, Erik Matti
Screenplay: Michiko Yamamoto (story), Michiko Yamamoto, Mary Rose Colindres, Leovic Arceta
Cinematography: Neil Derrick Bion
Editing: Mica Roca
Production design: Shiel Calde
Music: Mikey Amistoso
Main cast: Ameera Johara, Ayeesha Cervantes, Brace Arquiza, Chesca Diaz, Chrome Cosio, Donna Cariaga, Jake Macapagal, Jay Glorioso, Kent Gonzales, Pam Gonzales, Ricci Rivero, Lola Ube, Ynigo Delen, Vance Larena