Dir: Alessandro Angelini. Italy. 2009. 87 mins.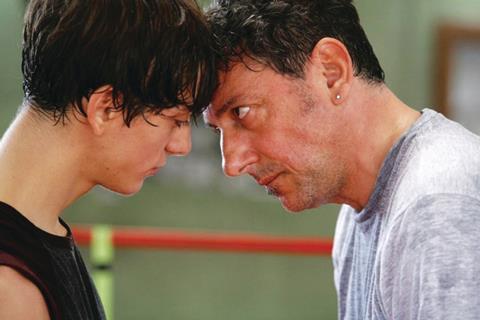 For its first half, the father-son drama Raise Your Head, Alessandro Angelini's follow-up to Salty Air, his strong 2006 debut, feels like it might be building up to something like greatness. But then the story changes location, veers off in a different direction, sheds characters and swaps gritty authenticity for dramatic contrivance. And we are left to reflect that like the young boxer at the centre of the story, it could have been a contender.
The film betrays the investments we've been making in characters and conflicts …
There's no faulting the pivotal performance of Sergio Castellitto as the tough-love father who sees his world collapse around him when his son dies. Castellitto is rivalled only by Filippo Timi as Italy's leading man of choice for strong, dramatic roles, and his name on the poster will help 01 Distribuzione to stir interest when the film goes out on November 13. In the international arena, Raise Your Head is unlikely to see much action outside of festival slots.
Set in the sprawling multiethnic seaside outskirts of Rome between Fiumicino and Ostia, the film focuses on the relationship between shipyard worker Mero (Castellitto) and his teenage son Lorenzo (Campanelli), a promising young boxer who is trained by his dad in a homemade gym. There's affection between the two, but also conflict as the slouching, unshaven Mero drives his son obsessively and aggressively towards the success he never achieved – either in the ring, at work, or in his marriage to Lorenzo's mother, a flighty Albanian blonde.
Eventually, although boxing kudos does arrive for Lorenzo, Mero pushes his son too far by interfering in his budding relationship with a gamine young Romanian girl – and when an angry Lorenzo speeds off on his moped in the rain, there can only be one outcome.
What happens at this point feels like another film altogether, as a distraught, guilt-wracked Mero first consents to the use of his brain-dead son's heart for a transplant – then, unable to find peace and tipped off by a hospital porter about the recipient, heads up to Gorizia on Italy's border with Slovenia to try to meet them and find some kind of closure.
The only thing that keep us watching as the film betrays the investments we've been making in characters and conflicts is Castlellito's heart-rendingly real turn as a man sent into a robotic trance of grief by the enormity of his loss and the weight of his remorse.
Technically, Raise Your Head feels reasonably assured, with probing, hovering handheld camerawork and a gradual shift from day to night as the jaunty seaside pastels of the opening scenes shift towards the tenebrous nocturnal tones of the final section. But neither of these two consolations are enough to paper over the film's glaring script problems.
To sign up for Screen's weekly Reviews Newsletter with all the week's new releases, international openings and full festival reviews delivered free to your mailbox every Friday, please click HERE
Production companies
Biancafilm
Rai Cinema
Alien Produzioni
International sales
Rai Trade
+ (39) 06 3749 8244
Producer
Donatella Botti
Screenplay
Alessandro Angelini
Angelo Carbone
Francesca Marciano
Cinematography
Arnaldo Catinari
Production design
Alessandro Marrazzo
Editor
Massimo Fiocchi
Music
Luca Tozzi
Main cast
Sergio Castellitto
Anita Kravos
Giorgio Colangeli
Gabriele Campanelli
Laura Ilie