Dir: Walter Hill. US/Canada/France, 2016. 95 mins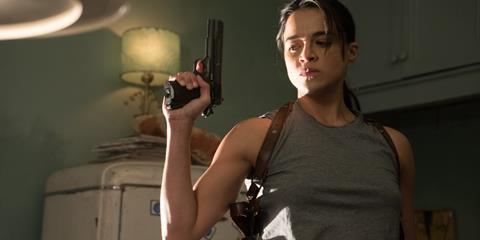 It's hard to imagine any film which handles transgender issues with less sensitivity than Walter Hill's unapologetically trashy (re)ASSIGNMENT. With it, Hill revisits the twin themes of radical plastic surgery and revenge which he already explored in Johnny Handsome in 1989. And he comes to the same conclusion: that even the most extensive cosmetic tampering and tweaking of an individual's appearance doesn't tend to change the person within.
This is a film which is more interested in exploring Frank's brand new breasts than it is his or her psychological damage.
In this case, the person within is Frank Kitchen, a cold-blooded hitman who guns down the playboy brother of a brilliant, deranged plastic surgeon and wakes to find himself the victim of an unwanted gender reassignment operation. Michelle Rodriguez plays Frank both in the male and female incarnations.
The sheer outlandishness of the premise and its brash execution – think Almodovar's The Skin I Live In filtered through Sin City's stark graphic aesthetic – lends the film curiosity value if nothing else. But word of mouth support may be limited by the fact that, despite liberally quoting Shakespeare and Edgar Allen Poe, the screenplay is just not sharp enough to make the audience feel vindicated about dumbing down. However, Hill's name is a selling point, as is the presence of Sigourney Weaver in the cast – she plays the demented doctor who carves out her revenge on Frank's body.
A twanging electronic score from Giorgio Moroder and Raney Shockne establishes the film's schlocky B-movie credentials from the outset. And a gravelly voiceover from Rodriguez never quite persuades as male. We are introduced first to The Doctor (Weaver), now in a Californian psychiatric institution. The Doctor manages to maintain an air of pained superiority even though her arms are restrained by a strait jacket and her interviewer, Dr Ralph (Tony Shalhoub) clearly believes that she's delusional. Weaver is icily restrained in the role. Perhaps a little too restrained: this is one instance where a spot of hammy over-acting wouldn't necessarily be a bad thing. Through flashbacks and the Doctor's psychiatric evaluation, we learn of the circumstance that lead to her incarceration.
Playing opposite Weaver, in the challenging role of Frank, before and after, Michelle Rodriguez's abilities are stretched to their limits. Despite facial hair, a chest wig, a prosthetic nose and other additions, she struggles to convince in her male incarnation. And post gender swap operation (performed without bruising, swelling or scarring), her performance mostly consists of simmering fury, but more complex emotions are left unexplored.
In fairness to Rodriguez however, this is a film which is more interested in exploring Frank's brand new breasts than it is his or her psychological damage. The screenplay dips a toe into issues of gender – The Doctor complains that she was never taken seriously because of her sex – but rather squanders the opportunity to explore the subject in depth, preferring a titillatory take on the material.
Hill goes for a bold comic book aesthetic. Some scenes are shot in high contrast monochrome, others in luridly saturated colour. And the action is punctuated with graphic novel-style illustrations. This is a film which doesn't take itself very seriously, and it will work best with an audience which takes the same approach.
Production company: SBS Films
International sales: The Solution Entertainment Group, SBS International
Producers: Saïd Ben Saïd, Michel Merkt
Screenplay: Walter Hill, Denis Hamill
Cinematography: James Liston
Editor: Philip Norden
Production design: Renee Read
Original score: Giorgio Moroder, Raney Shockne
Main cast: Michelle Rodriguez, Sigourney Weaver, Tony Shalhoub, Anthony LaPaglia, Caitlin Gerard, Caroline Chan