A feel-good domestic comedy about a put-upon woman who goes AWOL in a bid for some serious Me Time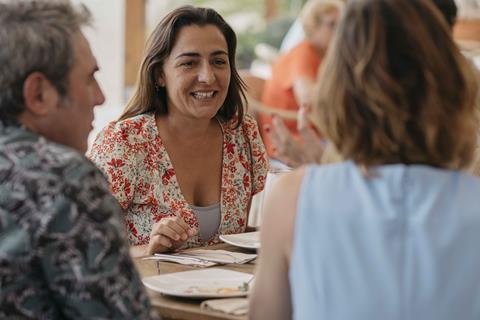 Dir. Iciar Bollaín. Spain/France. 2020. 97 mins.
It's a fact of international cinema that any film with 'Wedding' in the title is bound to be upbeat, and that holds true in Spain (unless, of course, it's prefixed by 'Blood'). True to form, Rosa's Wedding is a feel-good film par excellence, made with irreproachable political conviction from stalwart Spanish director Iciar Bollaín, here following the ambitious 2018 dance biopic Yuli with something altogether more intimate, not to say cosier.
Judging by its warm reception in San Sebastian, the film will tickle a middle-aged mainstream audience very effectively.
A domestic comedy – indeed, anti-romcom – with some lively performances and a bold-caps feminist message, it screens in San Sebastian's Made In Spain section after winning the Special Jury Prize in Malaga, and enjoyed a domestic release in August. Rosa's Wedding's middlebrow breeziness won't make it a natural contender for export or artier festival slots, but you can imagine this Franco-Spanish co-production playing well in France, where undemanding family-themed humour is a box-office staple.
The film's natural audience will be female viewers starting around the age of its heroine, 45-year-old Rosa (Candela Peña, a Bollaín regular who first worked with the director on 1995's Hola, ¿estás sola?). Valencia resident Rosa is a seamstress in the wardrobe department of a film shoot, currently working flat out on a wedding scene. Already under pressure, she's also besieged from all sides by the demands of family members: elderly widowed dad Antonio (Ramon Barea), who insists he's moving in with her; divorced brother Armando (Sergi López), who runs a language school; interpreter sis Violeta (Nathalie Posa); and her young daughter Lidia (Paula Usero), who's living with a musician in Manchester and raising twin babies (who ensure a fail-safe 'Aww…' factor from the start). Add assorted favours for friends and neighbours – plants to water, cats to tend – and no wonder Rosa is having nightmares like the film's somewhat try-hard opening sequence in which she's running a race, and runs and runs, to get away from her obligations.
It's not too long before Rosa goes AWOL and makes a bid for some serious Me Time. She returns to her childhood home in coastal town Benicassim, and to the family's disused dressmaking workshop, which first inspired her to pick up needle and thread. Deciding to reconnect with her first love, couture, she baffles her family by announcing her wedding – but what they don't realise is that she means she is marrying herself. This bold bid for self-determination looks like being scuppered when the whole family, tiny twins included, turn up expecting trad nuptials – leaving Rosa as discontented as when she started.
The whole film depends on a certain paciness and relaxed, good-humoured acting, and the cast certainly obliges, not least López as affably bumptious Armando and Poza as confident but bibulous Violeta, whose external chic and sangfroid disguise a frazzled interior. It's not uncommon with romcoms for the leads to be eclipsed by the charismatic eccentricity of the supporting players, and Peña can be commended here for being at the very least a good sport, playing it downbeat and flustered – at least, that is, until her character gets a moment of glamorous glory in the finale, in which she delivers the film's somewhat on-the-nose message with a flourish.
That message, in fact, is so bluntly made that you could come away from Rosa's Wedding thinking that Spanish cinema had only just heard of feminism. But it goes down with a spoonful of sugar in a closing beachside knees-up doused in warm seaside colours – a sequence that can't but imply a hard-nosed bid for the Mamma Mia! crowd. Brisk, loose camerawork and red-gold tones emphasise good vibes throughout. It's an undemanding film, and a somewhat calculating one, but judging by its warm reception in San Sebastian, it will tickle a middle-aged mainstream audience very effectively.
Production companies: Tandem Films, Turanga Films, Setembro Cine, La Boda de Rosa la Película, Halley Productions
International sales: Match Factory, info@matchfactory.de
Producers: Cristina Zumárraga, Pablo Bossi, Lina Badenes, Fernanda del Nido, Alexandra Lebret
Screenplay: Iciar Bollaín, Alicia Luna
Cinematography: Sergi Gallardo, Beatriz Sastre
Editor: Nacho Ruiz Capillas
Production design: Laia Colet
Music: Vanessa Garde
Main cast: Candela Peña, Sergi López, Nathalie Poza, Ramón Barea, Paula Usero