Dir/scr: Alex van Warmerdam. Neth/Belgium 2015. 96 mins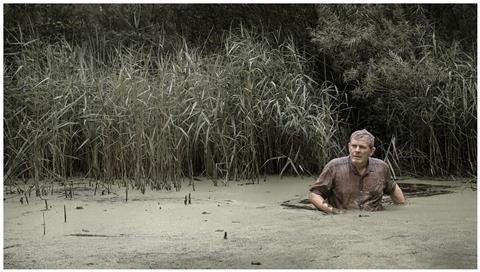 Described by its renaissance man creator Alex van Warmerdam as a " stylistic exercise", Schneider Vs. Bax is an expertly crafted campfire yarn with a chaotic plot that pirouettes between coincidence, contrivance, bad timing and costly errors. There are no hidden depths, no overt moralising or secret meanings, just playfully subversive genre storytelling that engages from moment to moment but eventually runs out of steam.
When the prevailing sense is that anything goes, then nothing really matters, and the film has overstayed its welcome
The film's jarring violence and dark humour provide echoes of Tarantino and the Coen brothers that might be sufficient to endear it to international arthouse audiences and the status of being the new film from the director of Borgman could lend it traction in some territories.
Schneider (Tom Dewispelaere) is a happily married family man preparing to celebrate his birthday when he receives an urgent call that requires him to go to work. He is a contract killer and his target for the day is writer Ramon Bax (van Warmerdam). To counteract his reluctance, client Mertens (Gene Bervoets) informs him that his target is a killer of children. It is a simple job at a remote location and he should be home in time for a special dinner party.
At his isolated lakeside retreat, the curmudgeonly Bax is recovering from a night of sex, drugs and booze, unceremoniously kicking out his younger girlfriend Nadine (Eva Van Wijdeven) in preparation for an awkward visit from his depressed daughter Francisca (Maria Kraakman). The day will not go as smoothly as any of them might have envisaged.
Set entirely in the piercing light of a bright summer day, Schneider makes striking use of its locations. The boggy marshland, billowing wild reeds and blinding white wooden summer house all add visual allure to a film that is very precisely composed. The setting evokes the lone house on a western prairie where the inhabitants wait for death to pay a call.
The plot leaves a more haphazard impression with fresh characters and unexpected twists randomly thrown into the mix just to keep things interesting. We are initially sympathetic towards Schneider despite his profession but gradually the tables turn as it transpires that Bax may not be quite the dissolute reprobate that he first appears.
Despite his tough love towards the fragile Francisca, Bax seems genuinely concerned about her welfare. Revelations along the way suggest van Warmerdam is just as inclined to pull the strings of audience expectations and reactions as the man behind the initial orders to kill Bax. His is equally not averse to embracing the hoariest of cliches, employing his wife Annet Malherbe to play golden-hearted prostitute Gina who is easily the most likable and decent character in the whole piece.
Schneider Vs. Bax has moments of deadpan black comedy but the scenes of savage violence are disconcerting and Francisca seems to become a completely different person through the course of the film as a highly strung, emotionally vulnerable woman is reborn as a calm, capable survivor of even the most traumatic incidents.
When even more characters are introduced (including Bax's creepily lecherous father), we lose sight of Schneider and his task and the convoluted contortions of the narrative become much more transparent. When the prevailing sense is that anything goes, then nothing really matters, and the film has overstayed its welcome. Some of it was fun while it lasted.
Production Companies: Graniet Film, Czar Film, Vara, Mollywood
International sales: Fortissimo Films info@fortissimo.nl
Producer Marc van Warmerdam
Co-producers Eurydice Gysel, Koe Mortier, Robert Kievit
Cinematography Tom Erisman
Editor Job Ter Burg
Production design Geert Paredis
Music Alex van Warmerdam
Main cast Tom Dewispelaere, Alex van Warmerdam, Maria Kraakman, Annet Malherbe