Dir. Denis Villeneuve. US, 2015, 121 mins.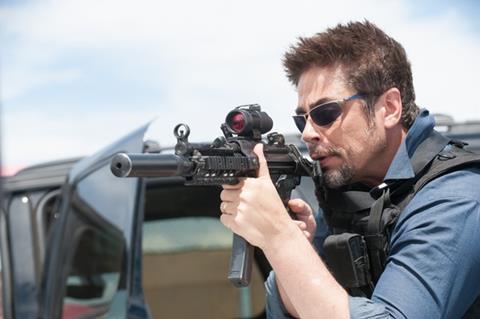 Sicario is an ambush, a low-slung film about a dirty drugs war with Mexico which challenges and engages in equal measure. It moves with grim tenacity, confounding expectations until its very final sequence. Confronting the war on drugs in a way which is cinematic, but far from superficial, Sicario – cartel slang for 'hitman' — is very dark, but it's also exciting. This is rock-solid, up-scale filmmaking from Canada's Denis Villeneuve (Prisoners, Enemy, Incendies), a director of growing prowess who straddles the arthouse and the multiplex comfortably here.
Sicario has a difficult, fragmented plot to sustain, with the viewer in the dark and only slowly emerging into a half-light.
Rather than hark back to Traffic – both share a star in Benicio del Toro - Taylor Sheridan's screenplay delivers a satisfyingly-complicated Heart of Darkness voyage for Emily Blunt as an FBI operative brought onside by CIA huntsmen who have their sights set on bigger game. Sicario is a throwback to the "enemy within" stream of post-Watergate thrillers from The China Syndrome on to Missing, all of which looked at the black hole at the centre of democratic accountability.
Sicario should engage both audiences and awards voters through Lionsgate, which is releasing US and UK on September 18 as an awards calling card. The film's biggest surprise is the main female character, played by Emily Blunt, who defies expectations. Lulled by Blunt's star power and sympathetic, stripped-down performance, audiences will feel secure in her upright FBI agent, thinking they know her arc; principled, uncomprehending, she's in this battle over her head. It's a tough role for Blunt. Information is withheld to the point where the plot's credibility sways in the balance, and she has the thankless task of embodying American naivety to breaking point. She pulls it off.
Villeneuve is a skilful director of set pieces. Sicario has a difficult, fragmented plot to sustain, with the viewer in the dark and only slowly emerging into a half-light. The director deals the information out slowly via two extended, tense action threads which occupy the first 40 minutes of Sicario's running time.
The first, introductory sequence involves a raid led by Blunt's FBI agent Kate Macy, the head of a kidnap response team, on booby-trapped house in Chandler, Arizona where the remains of 42 cartel kidnap victims are found bricked into the wall. This leads, seemingly organically, to Blunt being selected by Defence Department contractor Matt Graver (Josh Brolin) to join an inter-agency task force aimed at decapitating the Sonora Cartel serpent via its US operation. Blunt is invited to tag along on an excursion to El Paso, which, illegally, turns into a sally over the border into the toxic city of Ciudad Juarez ("the beast") to pull out a Cartel leader in a dynamic sequence which is truly edge-of-the-seat viewing.
This extra-judicial activity – and, latterly, murder – is complicated by the appearance of Alejandro (Benecio Del Toro), a former prosecutor and DOJ advisor from Cartagena, Columbia. "Nothing will make sense to you Americans and you will doubt everything we do, but in the end you will say, those guys were right," he says. Both Brolin, as the superficially easy-going DOJ good-old-boy, and Del Toro, playing the role straight and silent are excellent in creating an atmosphere of relaxed, macho tension which holds a lethal threat. Sicario is satisfyingly well-acted.
The screenplay, by actor Sheridan (Sons of Anarchy), is challenging. Kate seems, at times, to be entirely symbolic, at others, entirely human. Villeneuve and Blunt make some interesting points with Kate's character. Even at the onset, when she leads the Arizona kidnap response team, Blunt is not the beefed-up film cliché which has been the standard portrayal of a female warrior since Terminator 2: Judgement Day. She is deliberately presented as physically lesser, more vulnerable, than the men in the room, but morally tougher. They want her on board, but not her Law School-graduate FBI partner (Daniel Kaluuya), the intimation being that she's not quite so smart. She's certainly way, way, out of her league. Blunt plays the divorced Kate with a quiet resolution, a solid performance which should help lift the British actress into more serious roles. "You look like a little girl when you're scared," she is told. But this is an environment with no mercy for its children.
Technical credits are superb. DP Roger Deakins weights the landscape towards the skies of the south borderlands of Albuquerque, New Mexico and El Paso (Sicario also shot in Veracruz, Mexico), in precise, clean shots, anchored by the low shrublands which a hold a world of menace, Horizons are low here, for everybody; empty one moment, when they are filled the next by the teeming brick of Ciudad Juarez, it's a shock.
The music by Johann Johannson, although it does occasionally draw on some low-bass tropes, seems perfectly judged both to the action on screen and its scale.
Production company: Thunder Road Productions
International sales: Lionsgate, mmartinez@lionsgate.com
Producers: Basil Iwanyk, Molly Smith, Thad Luckinbill, Trent Luckinbill
Executive producers: John H Starke, Erica Lee, Ellen H Schwarz
cinematography: Roger Deakins
Production design: Patrice Vermette
Editor: Joe Walker
Music: Johann Johannson
Cast: Emily Blunt, Benicio Del Toro, John Brolin, Victor Garber, Jon Bernthal, Daniel Kaluuya, Jeffrey Donovan.