A toxic relationship gone nuclear is at the heart of Kristoffer Borgli's dark comedy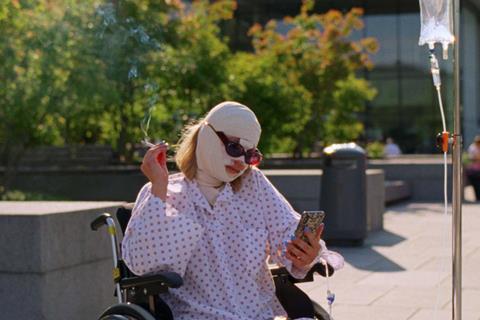 Dir/scr: Kristoffer Borgli. Norway/Sweden. 2022. 95 mins.
Toxic relationships don't get much more poisonous than the one at the heart of Kristoffer Borgli's pitch black comedy. The director – who previously made hybrid mockumentary DRIB – pushes the idea to body horror extremes as he explores the less-than-well-adjusted relationship between Signe (Kristine Kujath Thorp) and her boyfriend Thomas (Eirik Sæther) as their attention-seeking behaviour gradually leads Signe down a shocking path of self-damage. The only problem with taking things to extremes is that it can lead to there being nowhere left to go but, if Sick of Myself runs out of narrative road towards the end, there's still a decent quotient of dark humour along the way.
Borgli's film is at its most unsettling when reality and fantasy begin to blur
The film's acidic satire about modern relationships and media 'inclusivity', along with its body horror element – in our faces courtesy of the deteriorating face of Signe – are likely to ensure Borgli's film enjoys a strong run on the horror and cult film festival circuit after its world premiere screening in Cannes' Un Certain Regard. Producer Oslo Film's previous success with the Oscar-nominated The Worst Person in the World could also help it attract adventurous distributors.
Signe and Thomas exist in a world of white privilege. Good looking and middle-class, she might be working in a coffee shop while he is trying to make it as an artist but they're leading a comfortable life, getting their kicks by stealing things, including expensive wine from restaurants. Perhaps that's why they're able to be so casual about their one-upmanship, as they try to become the focal point of attention with friends. Signe has an aptitude for lies, demonstrated as she carefully embellishes her role in helping a woman who was bitten by a dog. But, as we see her trying to get a dog to attack her some days later, we begin to realise the lengths she is prepared to go to in order to be the centre of attention. Fuelled by Thomas' work beginning to be noticed, Signe hatches a plot to regain dominance; the need to be in the spotlight far stronger than any concerns that her plan involves making herself sick.
Borgli is crafty in the way he shows Signe's illness, which is, at first, little more than an unfortunate rash – something that will be pushed to the max as the film progresses by Izzi Galindo's strong and disturbing prosthetics work. Even when Signe is in a hospital bed, she remains focused on whether she is achieving her aim of being in the limelight or not, fantasising about victory that she doesn't realise is entirely pyrrhic.
Borgli's film is at its most unsettling when reality and fantasy begin to blur, so that we become unsure as to whether something is actually happening or merely playing out in Signe's head. He also offers a sharp side swipe at the way marketers can latch on to illness in the name of inclusivity, as we see their 'tolerance' of disfigurement put to the test. Borgli's wider point is well made, but humour revolving around a blind assistant at a modelling agency feels cheap by comparison; an unevenness of tone that crops up periodically in the film and which means the satire doesn't always bite as deep as it might.
Given how deliberately unpleasant everyone is, the casting of Ninjababy star Thorp is a winner; she pitches her character so that, despite her generally awful behaviour, there's a sort of quiet desperation to what Signe's doing. The way Borgli shows just how off-hand Thomas is towards her also allows us to retain a scrap of sympathy, even in her worst moments. While Signe may be an anti-hero whose face is bearing the all too real consequences of her actions, Borgli is suggesting that society as a whole should take a good look in the mirror.
Production company: Oslo Pictures
International sales: Memento sales@memento-films.com
Producers: Andrea Berentsen Ottmar, Dyveke Bjørkly Graver
Production design: Henrik Svensson
Cinematography: Benjamin Loeb
Editing: Kristoffer Borgli
Music: Turns
Main cast: Kristine Kujath Thorp, Eirik Sæther, Fanny Vaager, Fredrik Stenberg Ditlev-Simonsen, Sarah Francesca Brænne, Ingrid Vollan