Clément Cogitore paints both an authentic community portrait and a serious, moody take on the Parisian crime drama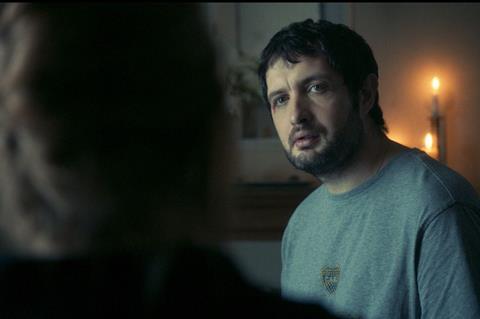 Dir/scr. Clément Cogitore. France. 2022. 98 mins
A phoney medium finds himself really connecting with the dead in Sons Of Ramses, a curious, adventurous mix of nocturnal thriller community portrait and metaphysically-tinged disquisition on responsibility and redemption. Known for gallery art as well as films, French writer-director Clément Cogitore made 2015's offbeat war drama The Wakhan Front, and here offers an ostensibly conventional realist crime drama, although Sons Of Ramses later heads into stranger territory at a head-spinning pace. Fronted by a compelling, if sometimes one-note performance by Karim Leklou, this serious-minded, moody venture should score solid interest from Francophile outlets.
This is a drama very much about a neighbourhood and its cultures, and the diversity of the film's casting and languages bear that out
The film's setting is the Goutte d'Or neighborhood, the working-class area of Northern Paris known for its mix of populations, notably North African, sub-Saharan and Asian. After a prologue showing earth movers on a building site at night, the story begins with a sustained slow-burn sequence in which a middle-aged woman has an appointment with Ramses (Leklou), a much in-demand local medium, who seems to have uncanny knowledge about her late mother. He appears to be the real thing, but before we can learn more, the meeting is terminated as intruders break into his apartment.
Ramses suspects his enemies, a gang of a rival seers. Mediums are legion in Goutte d'Or, it turns out, some of them more amicably disposed towards him than others. Ramses is summoned to a meeting, where the medium community complains that he is unfairly monopolising local business – which we discover he's doing through simple but canny modern methods, by scanning clients' social media accounts.
But Ramses is also threatened by a gang of young boys recently arrived from Tangier, eluding police detention and terrorising the community. One boy steals an amulet that Ramses has been given by his elderly father, a somewhat crazed mystic, and when the kid disappears, the gang insists with menaces that Ramses locate him. Strangely and somewhat abruptly – and this is where the film requires the viewer to follow it on a very different narrative track – Ramses succeeds. From then on, he becomes involved with the gang on a much closer basis.
The film's French title is Goutte d'Or, 'drop of gold', the name of a famous Goutte d'Or street, but also alluding to Ramses' amulet and to the quasi-alchemical processes by which a backstreet recycling operation gleans resources from black market cell phones. This is a drama very much about a neighbourhood and its cultures, and the diversity of the film's casting and languages bear that out (French, Arabic, various African languages and the boys' darija, or Moroccan Arabic). The film bears the mark of well-researched authenticity, and it is worth noting that one of the names credited with additional script work is Cogitore's co-writer on The Wakhan Front, Thomas Bidegain, known for his own Cowboys and collaborations with Jacques Audiard.
DoP Sylvain Verdet's chiaroscuro comes into its own in the murky neon-lit night scenes, where he conjures up a sense of omnipresent danger. Casting directors Tatiana Nuytten Vialle and Mohamed Belhamar have done wonders in mustering a team of young actors to play the gang, the boys bringing a ferocious presence to the action, suggesting at once danger and vulnerability.
Lead actor Leklou was recently seen in Cédric Jimenez's Netflix-screened BAC Nord (The Stronghold) and as the father in Laura Wandel's Playground. Here he holds the attention as a contradictory anti-hero, a solitary man losing touch with his roots, even while exploiting them. Leklou beautifully plays the faux-spiritual solemnity early on, and then the prickly cynicism; but as Ramses' predicament deepens, the performance somewhat loses modulation, as the film does, both settling too much into a mode of paranoid agitation.
There is perhaps an uncomfortable edge in the feeling that, initially at least, the story demonises the street kids as a feral force of nature, although it goes on to humanise them considerably. With its tweaks on familiar Parisian thriller tropes, Sons of Ramses is an imaginative experiment that doesn't entirely sustain itself, but while it does, it shows a left-field originality that's eerily gripping.
Production company: Kazak Productions
International sales: MK2 Films, fionnuala.jamison@mk2.com
Producer: Jean-Christophe Reymond
Screenplay: Clément Cogitore
Production design: Chloé Cambournac
Cinematography: Sylvain Verdet
Editing: Isabelle Manquillet
Music: Eric Bentz
Main cast: Karim Leklou, Malik Zidi, Elsa Wolliaston, Jawad Outouia