The young residents of an Icelandic children's home seek solace in fantastical tales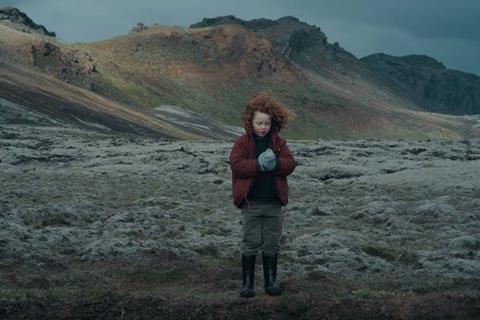 Dir: Guđrun Ragnarsdóttir. Iceland-Norway. 2017. 84 mins
Six-year-old Eydis (Kristjana Thors) and her younger brother Kari (Stefán Örn Eggertsson) don't fully understand what is going on when their mother, hiding a black eye under her fringe, coaxes them onto a bus and tells them to be brave. They find themselves unceremoniously dumped at an isolated children's residential home on the windswept fringes of Iceland. This gentle 1960s-set family film blends fantasy with reality, softening the hard edges of life for abandoned children with a sprinkling of magical realism.
There's a characteristically Icelandic matter-of-fact approach to magic and fantasy here
The directorial debut of documentary filmmaker Guđrun Ragnarsdóttir is a charming, if slight picture, elevated by appealing performances from its young cast and should continue to engage further festival audiences following its premier at Tallinn Black Nights Film Festival. A cluttered third act might hamper the chances of the film registering with an arthouse theatrical crowd, however the winning combination of Icelandic scenery and cute kids certainly won't hurt.
Eydis, Kari and the other subdued, hollow-eyed kids on the bus are the 'summer children' – temporary residents at the home. They look with pity at the winter children who have to endure the soul crushing, joyless routines all year, with no hope of a reprieve. But even a summer stay feels like a life sentence when you are six and forced to live in an institution where all toys are confiscated on arrival.
The location choice is grimly evocative. The home squats on a wind-lashed coast, overlooked by a foreboding lighthouse and a snaggle-toothed rock formation. Ragnarsdóttir keeps her camera low; we get a child's eye view through fibrous weeds and grasses. We also see a child's eye view of the staff of the home; the strict proprietess takes on a malevolent, supernatural quality in Eydis' mind. The only staff member to show them any meagre kindness, meanwhile, is unconditionally adored by the children.
There's a characteristically Icelandic matter-of-fact approach to magic and fantasy here. Karis is chided that ''the people of the lava" will come for him if he doesn't behave. Later, Eydis strikes up a friendship with a quiet boy who rides a pony tut, as one of the staff spitefully points out, he's probably the ghost of a child who froze to death in the marshlands several years before. Eydis fiercely believes that what she dreams – night time visits from her mother, the ability to fly – is in some way real. But as the weeks go by with no sign of her parents, Eydis begins to lose hope.
The film taps into that same raw yearning for family and stability which was mined so effectively in this year's French animation My Life As A Courgette. And while the conclusion doesn't have quite the same elevating, feel-good punch of that picture, it ends with a reassuring upbeat note of tentative hope.
Production companies: Ljósband efh, Filmhuset AS
International Sales: Ljósband efh amk@ljosband.is
Producers: Anna María Karlsdóttir, Hrönn Kristinsdóttir
Screenplay: Guðrún Ragnarsdóttir
Cinematographer: Ásgrímur Guðbjartsson
Editor: Davíð Alexander Corno
Music: Kira Kira & Hermigervill
Starring: Kristjana Thors, Stefán Örn Eggertsson, Brynhildur Guðjónsdóttir, Magnea B. Valdimarsdóttir, Margrét Birta Björgúlfsdóttir