A swimming competition is the catalyst for Iranian filmmaker Sadaf Foroughi's well-observed Crystal Globe winner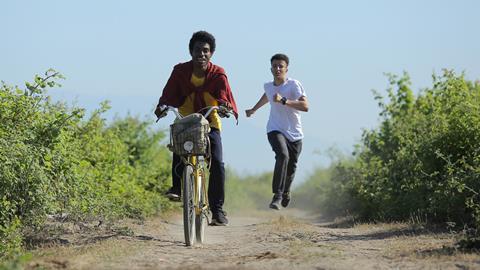 Dir/scr: Sadaf Foroughi. Canada/Iran. 2022. 99mins
A teenage swimming prodigy's ambitions are sorely buffeted by harsh social crosscurrents in Canada-based Iranian writer-director Sadaf Foroughi's second fictional feature Summer With Hope (Tabestan ba Omid). This exceptionally good-looking snapshot of a controllingly conservative society in microcosmic action landed the Crystal Globe at Karlovy Vary, the day after the arrest of Golden Bear winner Mohammad Rasoulof re-sparked international condemnation of Iranian repressions. The Karlovy Vary succcess (Iran's first in the event's 76-year history) will doubtless open plenty of international doors for this slow-burning character-based work, whose screenplay treads—largely successfully—a hazardous line between delicate ambiguity and taxing opacity.
Finds multiple corollaries to subtly illustrate Foroughi's underlying preoccupations with confinement and liberty
Foroughi's well-received, award-winning debut Ava (2017) focused on the pressures piling up around a talented 17-year-old female violin-player. She follows the same template here via the story of Omid (Mehdi Ghorbani), whose name means "hope" in Farsi—the film's title in that language thus bears a double meaning lost in translation to the on-the-nose Anglophone version.
Omid is indeed the "hope" of his middle-class family: his fretful mother Leili (Leili Rashidi essaying a much more sympathetic role than her termagant school-principal in Ava) has relocated with Omid and her grouchy brother Saadi (Alireza Kamali)—who is also Omid's legal guardian—from Tehran to a residential and sports-training "complex" on the Caspian coast which provides the film with a rugged natural backdrop.
Leila is estranged from Omid's father—frequently referred to here but never seen—and hopes to divorce him soon. But the father threatens to withhold his divorce-consent (which would apparently doom Leila to again cohabit with him) unless Omid wins an upcoming swimming competition of considerable but unspecified significance. As if this wasn't enough incentive, this competition will determine whether or not the lad has to undergo quasi-compulsory military service.
Despite the heavily crucial importance of the event, Omid's participation is imperilled by bureaucratic shenanigans revolving around scheming administrator Kamran (Milad Mirzaei), a long-standing foe of his family. He must switch from indoor racing to the very different discipline of open-sea swimming—and is coached for the latter by a slightly older friend, Mani (Benyamin Peyrovani), with whom he quickly forms a close bond.
The exact nature of this bond is the nebulous crux of Foroughi's slightly-too-busy, slightly contrivance-dependent script: is it professional, bromantic, romantic, or some admixture of the three? Third-party speculations about what is going on between Omid and Mani—by individuals who remain literally and metaphorically shadowy—drive the highly dramatic events in the film's relatively incident-packed, tragedy-inflected latter third. In tonal terms these sit a little awkwardly with the steelily low-key nature of the first two acts. Throughout, meanwhile, we must take the supposedly considerable athletic prowess of Omid—a smoker who frequents nightclubs and is neither an assiduous trainer nor especially fit-looking—as a matter of trust.
Foroughi's handling of the relationship between Omid and Mani is, however, a matter of painstakingly careful tact and restraint. Much is left to the imagination and deduction of the viewer; but the fact that the line "the rest is nobody's business" is spoken twice in succession during a pivotal scene involving the two lads (atmospherically alone out at sea on a boat after dusk) is surely no accident.
She is considerably aided in Summer With Hope's sinuous narrative balancing-act by the ace contributions of cinematographer Amin Jafari—who, ten years after Majid Barzegar's warmly-received Parviz (2012), productively reteams with "colorist and visual designer" Saman Majd Vafaei. Jafari's arresting widescreen compositions consistently impress both in terms of what is revealed and what is left unshown. Jafari and Foroughi (the latter also taking production-design duties) also excel with their manipulation of deep perspective within indoor and outdoor spaces, in a picture which finds multiple corollaries to subtly illustrate Foroughi's underlying preoccupations with confinement and liberty.
Production company: First Generation Films, Sweet Delight Pictures
Contact: First Generation Films fg-films.com
Producer: Sadaf Foroughi, Kiarash Anvari, Christina Piovesan
Cinematography: Amin Jafari
Production design: Sadaf Foroughi
Editing: Kiarash Anvari
Music: Soheil Peyghambari
Main cast: Mehdi Ghorbani, Leili Rashidi, Alireza Kamali, Benyamin Peyrovani, Milad Mirzaei