Decklan Recks puts some wind in the sails of the sporting underdog tale with this all-female rowing drama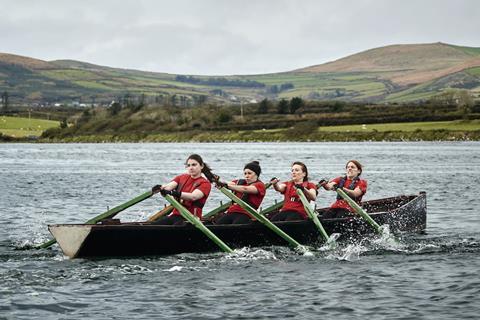 Dir. Declan Recks. Republic of Ireland. 2022. 94mins
Tarrac puts a new set of oars into an old-fashioned sporting underdog story: the 'naomhog', or 'currach', is not something widely known outside Ireland and even there, an all-women racing team, in this rowing boat made from wood, tar and canvas, is niche. Yet it's the star of Declan Recks' entertaining drama – alongside the four ladies determined to win the regional (Munster) finals for their small Irish-speaking Kerry village for the first time in 22 years.
Using familiar building blocks, Declan Recks confidently builds to an emotional finale amid a nicely-etched father-daughter relationship
Using familiar building blocks, Recks (Eden, The Flag) confidently builds to an emotional finale amid a nicely-etched father-daughter relationship which should see his film fly in domestic distribution at least. There's a softness to it initially, underscored by a film-of-the-week soundtrack and a reality-defying insistence on portraying Kerry as cloaked in eternal sunshine, that seems to promise a cheery blandness. But the combination of female solidarity for these 'sisters of the sea' and a sharp focus on festering family injuries (which, of course, will be overcome) see this feelgood feature sail over the waves of predictability for a sweet landing on solid home ground.
The lingering Irish theme of children who leave and parents who mourn them (also evidenced in this year's fellow Galway Fleadh premieres The Sparrow and Lakelands) gets a thorough airing here, this time in the Irish language. The country's successful Cine4 scheme is bringing with it much to admire artistically (Arracht, Foscadh, The Quiet Girl) and, here, commercially as well – this is aimed at the Irish multiplex. Lorcan Cranitch, a mainstay of the Irish language renaissance, plays the gruff father (as he does in Lakelands) – here, named Bear, a former naomhog champion, and father of Dublin workaholic Aoife (Kelly Gough).
Aoife is first seen tentatively returning home after Bear has suffered a heart attack, although he's resistant to her ministrations. Their house is painted green (little doubt we're in Ireland), and has beautiful views out to sea in the Kerry Gaeltacht– and the sea, as we have noticed from the film's first moments, is an irresistible force for Aoife, still heartbroken after the death of her mother many years prior.
At a loose end while Bear recuperates, Aoife reunites with her old friends and makes an impulsive decision to join their naomhog team which has somehow made it to the Munster semi-finals. It's a decision she'll come to regret, not only because it's physically brutal work ('you're not on a fancy rowing machine now,' says Bear.) This seemingly futile quest is going to force her to face up to herself and her past. Once the film sails past the 40-minute mark without a romantic interest in sight, viewers can breathe a sigh of relief that she will be allowed to do this alone, and that any reconciliation with Bear will be genuinely brought about. Harder to write, but so much better to watch.
In fact, Eugene O'Brien's deft screenplay also manages to introduce the rare character of a Traveller family into the film in a smooth yet pointed manner. Rachel Feeny's young Naomie has left her drunken parents behind to take refuge in her charming petrol-head cousin Noellie's (Cillian O'Gairbhi) caravan. She's set on making it to the Olympics, knowing she's the best rower in the area. Now Aoife has to give her a good reason to side with the community which also marginalises her: this is a small sidebar, admittedly, but with colourful characters who impress. And, overall, while Tarrac (meaning 'pull!') clearly has budget limitations, they haven't curtailed its ambitions.
Production companies/international sales: Icebox Films, info@iceboxfilms.ie
Producer: Cliona Ni Bhuachalla
Screenplay: Eugene O'Brien
Cinematography: Patrick Jordan
Production design:
Editing: Gareth Young
Music: Kormac
Main cast: Kelly Gough, Lorcan Cranitch, Kate Nic Chonaonaigh, Kate Finegan, Rachael Feeney, Cillian O'Gairbhi