An author develops an obssession with a mysterious woman in this film based on an early-'70s work by Osamu Tezuka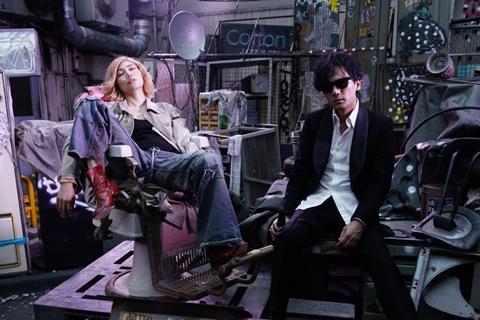 Dir. Macoto Tezuka. Japan. 2019. 100mins
Even if the Tezuka name didn't feature in Tezuka's Barbara's title, it would cast a hefty shadow over this manga-to-movie adaptation. Based on an early-'70s work by Astro Boy and Kimba the White Lion creator Osamu Tezuka, premiering in Tokyo on what would've been his 91st birthday, and helmed and edited by his anime director son Macoto Tezuka, this offbeat erotic drama taps into the beloved artist and animator's wilder side — and, given that it spins a supernatural story of lust and obsession inspired by The Tales of Hoffman, it's as erratic and strange as one would expect.
Ichiko Hashimoto's jazzy score leans into the movie's whirlwind mood
That said, unless you're acquainted with the film's printed source material, no one could reasonably expect Tezuka's Barbara. An adults-only fantasy about a famous Tokyo writer suddenly beguiled by a possibly sorcerous woman he finds slumped, sloshed and slumbering in Shinjuku station's subterranean walkways, it's as over-the-top as tales about men and their muses get. Filled with elongated sex scenes, half-naked mass rituals and voodoo, it's also a case of an out-there narrative working better on the page than on the screen. Osamu Tezuka's iconic and adored status as "the father of manga" aside, that doesn't bode well for the film's fortunes beyond the text's existing fans — or, with a Japanese commercial release already slated for 2020, for its appeal elsewhere. (Still, with the UK's Third Window Films and Germany's Rapid Eye Movies among its backers, the film appears destined to try its luck internationally.)
Also troubling Tezuka's Barbara is an easily foreseeable problem: while rendered with flesh and blood, the live-action movie never feels like it possesses any flesh, or that blood pumps through its veins. This is a film that's overdone and noticeably flat in tandem, as well as increasingly ludicrous. Whenever a glimmer of substance flickers, so too does silliness. Sometimes, that's by design — as seen in the feature's nod to Hoffman's automaton scene — but too often it's just a byproduct of Macoto Tezuka's flighty approach. While there's plenty that's preposterous in his dad's manga, apart from an opening Nietzsche quote about romance, madness and reason, the younger Tezuka seems happier depicting ridiculousness than unpacking it.
Or, perhaps he's just trying to highlight the narrative's simple love story. When Yosuke Mikura (Goro Inagaki) first sees Barbara (Fumi Nikaido) he walks straight by, and yet something makes him turn back. In different forms, this dynamic keeps recurring. Whenever they're apart, he's drawn back to her, even if he doesn't always know why. Of course, an ordinary romance doesn't involve black magic, blood oaths, a mother-in-law straight out of Greek mythology, deaths and injuries blighting Mikura's nearest and dearest, and the feeling that Barbara isn't just his lover or latest source of inspiration, but that she's controlling his fate.
Energetic and given emphatic attention, Ichiko Hashimoto's jazzy score leans into the movie's whirlwind mood, but the film is best served by Christopher Doyle's imagery. It's never as swooning as his work in 2046, as lurid as Magic Magic or as anchored in its setting as Paranoid Park. Yet the Australian cinematographer uses all three modes to the film's advantage, making Mikura and Barbara's twisted romance feel heady, crazy and natural all at once – especially when it plays out on Tokyo's streets.
While the movie's cast, especially ex-boy band star Inagaki and Fly Me to the Saitama's Nikaido, don't have the same impact, they're given less room to make a splash. This is the kind of film that builds character by tasking Mikura with drinking 50-year-old single-malt whiskey while wearing his sunglasses inside, and following Barbara as she twirls an umbrella while flitting through busy alleyways, rather than via its performances.
Also wavering is Macoto Tezuka, who has long played custodian to his dad's creative oeuvre, and brought several pieces of his work to the screen — and yet, in a feature that might've worked better as anime, he gives his father's cult favourite the cursory, easy treatment.
Production companies: TheFool, Third Window Films, Rapid Eye Movies,
International sales: Nikkatsu, m.furukawa@nikkatsu.co.jp
Producers: Shunsuke Koga, Adam Torel, Shinya Himeda
Screenplay: Hisako Kurosawa
Cinematography: Christopher Doyle
Editing: Macoto Tezuka
Production design: Toshihiro Isomi
Music: Ichiko Hashimoto
Cast: Goro Inagaki, Fumi Nikaido, Kiyohiko Shibusawa, Shizuka Ishibashi