Sir John Hurt's final role sees the actor confront the dying of the light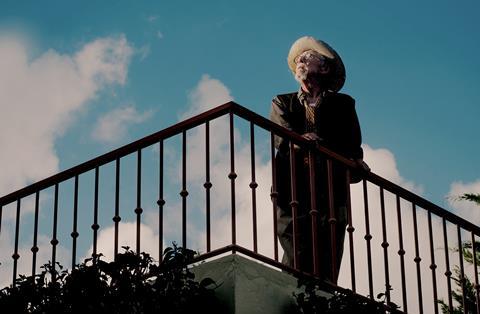 Dir. Eric Styles. UK, Portugal. 2017. 92 mins.

In his final role, the late Sir John Hurt plays a terminally ill writer struggling to come to terms with his own mortality, to rebuild the wreckage of his family and to die with some semblance of dignity. The poignancy of the casting, and Hurt's typically fine work in the role, is the main selling point of this domestic drama, based on a stage play by N. J. Crisp. So effortlessly good is Hurt, however, that he rather outclasses the rest of this somewhat workmanlike picture. Eric Styles (Relative Values, Dreaming of Joseph Lees) directs.
The most satisfying scenes are also the most enigmatic
A handsome backdrop notwithstanding – the film unfolds under the tawny Portuguese sun, largely within the clean, clear lines of a well-appointed villa – this is not a picture which demands a big screen to be fully appreciated. And while the presence of Hurt at the end of his career will attract interest on the festival circuit and elsewhere, the film's natural fit might be in a prestige television drama slot.

Hurt plays Ralph Maitland, a celebrated screenwriter in his seventies who has no intention of going gentle into that good night (as the film's title suggests, the famous Dylan Thomas poem about old age and mortality is a central motif). Ralph's spiky personality is mirrored in his bristling hair and ice chip eyes. His manner, with his endlessly patient wife Anna (Sofia Helin) and with the son of his maid, is one of brusque, benign irritation. But Ralph, we sense, has huge reservoirs of cruelty just waiting to be unleashed.

After a routine health check reveals bad news, Ralph vows to get his affairs in order. He imperiously summons his son Michael (Max Brown) for a visit, but takes umbrage when Michael deigns to bring his girlfriend Cassie (Erin Richards) along. Ralph takes an instant dislike to Cassie, unleashing a verbal assault of such weapons-grade toxicity that it rather undermines our sympathy for him as a character. It takes a special kind of person to infer that his son's girlfriend's job, running scientific conferences, is a kind of niche-interest prostitution gig. It's here that Hurt's skill is crucial – we capture a flicker of helplessness in his eyes, even as his his mouth spews unchecked vitriol.
Brisk editing refuses to linger on Hurt's face, or indeed on any of the more interesting scene-setting shots which might build the film's atmosphere. Instead, the film leans on its overused score like a crutch. Featuring plenty of accordion and plaintive fado-style laments, the music hangs heavily on the picture. Like the heady perfume of flowers at dusk, it's pleasant but also slightly suffocating.

The most satisfying scenes are also the most enigmatic. Ralph is visited by a mysterious man in a white linen suit (Charles Dance). He might be an angel. He might be death itself. Or he might just be a local representative of a shadowy euthanasia organisation which facilitates neat, painless deaths to those with suitably deep pockets. It's in these scenes, rather than the sniping between family members, that the film tackles 'the dying of the light' in any real depth.
Production Company/international sales: GSP Studios, keith@gspstudios.co.uk
Producers: Alan Latham, Charles Savage
Screenplay: Charles Savage
Cinematography: Richard Stoddard
Editor: Mali Evans, Chris Timson
Music: Guy Farley
Production Design: Humphrey Jaeger
Main cast: Sir John Hurt, Charles Dance, Sofia Helin, Max Brown, Erin Richards