Dir. Elliot Hegarty. UK, 2015. 91 mins.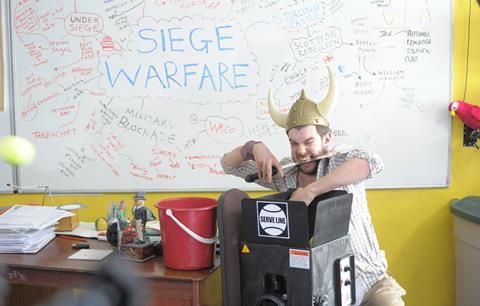 Talented British comedian Jack Whitehall lays his cards on the table in The Bad Education Movie's pre-opening-credit sequence where, as an inept school teacher taking his class on a school trip to Amsterdam, he uses a disabled pupil to queue-jump past a line of Hasidic Jews at Anne Frank House, inadvertently takes drugs, sees a talking panda and runs off through the city with a mannequin Anne before falling into a canal in an ET tribute. Childish? Yes, of course; this is schoolboy humour run amok. Funny? Bad Education is unexpectedly hilarious, and that's before the plot proper kicks in, with Whitehall's Alfie Wickers becoming the leader of a toothless band of Cornish terrorists led by Iain Glen.
This film will make a world of difference to Jack Whitehall's career, offering opportunities similar to those taken by James Corden and Ricky Gervais
The Bad Education Movie (derived from Whitehall's TV series) arrives in the UK's late-August-golden slot established by The Inbetweeners in 2011, aiming for a pre return to school lift-off. It should succeed, and if for some reason it falters at the box office (where it is released by and exec-produced by Entertainment, like The Inbetweeners), this goofy low-budget comedy with notably decent production values is certainly set for a healthy commercial life, some plum TV deals at home, possibly even a sequel.
Whitehall's stock is high in the UK, and although Bad Education is often lewd and Whitehall's naked bum and testicles are a running gag throughout, it's by no means filthy or objectionable. It is very British humour, however – jokes about posh boys, peg-legged prostitutes and pasties may be lost in translation.
Front and centre of Bad Education is 27-year-old Whitehall in his film debut, willing to go the distance with his character and pushing the plot into unexpected realms of absurdity. Already a highly successful stand-up comedian in the UK and star of another hit TV show Fresh Meat, Whitehall is the son of producer/talent agent Michael Whitehall (they have written a book together called Him & Me). His character Alfie Wickers, Britain's most inept and up-for-it schoolteacher, gets his kids to tattoo 'Class K Forever' onto his back. They only get as far as CLA, however, which also stands for the 'Cornish Liberation Army' - with unexpected consequences during Abbey Grove School's post-GCSE trip to Cornwall.
Written by Whitehall and the TV-show's co-creator Freddy Syborn and directed smartly by TV's Elliot Hegarty, making his feature debut, Bad Education is not by any means well-funded but marries a strong sense of comic timing with a visual ambition which knows its limitations. Unlike others of its type, this film isn't at all harsh on the eye, and Hegarty makes playful cinematic references throughout which underscore the performances and some snappy writing.
Bad Education is also the kind of British film where the comedy cameos come on hot and heavy; Matthew Horne and Harry Enfield return from the TV show, with Iain Glen and Steve Speirs hamming it up as rebel Cornish smugglers, Jeremy Irvine on board as a nasty toff, Steve Oram as a biscuit-loving policeman and Joanna Scanlan is more than game as an over-protective mother (Whitehall daringly refers to Mumsnet members "of a certain age" "putting down their massive glasses of white wine" to rescue the kids - never mind the teabagging, that's the controversial gag).
The class's cheerful stereotyping is comically palatable (the fat kid, the gay kid, the boy in the wheelchair, etc) carried by The Bad Education Movie's breezy cheerfulness. There's a nice soundtrack featuring the Rizzle Kicks, amongst others, and a rousing fencing finale set in Pendennis Castle. Bad Education won't change the world, and viewers probably have to be both British and in the right frame of mind to best appreciate its highjinks, but this film will make a world of difference to Jack Whitehall's career, offering opportunties similar to those taken by James Corden and Ricky Gervais.
Production companies: Tiger Aspect Pictures Production, Cave Bear Productions
Contact: Tiger Aspect, general@tigeraspect.co.uk
Producers: Pippa Brown, Ben Cavey
Executive producer: Nigel Green
Screenplay: Jack Whitehouse, Freddie Syborn
Cinematography: Pete Rowe
Editor: Peter Oliver
Production design: Simon Rogers
Music: Vince Pope
Main cast: Jack Whitehall, Iain Glen, Harry Enfield, Joanna Scanlan, Matthew Horne, Ethan Lawrence, Layton Williams, Nikki Runeckles, Kae Alexander, Weruche Opia, Jack Binstead, Charlie Wernham