Dir: Nate Parker. US. 2016. 119mins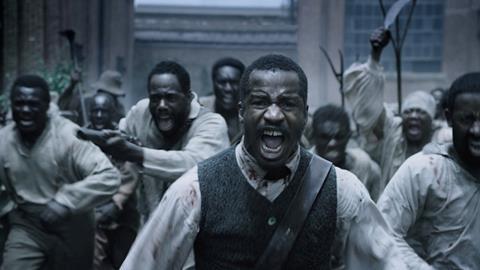 What first should be said about The Birth Of A Nation, the feature filmmaking debut of director, writer, producer and star Nate Parker, is that it's often an overly earnest biopic about 19th century Virginia slave Nat Turner. And what must then follow is an acknowledgment that such criticisms don't matter so much in the face of this film's ferocious moral anger. Dramatising how Turner's slow awakening to the misery experienced by his fellow slaves led to a brief, bloody uprising, The Birth Of A Nation builds to that violent revolution with a slow burn that soon explodes with the force of a long-suppressed societal psychic wail. This may not be the most nuanced of films, but its blunt-force impact leaves one shaken.
No one could argue with the moral thrust of The Birth Of A Nation, which means to anger and provoke without offering any conciliatory notes to those who might be disturbed by the film's bracing violence
Part of Sundance's US Dramatic competition, this film (which provocatively appropriates the title of director D.W. Griffith's influential but unconscionably racist 1915 epic) should attract multiple buyers, and no doubt any plot description will call to mind another similarly-themed film, the Oscar-winning 12 Years A Slave. But in its depiction of an underdog hero who fights injustice by taking up arms, The Birth Of A Nation also echoes sweeping period dramas such as Braveheart — which, incidentally, also won Best Picture. A movie that will inspire plenty of debate both on the film's merits and America's shameful history of slavery, The Birth Of A Nation should attract substantial attention, whether or not that translates to substantial box office.
Parker, an actor who has appeared in Red Hook Summer and Beyond The Lights, stars as Nat Turner, a slave on a Virginia plantation run by Samuel Turner (Armie Hammer), a relatively decent Southerner who treats his slaves with a modicum of respect. But once Nat, who is that rare slave who can read, develops a passion for preaching and starts traveling to different plantations to spread God's message, his (as well as Samuel's) eyes are opened to the degradation visited upon other slaves. A series of cruel actions — including Samuel's eventual reveal of his own racist tendencies — prompts Nat to inspire his fellow slaves to rise up and overthrow their masters.
On its surface, The Birth Of A Nation is a rather traditional biopic that examines how a great figure cemented his place in history. In truth, this aspect of the film is one of its weakest, Parker and cinematographer Elliot Davis making great use of the Savannah, Georgia locales but not always delivering this dramatic material in the most visually arresting ways. There's a conventionality to the storytelling that can feel as safe as a mediocre Oscar-bait offering, Nat Turner's journey from preacher to slave leader marked by pedestrian narrative beats.
But what's impressive about The Birth Of A Nation is the subtext beneath that conventionality. From its opening moments, the film hums with the sense that a reckoning is coming, first by explaining that, as a little boy, Nat was believed to be a prophet. That leads to his learning to read and then Samuel Turner's kindly mother Elizabeth (Penelope Ann Miller) introducing him to the Bible, sparking his religious faith. (But, in an indication of the moral rot consuming the American South at the time, Elizabeth gives him the "Good Book" because, as she explains, the rest of her books are only meant for whites.)
It's Nat's discovery of the depth of inequality consuming the South that gives The Birth Of A Nation its righteous anger. Parker lets that fury percolate and build, never overdoing the graphic violence of slave mistreatment but including just enough to leave us sickened. And once Nat is himself whipped by Samuel's men for stepping out of line, it sets off a time bomb that will go off in the final stretches.
That rebellion, which lasted only 48 hours, is the film's most audacious sequence and, even better, it shakes off the compelling but staid tone that dominates earlier scenes. Plus, it's rather shocking: Nat Turner and his cohorts savagely murder white men with axes and other crude weapons — including characters we've met previously in the film — and The Birth Of A Nation is utterly unapologetic about its bloodshed.
If anything, Parker is arguing that, when it came to slavery, there were very few "innocent" whites, and so Nat Turner's rebellion doesn't discriminate in its killing. That stance runs counter to the traditional Hollywood model of wartime dramas in which, for instance, the Nazis are mostly faceless drones we cheer on to their deaths. By contrast, The Birth Of A Nation makes the viewer confront the faces — and, by extension, recognise the shared guilt in living in a country where slavery once flourished. The movie's ending couldn't be called exhilarating, but it is a powerful unleashing of a collective national shame, viscerally addressing with gruesome candour the pent-up racial hostility that still exists in America.
The Birth Of A Nation features a large ensemble, and some of the bigger names in the cast, including Jackie Earle Haley as a vicious slave tracker, have to rely on well-established personas to compensate for underwritten roles. Even Aja Naomi King as Nat Turner's wife Cherry isn't given a lot of room to develop, leaving the character mostly on the sidelines while her husband takes action. But Hammer creates a strong impression as a slave owner who perhaps secretly detests the institution but is far too spineless to do anything about it.
As for Parker, he's got plenty of charisma to make Nat Turner a forceful figure. Much like the movie in general, his performance can overdo the sombre significance at times. But no one could argue with the moral thrust of The Birth Of A Nation, which means to anger and provoke without offering any conciliatory notes to those who might be disturbed by the film's bracing violence.
Production companies: Bron Studios, Phantom Four, Mandalay Pictures, Tiny Giant Productions, Novofam Productions, Follow Through Productions, Infinity Entertainment, Oster Media, Point Made Films, Liberty and Justice Productions, Yesternight Entertainment, Hit 55 Ventures, Creative Wealth Media Finance
International sales: WME, gtaylor@wmeentertainment.com
Producers: Nate Parker, Kevin Turner, Jason Michael Berman, Aaron L. Gilbert, Preston L. Holmes
Executive producers: David S. Goyer, Michael Novogratz, Michael Finley, Tony Parker, Jason Cloth, Andy Pollack, Allan J. Stitt, Jane Oster, Barb Lee, Carl H. Lindner III, Derrick Brooks, Jill and Ryan Ahrens, Armin Tehrany, Edward Zwick, Mark Moran
Screenplay: Nate Parker, story by Nate Parker & Jean McGianni Celestin
Cinematography: Elliot Davis
Production design: Geoffrey Kirkland
Editor: Steven Rosenblum
Music: Henry Jackman
Main Cast: Nate Parker, Armie Hammer, Mark Boone Jr., Colman Domingo, Aunjanue Ellis, Dwight Henry, Aja Naomi King, Esther Scott, Roger Guenveur Smith, Gabrielle Union, Penelope Ann Miller, Jackie Earle Haley