Armando Iannucci's latest is a sharp-edged, resonant satire of power grabbing in 1950s Moscow.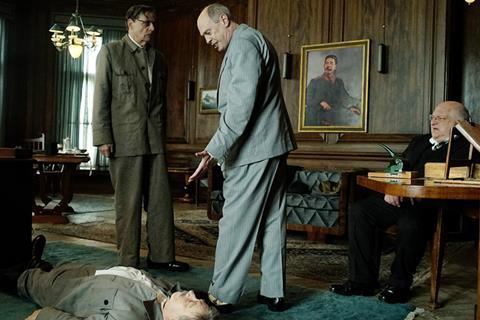 Dir. Armando Iannucci. Fr-UK-Bel. 2017. 106mins
Master satirist Armando Iannucci's new film is ostensibly a comedy, but the laughs don't come easy and the jokes are often laced with malice and paranoia. The Death Of Stalin will feel familiar to fans of the writer-director responsible for The Thick Of It, In The Loop and Veep, as Iannucci once again examines how people's ugliness is exposed when grasping for political power. The novelty of his volcanically vulgar, deeply cynical tone may have worn off some, but Iannucci has nonetheless crafted another poisonous cocktail of naked ambition and blustery bravado with a decidedly bitter aftertaste.
Stalin features a bleaker, less cathartic tone than previous Iannucci efforts
Opening October 20 in the UK, following its premiere in Toronto's Platform strand, Stalin will cater to Iannucci aficionados, but a star cast including Steve Buscemi and Jeffrey Tambor will also help commercial prospects. And, with political unrest occurring in the US and elsewhere, audiences may be receptive to a dark comedy about government corruption.
The film takes place in Moscow in 1953, as the ruthless dictator Joseph Stalin (Adrian McLoughlin) has just dropped dead, leaving his closest advisers unsure who should succeed him. The vain, ineffectual Georgy Malenkov (Tambor) is selected as the new Communist party leader by an elite counsel that includes Nikita Khrushchev (Buscemi) and Lavrentiy Beria (Simon Russell Beale), but quickly several party officials begin jockeying to forward their own agendas.
Based on a graphic novel by Fabien Nury and Thierry Robin, Stalin features a bleaker, less cathartic tone than previous Iannucci efforts. The film sports the same nasty characters that have been his speciality — a collision of conceited buffoons and razor-sharp tacticians — but the subject matter is inherently less funny this time around, as Iannucci illustrates how the Communist leaders' petty squabbling comes at the expense of ordinary citizens, who are being massacred and oppressed by a cruel government.
To be sure, Iannucci's feature directorial debut In The Loop was hardly a breezy lark, the stupidity of the Iraq War providing the grist for a sobering satire of macho posturing and military incompetence. But that film's graceful transition from lacerating comedy to unexpected drama isn't as adroit in Stalin, whose characters are often so loathsome that it's hard to find many rooting interests amidst the toxic banter and shady strategizing.
This airless, despairing atmosphere is further emphasized by cinematographer Zac Nicholson, who frames these backbiting characters in large, empty rooms to suggest the moral vacuum in which they operate. Even Christopher Willis's cheekily bombastic orchestral score can't mitigate the suffocating contempt at Stalin's core.
Some in the ensemble — including Tambor as the dopey Malenkov and Rupert Friend as Stalin's spoiled son — can be a bit broad. But Beale is divine as Beria, a conniver who prides himself on always being three moves ahead of his opponents. Not dissimilar to Peter Capaldi's acidic Malcolm Tucker from The Thick Of It and In The Loop, Beria wields his bullying, condescending manner like a weapon, and there's invigorating pleasure in watching him reduce his foes to rubble through a few well-chosen insults.
He's well-matched by Buscemi, who plays Khrushchev as a self-pitying whiner who, nonetheless, slowly but surely starts to see his opportunity to ensure Beria gets his comeuppance. Those who know their Russian history will anticipate Stalin's finale, but Buscemi's pained, scabrous performance is notable for how intentionally joyless it is. This seems to be Iannucci's underlying point; these miserable characters want the throne mostly because they don't want anyone else occupying it. That's no way to run a country.
Production companies: Quad Productions, Main Journey, Gaumont, France 3 Cinema, La Compagnie Cinematographique, Panache Productions, AFPI, Canal +, Cine +, France Televisions
US distributor: IFC Films, www.ifcfilms.com
International sales: Gaumont, alexis.cassanet@gaumont.com and adeline.falampin@gaumont.com
Producers: Yann Zenou, Laurent Zeitoun, Nicolas Duval Adassovsky, Kevin Loader
Executive producer: Jean-Christophe Colson
Screenplay: Armando Iannucci, David Schneider and Ian Martin, based on the comic books The Death Of Stalin by Fabien Nury and Thierry Robin, published by Dargaud, original screenplay by Fabien Nury
Cinematography: Zac Nicholson
Production design: Cristina Casali
Editor: Peter Lambert
Music: Christopher Willis
Main Cast: Steve Buscemi, Simon Russell Beale, Paddy Considine, Rupert Friend, Jason Isaacs, Olga Kurylenko, Michael Palin, Andrea Riseborough, Paul Chahidi, Dermot Crowley, Adrian McLoughlin, Paul Whitehouse, Jeffrey Tambor