Steve Coogan and Richard Gere play brothers discussing a family secret in Oren Moverman's close-knit drama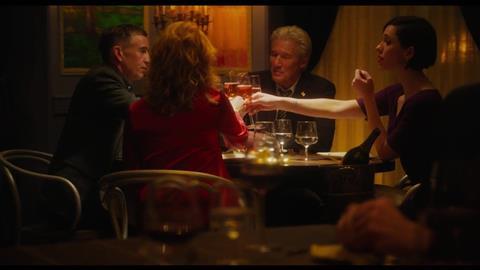 Dir: Oren Moverman. US. 2017. 121 mins.
While this is the third time that Dutch author Herman Koch's 2009 novel has been adapted for the screen (after attempts by Koch's compatriot Menno Meyjes and Italian director Ivano De Matteo), Oren Moverman's follow-up to Time Out Of Mind seems particularly timely. Koch's story about two couples who meet for dinner to discuss an unsolved crime they know was committed by their sons was a dark, barbed satire of hypocritical Euro-elites. In Moverman's hands, it becomes a contemporary American fable about savagery lurking behind civilised facades, about class and racial divisions in a country that calls itself united, and about ethical vacuums in a connected, online society.
This is funny guy Coogan's bid for serious consideration as an actor and he acquits himself honourably, despite the occasional Allen-esque veeer in his New York accent.
It's also an unbalanced, uneven ride, a distracting hot and cold shower of intense scenes featuring four terrific actors and long, meandering passages of flashback filler. The meat of the story is in the titular dinner, here transposed to a fancy New England restaurant where diners are supposed to listen in hushed silence to the maitre d's adjective-clogged, provenance-stuffed description of each dish. Though this raises a giggle, and scores serious points about how, today, even authenticity can be packaged and sold, it also parallels some of the frustrations of Moverman's film, which feels like an endless string of amuses-bouche with no main course.
Steve Coogan's character Paul suffers from mental health issues that, in the script's presentation, seem to hover somewhere between Asperger's and psychosis. His older brother Stan (Richard Gere) is a canny, well-coiffed congressman running for governor; Paul's wife Claire (Laura Linney) is, apparently, a rock of support and affection anchoring her husband's instability. Stan's second wife, Kate (Rebecca Hall), is a former intern exasperated by her husband's fragmented moments of intimacy and attention, which are constantly eaten into by calls filtered by his ever-present campaign manager.
These four meet at a high-tone place dripping with old New England money to discuss a horrific crime committed by their two teenage sons (a third cousin – black, adopted – throws what Paul at one point calls "the race card" into the mix). It's a premise reminiscent of Roman Polanski's Carnage, taken from Yasmina Reza's play, but that was a dramatically tighter, more effectively satirical performance.
One of The Dinner's main problems is Coogan's character of Paul Lohman, whose high-school history teacher is the film's narrator and mood-channel. This, in a way, even more than Philomena or Shepherds And Butchers, is funny guy Coogan's bid for serious consideration as an actor and, despite the occasional Allen-esque veer in his New York accent, he acquits himself honourably. The issue is the way his character ruins a potentially good film by, as it were, talking all over it.
Moverman's decision to pretty much mount his camera inside Paul's head turns The Dinner into a film that is as much about mental illness, and American history, as it is about present-day WASP hypocrisy. A long, impressionistically-shot, Confederate-acid-trip sequence in which the two brothers visit the Gettysburg battle site feels self-indulgent. Similarly, a more or less constant background soundtrack of music that veers from Satie to Leonard Cohen and Nico is clearly intended to mirror the distracting buzz in Paul's head. But that doesn't make it any less distracting.
Production companies: Chubbco, Blackbird Production
International sales: Protagonist Pictures, info@protagonistpictures.com
Producers: Cotty Chubb, Lawrence Inglee, Eddie Vaisman, Julia Lebedev
Executive producers: Leonid Lebedev, Angel Lopez, Olga Segura, Eva Maria Daniels
Screenplay: Oren Moverman, based on the novel by Herman Koch
Cinematography: Bobby Bukowski
Editor: Alex Hall
Production design: Kelly McGehee
Main cast: Richard Gere, Laura Linney, Steve Coogan, Rebecca Hall, Adepero Oduye, Michael Chernus, Charlie Plummer, Chloë Sevigny, Seamus Davey-Fitzpatrick, Miles J. Harvey