China's first post-pandemic blockbuster moves out to international markets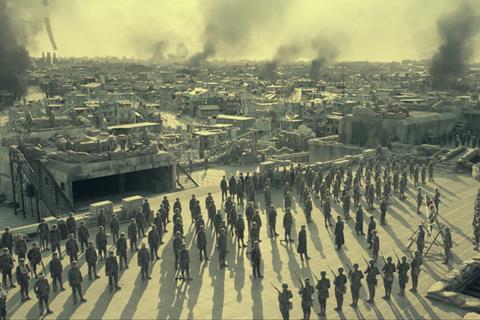 Dir: Guan Hu. China. 2020. 148 mins
The titular eight hundred of Guan Hu's ambitious epic are the indefatigable Nationalist Chinese soldiers who were tasked with defending a Shanghai warehouse over four days during the Second Sino-Japanese War. Touted as China's equivalent to Dunkirk (2017), this painstaking recreation of the defiant stand that inspired a nation is the first commercial film in Asia to be shot entirely with IMAX cameras. Expanding his scope following success with the crime drama Mr. Six (2015), Guan strives to contextualise the siege within the international political arena, but it's the elaborately staged combat sequences and resolute patriotic spirit that have likely propelled The Eight Hundred to blockbuster status in post-pandemic China.
A towering technical achievement
This path to box office glory has been fraught. The film's opening night engagement at last year's Shanghai International Film Festival was cancelled prompting speculation that its veneration of Chiang Kai-shek's Kuomintang had been deemed inappropriate during the 70th anniversary of the People's Republic of China. Then several release dates were scotched as Guan struggled on and cinemas were shuttered amid Covid-19. Yet when it eventually hit screens in August, shorn of 13 minutes, the film became a colossal hit. While exhibitors worldwide hoped that Christopher Nolan's auteur event picture Tenet would revive business, The Eight Hundred proved to be the saviour of China's multiplex market, racking up $390 million to date.
Although the film is on course to supplant Bad Boy's For Life as the year's reigning top title globally, it seems also destined to follow such Chinese box office juggernauts as Operation Red Sea (2018) and The Wandering Earth (2019) in accumulating a mere fraction of its final tally from overseas runs. Internationally, history buffs and those curious to see what China's film industry can now logistically deliver may seek out The Eight Hundred on the big screen but it will be more widely appreciated on streaming where viewers will have the option to pause for breathers after each sensory bombardment.
The action occurs in October 1937 as Shanghai falls to Japanese forces and Chiang Kai-shek orders some troops to stay behind in a bid to win international sympathy at the upcoming nine-power conference in Brussels. Instructed to defend the six-story Sihang Warehouse, a building co-owned by Shanghai's four major banks, the 524th Regiment of the National Revolutionary Army consists of grizzled veterans, staunch patriots, fearful deserters and untrained civilians. The Japanese cannot risk dropping bombs as the warehouse is located at the riverside, just across from the British concession, so instead launch a series of stealth attacks. Led by Col. Xie Jinyuan (Du Chun), the 400 Chinese soldiers (the number was exaggerated) endeavour to keep the enemy at bay despite having less troops and inferior provisions.
Equipped with an $80 million budget, The Eight Hundred actually looks more expensive than its price tag with high quality special effects and an imposing sense of scale. As with most Chinese military films, emotional involvement is limited by the exaltation of group effort over individual heroism, regardless of all the bloodied sacrifice on display. Even characters who seem intended as audience surrogates, such as two brothers (Zhang Junyi and Ou Hao) caught up in events while fleeing from their invaded northern province, either fall by the narrative wayside or are killed off abruptly.
However, this approach enables Guan to craft a near-mosaic of preparation, anticipation and riveting sustained bursts of ear-splitting action. Fine cinematography by Cao Yu ensures that the strategic plays of both sides and the melting pot dynamics of the British concession are always clear while eschewing the sepia tones of 1917 in favour of a vividly immediate sensibility. Indeed, history is rendered fiercely contemporary with the audience thrown into the thick of it through immersive POV shots and tactile battle choreography by Glenn Boswell which likely takes a few historical liberties for visceral impact.
Since the anticipated barbarism of the Japanese army is dialled down a notch to seething efficiency, the dominant contrast is social class. Incredible production design by Lin Mu juxtaposes the crumbling warehouse, which is essentially a giant coffin, with the ritzy British concession where relative comfort and frivolous escapism can still be enjoyed. Soldiers gaze across the river, yearning for safe haven, only for bourgeois Chinese citizens and members of the foreign press to lap up the ensuing spectacle. Still, national pride inevitably overcomes wealth disparity as spectators are galvanised into supportive cheer with some even putting their lives on the line by ferrying over supplies or getting a phone line across the bridge.
The film itself may ultimately be more exhausting than rousing while some elements underwhelm (Andrew Kawczynski's score fluctuates between loud and derivative) or are simply cliché (a white horse galloping through the debris). If such nagging flaws entail that The Eight Hundred falls short of greatness, this is nonetheless a towering technical achievement which commands attention from start to finish.
Production companies: Huayi Brothers, The Seventh Arts Pictures, Tencent Pictures, Beijing Enlight Media, Alibaba Pictures
International sales: Blossoms Entertainment, vickyd@blossoms-ent.com
Producer: Zhu Wenjiu
Screenplay: Guan Hu, Ge Rui
Production design: Lin Mu
Editing: Tu Yiran, He Yongyi
Cinematography: Cao Yu
Music: Andrew Kawczynski
Main cast: Ou Hao, Du Chun, Huang Zhizhong, Zhang Junyi, Wang Qianyuan, Jiang Wu, Zhang Yi, Wei Chen, Li Chen, Yu Haoming