Dirs. Michael Winterbottom, Russell Brand. UK, 2015, 95mins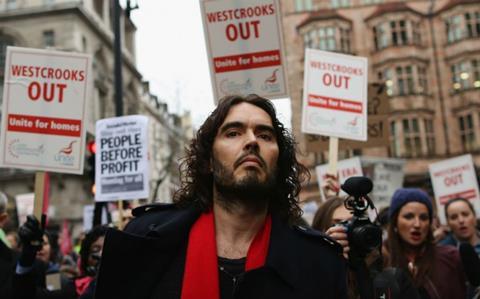 Russell Brand is in impish, provocative from in The Emperor's New Clothes, trying on Michael Moore's suit for size in a rousing call-to-arms released on the eve of the UK general election. "Made by Russell Brand and Michael Winterbottom", this scathing, banker-bashing documentary is a shoot-from-the-hip protest which has an uncertain commercial future: its largely domestic concerns give this UK version of Capitalism: A Love Story limited potential in overseas markets, and it is not rigorously-enough argued to overcome TV outlets' natural reluctance to become entangled in naked politics.
Winterbottom's camera is dutiful throughout, but The Emperor's New Clothes is a production in service of its message
This is the second Russell Brand documentary in as many months. Although the comedian-agitator failed to turn up at SXSW in March to support Brand: A Second Coming, claiming it was too personal, The Emperor's New Clothes opens at a London "town hall" style event with Brand front-and-centre, to be followed by a UK-wide rollout of special screenings. Both docs feature some of the same footage; Ondi Timoner's work is a superior piece of documentary film-making, but the StudioCanal-backed The Emperor's New Clothes is more agitprop than cinema. She tackled Russell Brand, the man; he hooks up with Winterbottom to tackle the financial system. Both will have their followers.
While Brand has his heart in the right place in The Emperor's New Clothes and his outrage is well-targeted, he and his politics have a demonstrably short attention span. He wants action (Winterbottom bizarrely puts words on the screen to emphasise what Brand is saying, such as "selfishness" and "greed"). He makes parallels between the London rioters who were imprisoned, and the bankers who brought the financial system to his knees, and weren't. He makes his case with the usual mix of archive footage and interviews, grounding the story in his home town of Grays, Essex: "never an Estuary Shangri-la, but depressing to see it now."
And, unlike other activist-documentarians of his kind, he doesn't stop at the soft targets: Brand goes after everyone, people who could hurt his career, from Rupert Murdoch, and, brilliantly, the Daily Mail-owning Viscount Rothermere, even clambering up the scaffolding outside the press baron's home to affix a protest poster. He haunts the lobbies of City banks and takes a swipe at John Lewis, cherished worker-owned department store of Britain's middle classes. "Who installed this low, suffocating sky?" he askes of Britons, going to work and coming home in the dark on a minimum wage which has to be supplemented by the state while corporations avoid tax. He wants a revolution, the title of the book he published last year.
Brand stops short of urging viewers to boycott the ballot box (although he does caution that "sitting here and voting every five years ain't going to change nothing"). He wants action, which includes 90 percent tax for the rich ("that includes me!"), a living wage for everyone, and a break-up of the media. We're stronger together, he says, pointing to FDR, the Cadbury family's Quaker dream, and the unions, arguing that sharing is a basic human characteristic (which would lead one to believe Brand has never met a toddler, even though he's shown to be adorable with children here).
Fond though he is of the labour movement, the British Labour party itself is never once mentioned by Brand, even in a swirl of swipes at Milton Friedman, Margaret Thatcher and Conservative, pro-free-market politicians David Cameron and George Osborne. He opts to give Blair and Brown's decade of "business-friendly" Labour a completely free ride. By doing this, and on the eve of an election, the film leaves itself open to charges of the kind of personality politicking Brand so clearly despises, weakening its salient points (particularly well made through a cleaner, a woman who suffers from cerebral palsy, and a cheerful, endlessly-working mother).
Winterbottom's camera is dutiful throughout, the director's skill making itself felt in some rich footage of the Lord Mayor of London's pageant and in a trippy sequence shot on a bus and a township in Kenya, but elsewhere The Emperor's New Clothes is a production in service of its message. It feels like a film which was made quickly, almost impatiently, by a man in a rush for all the right reasons, but still moving too fast. "If you're not angry enough to kick a pig in a ditch, you haven't been listening," says Brand. He would like to make a difference, but whether he has sufficient patience to go the distance with his battle remains to be seen. This is an opening salvo, and it's his war now.
Production companies: Revolution Films, The Trews
International sales: StudioCanal, www.studiocanal.com
Producer: Melissa Parmenter
Music Joel Cadbury
Featuring: Bill de Blasio, Richard Brooks, Paul Mason, Michael Heseltine, Richard Murphy, Geraint Anderson