Director: Colm McCarthy. UK, 2016, 110 minutes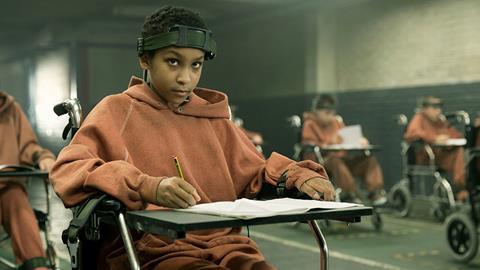 Fourteen years after Danny Boyle reinvented the zombie picture with the artful, frenetic 28 Days Later, Scottish-born TV director Colm McCarthy (Peaky Blinders) puts his name on the movie map with a smartly compelling, emotionally engaging and stylishly executed film that similarly revitalises the genre. Adapted by Mike Carey from his own 2014 novel, The Girl With All the Gifts represents a big step forward for McCarthy from his 2010 low-budget feature debut Outcast and looks set to satisfy genre fans while spilling over to broader audiences following its world premiere at the Locarno Film Festival.
Newcomer Sennia Nanua presents ample evidence on-screen to support the affirmation suggested by the film's title
Set for release in the UK through Warner Brothers in September and a strong seller internationally for Altitude, The Girl begins, mysteriously, in an undisclosed English warehouse facility, where uniformed children live singly in bare concrete cells, strapping themselves into wheelchairs for delivery to daily classroom instruction. These youngsters are hungries, victims of a zombie virus that has devastated mankind. They are also subjects for head scientist Dr Caroline Caldwell (Glenn Close), who believes that they hold the key to a cure for the virus, which is transmitted by blood and saliva.
The Girl With All the Gifts has already won our empathy for one child in particular – the sensitive, genial Melanie (newcomer Sennia Nanua, aged 12 when the film was shot) – before any inkling of her ravenous condition is revealed. So it's all the more impactful when, to make a point to well-meaning schoolteacher Miss Justineau (Gemma Arterton), hard-nosed military man Sergeant Parks (Paddy Considine) incites the children to unleash their rabid, jaw-snapping true natures by licking his own arm. This is the reaction that occurs when a hungry picks up the scent of humans, which is usually masked using a special pheromone-blocking gel.
After the scientific facility is attacked by a crazed mob of hungries, the story transitions into road-movie mode, when Caldwell, Justineau, Parks, two other soldiers and a muzzled Melanie escape in a military vehicle, headed for the fortified HQ known as the Beacon. Jeopardy comes urgently from without, but also from within: Caldwell, who dismisses Melanie's emotional cues as "exquisite mimicry of learned behavior", intends to vivisect her as part of her vital research.
One strong suit is the film's richly imagined and complete universe, delivered on an expansive scale that continues to surprise – for example, when the camera is pulled skywards to offer a wide aerial overview of the first zombie attack. Combat sequences benefit from a bloody intensity that amplifies the dramatic stakes, while in an ambitiously realised final act, visual effects blend seamlessly with production design to suggest an abandoned London cityscape, long ago reclaimed by nature.
What really separates The Girl With All the Gifts from the genre pack, however, is its moral intelligence, clever thematic consistency (drawing on the Greek myth of Pandora's box) and emotional heft, the latter component rooted in the truly captivating breakout performance of young Nanua, whose previous sole screen credit is the 2015 short Beverley. Heartbreakingly conveying her character's interior struggle between emotional and physical needs – for human connection and for animal blood – the actress presents ample evidence on-screen to support the affirmation suggested by the film's title.
Production company: Poison Chef
International sales: Altitude Film Sales, info@altitudefilment.com
Producers: Camille Gatin, Angus Lamont
Screenplay: Mike Carey
Cinematography: Simon Dennis
Editor: Matthew Cannings
Production design: Kristian Milsted
Music: Cristobal Tapia de Veer
Main cast: Sennia Nanua, Gemma Arterton, Paddy Considine, Glenn Close, Fisayo Akinade, Anamaria Marinca, Anthony Welsh