Dir/scr. Juho Kuosmanen. Finland, 2016, 92 mins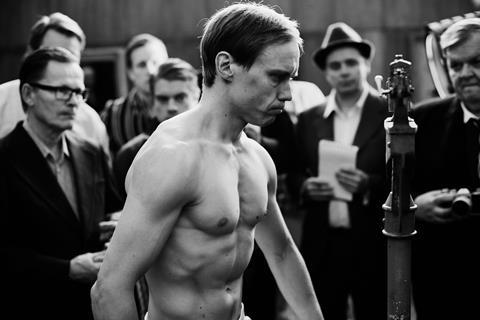 As Muhammad Ali once famously explained, a good boxer must float like a butterfly and sting like a bee, words that Juho Kuosmanen has clearly taken to heart. His black and white, 16mm-shot backstage chronicle of Olli Mäki's 1962 world championship bout against reigning featherweight titleholder Davey Moore bobs and weaves around the Finnish boxer, (played by Jarkko Lahti), proving fleet-footed and fluid as it charts the lead up to one of the early defining moments of the fighter's career. The Happiest Day in the Life of Olli Mäki's impact, however, is more contemplative, inspirational and sweet than brutal and action-packed.
This quietly charming film should punch above its weight to find a broader audience
While the match that was due to transform the then 26-year-old into a national hero and an international victor looms large over the film, glove-on-glove combat is only a minor aspect of Kuosmanen's feature debut, which premieres in Un Certain Regard. Returning to Cannes after claiming Cinéfondation's third prize in 2008 and first prize in 2010 (with his shorts Roadmarkers and The Painting Sellers, respectively), the writer/director is more concerned with the influence of Mäki's personal situation on his professional preparations. Yes, The Happiest Day in the Life of Olli Mäki is also a love story — and with boxing movies already comprising a hefty genre, it's a welcome point of focus that should help the quietly charming effort punch above its weight to find a broader audience.
"We'll make sure that when all this is over, you can say that August 17, 1962 is the happiest day of your life," says Mäki's manager Elis Ask (Eero Milonoff) that summer, trying to get the contender excited, boost his confidence and keep his eyes on the prize. Shuffling between photo shoots, press conferences and training sessions, Mäki knows the importance of the battle ahead; however, as his distracted demeanor during one particular media call with his American opponent (John Bosco Jr.) makes plain, his girlfriend, Raija (Oona Airola), has stolen both his heart and his attention.
Accordingly, The Happiest Day in the Life of Olli Mäki emphasises Mäki's struggle to balance his sporting obligations with his romantic desires. With his weight several kilograms over the target, his anxiety about meeting the significant expectations placed upon him clouding his thoughts, and Raija happier in her rural home town than hanging around in Helsinki during the build up to the bout, there's no shortage of complications. Ask cautions that the timing isn't right to fall in love, while the presence of two filmmakers add further stress. Attempting to craft a documentary about Mäki's ascension to the top, they find that their subject isn't quite comfortable in the spotlight, or easily able to conform to the required archetype.
Kuosmanen doesn't just fashion a narrative that honors the reality of the story, right down to the act that really does make the date in question the happiest day in Mäki's life; nor does he employ his monochrome colour scheme and textured film stock simply for nostalgic purposes. Instead, he strives for emotional authenticity. While littering proceedings with comic and playful moments — such as a debate over the actual weights of feathers and bantams, and a bathroom water fight — may seem to contrast with the existential dilemma at the heart of the film, they astutely reflect Mäki's true focus and foreshadow the trajectory of the only journey that matters to the protagonist.
In addition to providing strikingly lit visuals, as shot by his regular cinematographer Jani-Petteri Passi, the use of the type of celluloid typically utilised for news footage at the time underscores the accuracy of Kuosmanen's account.
Low-key performances by the conflicted Lahti and the radiant Airola prove the final knockout hit, with The Happiest Day in the Life of Olli Mäki at its best when it's lingering upon the nuanced expressions on their faces, or highlighting the way their portrayals so convincingly convey their characters' affections. Milonoff makes an impression as the increasingly frustrated Ask, also a former boxer, but just as the titular occasion belongs to its central duo, so does the film. Fittingly, the real-life Olli and Raija appear in the feature's final scene.
Production company: Aamu Film Company, One Two Films
International sales: Les films du Losange, b.vincent@filmsdulosange.fr
Producer: Jussi Rantamäki
Co-producers: Jamila Wenske, Sol Bondy, Nicklas Wikström Nicastro, Simon Perry, Katarina Krave
Screenplay: Juho Kuosmanen, Mikko Myllylahti
Cinematography: Jani-Petteri Passi
Editor: Jussi Rautaniemi
Production designer: Kari Kankaanpää
Music: Miika Snare
Main cast: Jarkko Lahti, Oona Airola, Eero Milonoff, Joanna Haartti, Esko Barquero, Elma Milonoff, Leimu Leisti, Hilma Milonoff.