Two 40-somethings connect over a shared past in Teona Strugar Mitevska's dramatically potent Sarajevo-set feature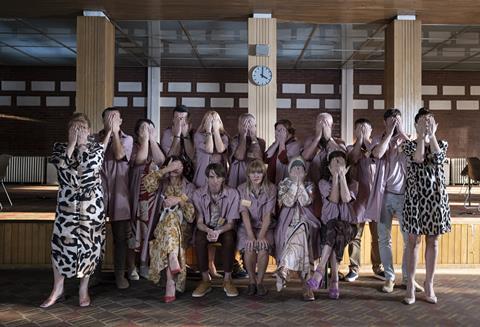 Dir: Teona Strugar Mitevska. North Macedonia / Belgium / Slovenia / Denmark / Croatia / Bosnia and Herzegovina. 2022. 75mins
Sarajevo's recent history is enacted as a ritual of love and war – a dangerous, ambivalent courtship dance – in The Happiest Man in the World, an intense, spikily stylised drama from Teona Strugar Mitevska. The Macedonian-born director is particularly known for her second feature I Am From Titov Veles and for God Exists, Her Name is Petrunya, which made a powerful mark in Berlin in 2019. Like the latter, her new film is co-written with Elma Tataragic, and is based on a true incident in the latter's life. Quite apart from what the film reveals about the legacy of the 90s war in the former Yugoslavia, it is a dramatically potent, expertly staged piece that grips from the start, with leads Jelena Kordic Kuret and Adnan Omerovic compellingly fronting a vibrant, tightly unified ensemble. Prominent festival action and strong niche exposure should follow its Venice Orizzonti debut.
Unity of time and location gives the film something of a theatrical feel, but in the very best sense
A wordless prelude begins with a close-up of a man's tightly clasped hands on the back of his neck, and a series of fragmented shots of a woman – whose face we don't see for some five minutes – walking through the city of Sarajevo to an impersonal brutalist-style building. It's a hotel where the woman, Asja (Jelena Kordić Kuret), has signed up for a dating event attended mainly by other middle-aged people; some sceptical or jaded, and some younger, up-for-it contenders. While other participants are paired up on the spot by the organisers Marta (Labina Mitevska) and Mersiha (Ana Kostovska), cordial but business-like in their leopard-patterned dresses, Asja has already made online contact with her chosen man (this being a strictly heterosexual event), a saturnine, skinny, haunted type in his 40s, named Zoran (Adnan Omerović).
The event begins with a series of questions to allow the participants – kitted out in supposedly equalising drab purple housecoats – to reveal something of themselves, But as a disembodied, impersonal quizmaster voice booms over the Tannoy, we realise that Zoran has a darker, less playful take on life than others in the room: he's a Kurt Cobain fan and confesses that he has considered suicide. At one point, he abruptly storms out, leaving Asja alone at the table; when he returns, the stakes of the dating game rise dramatically. It emerges that Zoran and Asja have linked pasts, going back to an episode in the siege of Sarajevo, when both were in their teens, that would mark both irrevocably.
As the drama plays out over a single day – in a series of functional rooms ironically named after cities in Switzerland, the European capital of neutrality - the history of local conflict keeps surging into the present. First there's a brief flashback to a scene of city bloodshed, then an explosive fantasy sequence, as past violence erupts into the present as couples dance.
Unity of time and location gives the film something of a theatrical feel, but in the very best sense: we are immersed in the absolute present tense of the action, and of the performances, their immediacy heightened by the ritualised actions that the dating group are required to perform. The two leads are mesmerising. Omerovic, resembling a tormented soul in an Egon Schiele painting, vibrates like a man devoured from within, as Zoran undergoes an experience that's at once trial, confessional and therapy session. And Kuret, strikingly recalling 1960s British realism star Carol White, puts Asja through a mercurial series of emotional shifts, from flirtation to hesitation to righteous fury, while keeping us uncertain about exactly what's going on in her character's mind and soul. The ensemble cast around them contribute a set of sharp character sketches – collectively a portrait of Sarajevo life over different generations – interacting verbally and physically in a tautly choreographed succession of group scenes.
Editor Per K. Kirkegaard brings a nervily staccato feel to the action, applying a jigsaw approach to Virginie Saint Martin's photography, with its often surprising framings and tightly cropped close-ups. The impersonal 80s-style location imposes an ominous tone on the proceedings, chiming nicely against moments of acidic comedy, while occasional panoramic exteriors remind us about Sarajevo's recent past – notably a city vista containing a vast white sweep of cemetery on the surrounding hills. A closing panorama, set to Johann Johansson's choral 'Odi et Amo' ('I love and I hate'), appropriately rounds off this drama about memory, wounds, healing and the possibility – or otherwise – of reconciliation and catharsis.
Production companies: Sisters And Brother Mitevski, Entre Chien Et Loup, Vertigo, Frau Film, Terminal 3, SCCA/pro.ba
International sales: Pyramide International sales@pyramidefilms.com
Producers: Sébastien Delloye, Danijel Hocevar, Vanja Sremac, Maria Møller Christoffersen, Amra Baksic Camo, Adis Dapo
Screenplay: Elma Tataragic, Teona Strugar Mitevska
Cinematography: Virginie Saint Martin
Production design: Vuk Mitevski
Editing: Per K. Kirkegaard
Main cast: Jelena Kordic Kuret, Adnan Omerovic, Labina Mitevska, Ana Kostovska