Rupert Everett is an exceptional Oscar Wilde in his own directorial debut.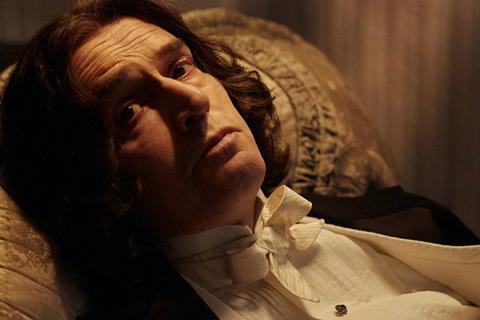 Dir/scr: Rupert Everett. Germany/Italy 2017. 105 mins
Rupert Everett summons the ghost of the ruined and ruinous Oscar Wilde – and the flickering shades of Visconti – for his directorial debut, and also stars as the Irish poet, playwright and wit at the end of his tragically short life. Wilde's mighty struggle with himself, with his heavenly talent and earthly lusts, and the meaning of it all resonates so strongly with the direction and performance that The Happy Prince is easily elevated past period Victoriana (and that wallpaper) to move and engage in equal parts. Wilde's heart-breaking children's story The Happy Prince weaves in and out of the narrative, and actorly indulgences, particularly towards the climax, should be forgiven. After all, Wilde himself would be the last to ruin a deathbed scene by cutting it short.
Parts tragic, defiant, and gleefully self-indulgent, Everett coarsens his features with prosthetics
Commercially The Happy Prince will have to carve out its own niche in the small but prestigious area between Death In Venice, Call Me By Your Name, and Shadowlands. Everett's performance marks a career-best and many will be drawn by it, though he's subsumed enough to be almost unrecognisable. It's his own tender screenplay, however, and a burnished combination of empathy and realism that makes the picture, with its all-Europe sets and lustrous lighting and design, a strongly cinematic statement from an actor whose intelligence, up to now, has always outshone the films he has appeared in.
Everett starred as Wilde in the 2012 revival of the play Judas Kiss, and the pair are an immaculate fit. His clear sympathy for and identification with Wilde seems to come on many levels, not least that the actor also saw his professional world shrink when he came out at the age of 25.
Although they play small roles in comparison, Everett has also guided his co-stars to shine. His Another Country co-star Colin Firth as Wilde's friend Reggie Turner, Colin Morgan as Lord Alfred 'Bosie' Douglas, Emily Watson as Wilde's wife Constance and newcomer Edwin Thomas as his stalwart friend and erstwhile lover Robbie Ross all deliver strong, grounded performances. The much-villified Bosie is treated in a way that isn't sympathetic yet is unusually perceptive, thanks to Morgan's portrayal of an indulged schoolboy.
This is a new treatment of Wilde – no Stephen Fry-style floppy-haired hagiography with Oscar dropping lilies and epigrams as he mooches towards death. Here, ravaged and dissolute, Wilde tumbles headlong into his downfall, dying destitute in St Germain De Pres at the age of 46 having ripped his life apart heedlessly, determinedly, and poignantly in a series of rash decisions. The Happy Prince sees Wilde alone and drunk in Paris, cadging money from former friends, almost willing himself to death. His soul is irreparably damaged after two years of hard labour in Reading Gaol for gross indecency and he wants to see his children, yet reunites with Bosie knowing what that will mean. "I am my own Judas," he says.
Everett, for whom this is a long-held passion project carefully patched together through an elaborate network of European finance out of Germany (with assistance from the BBC and Lionsgate in the UK), carefully modulates his performance. Parts tragic, defiant, and gleefully self-indulgent, Everett coarsens his features with prosthetics to catalogue the final years of a wandering, impecunious, drunk and nihilistic Wilde. The film is set in Naples, Paris and Normandy, with sets in Belgium and Germany (Bavaria) and Everett and his team rarely put a foot wrong. The British sets slightly disappoint (Clapham Junction, Reading Gaol) in comparison with the exquisitely realised European sequences.
Everett doesn't dial down Wilde's darker side. It's a tough look at the sexual appetites (his "mauve moments" with street boys) and heavy drinking and druggy ways of a voracious man who was dangerous to those who came close. ("Each man kills the things he loves" – or, as his first lover and final love Ross warns, "he'll eat you"). Calling himself Sebastian Melmoth, Wilde leaves Reading in boisterous high spirits, an "exiled fairy", but it's a bitter slide down his trough of despond.
With a running theme of "The Boy I Love Is Up In The Gallery' (a performance Everett relishes), The Happy Prince switches moods at the tip of Wilde's hat; score is by Gabriel Yared, while Everett holds a writing credit on the rambunctious "Vive Le Trottoir". The velour wallpaper, drapes and dark Victorian interiors may battle with Everett and Wilde, but they never win. The European light, the efforts Wilde makes with rouge and panstick, and a sequence on a beach seems to deliberately call to mind Thomas Mann and Visconti, but The Happy Prince has further to travel in its examination of the artist and the choices he made.
Quoting De Profundis, Wilde's testament from prison, Everett tracks the end of the man who was greedy for "the fruit of all the trees in all the world", and was viciously punished for it. The posthumous pardon for Wilde's prison sentence, as the credits note, was only delivered last year, giving The Happy Prince an immediate point of relevance, and a poignant one at that.
Production company: Maze Pictures, Entre Chien Et Loup
International sales: Beta cinema, thorsten.ritter@betacinema.com (US: CAA/Beta Cinema)
Producers: Sebastien Delloye, Phillipp Kreuzer, Joerg Schulze
Executive producers: Azim Bolkiyah, Connie Fillippello,
Ged Doherty, Colin Firth, Andreas Zielke, Sebastien Delloye, Christine Langan, Joe Oppenheimer, Zygi Kamasa, Nick Manzi, Thorsten Ritter, Dirk Schurhoff, Herbert G Kloiber, Markus Zimmer
Cinematography: John Conroy
Production designer: Brian Morris
Editor: Nicolas Gaster
Music: Gabriel Yared
Main cast: Rupert Everett, Colin Firth, Emily Watson, Colin Morgan, Edwin Thomas